It's never too late to turn a new leaf. A human life is filled with so many stories and lessons that it is difficult to recount them all. An average life experience is built on many moments and stumbling on countless mistakes, which are followed by much growth. Mafuyu Kurosaki's life is no different from the rest of us. Mafuyu is a very bold and righteous individual who is starting the new school year fresh with eyes wide open. Mafuyu is ready to take on Midorigaoka Academy but met with some outlandish circumstances. Still, Mafuyu pulls through with the help of Takaomi Saeki and Kaori Kayasaka. Hilarious, exciting, and unforgettable, we give you 6 manga like Oresama Teacher. Now, pay attention, please!
Similar Manga to Oresama Teacher
1. Yankee-kun to Megane-chan

Authors: Yoshikawa, Miki
Genres: Action, Comedy, Romance, School Shounen
Volumes: 23
Published: October 2006 – May 2011
Yankee-kun to Megane-chan follows high school delinquent named Daichi Shinagawa also known as "Yankee-kun." Daichi doesn't like to be bothered with, has no plans and couldn't care about his high school life until he meets Hana "Megane-chan" Adachi, the class representative. For reasons unexplained, Hana has taken a deep interest in Daichi and has decided with all her might to convince him to go on the upcoming class trip. Hana is relentless and Daichi wonders why she is doing so much. What exactly does Hana gain? Will her efforts prove to be successful?
Yankee-kun to Megane-chan and Oresama Teacher are similar in setting and themes. They both take place in a school environment with lots of romance and comedic scenarios. The main female characters in both manga are former delinquents with dominant personalities who come to learn a new way of life. Mafuyu and Hana discover that being bad can only stay interesting for so long. What fun is there when everyone fears your name and presence?
---
2. Pika★Ichi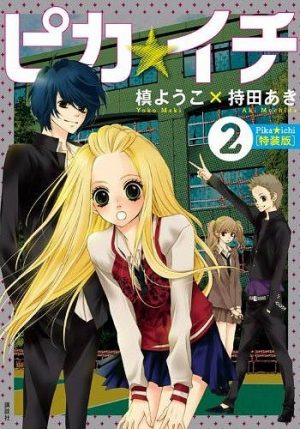 Authors: Maki, Youko; Mochida, Aki
Genres: Drama, Romance, School, Shoujo
Volumes: 7
Published: July 2010 – January 2013
Pika★Ichi is the story of two teenage introverts, Hanako Suzuki and Tarou Suzuki. Hanako and Tarou share a common interest: a love of yakuza films. They are both average students who have stayed low-key for years. However, specific policies and incidents at the prestigious Aidane High school push Hanako and Tarou over the edge. Wanting to do something about these disturbances, Hanako and Tarou shed their skin and start to speak out about all these wrongdoings.
With fighting spirit and tenacity, our characters from Pika★Ichi and Oresama Teacher are strong-willed, determined to make their school an environment enjoyable for all students. Tarou, Hanako, and Mafuyu uphold their duty of justice, progressively changing their environment, all the while noticing a change within themselves. Both manga are funny and entertaining.
---
3. Shiawase Kissa 3-choume (Happy Cafe)

Authors: Matsuzuki, Kou
Genres: Comedy, Romance, Shoujo, Slice of Life
Volumes: 15
Published: December 2004 – August 2009
Uru Takamura often gets mistaken for a young girl, but on the other hand, she is an energetic, resilient, and abnormally strong-for-her-size young woman. After her mother remarries, she decides that it is time for her to leave the nest. Longing for a higher purpose, perhaps finding romance like her mother, she begins working at Café Bonheur, a famous Pâtisserie, in hopes of running into her Mr. Right. In her journey, Uru starts working with two peculiar guys, Ichirou Nishikawa and Satsuki Shindou, who at first glance appear like individuals to avoid in a dark alley. Nevertheless, these guys begin to change her, starting her on the path to happiness and romance.
Happy Café and Oresama Teacher are manga that present the female lead character being incredibly bright and optimistic. Displaying a dynamic cast of characters, each person has a unique quality that brings excitement to the story, impacting Sana and Mafuyu's lives in some shape or form. Even though the stories take place in different environments, the SoL element is greatly emphasized, as their plots can occur among everyday folk. Primarily, life messages emanate from the premise of each story. From start to end, readers are overcome with feelings of anticipation and thrill.
---
Any Manga Like Oresama Teacher ?
4. Dengeki Daisy

Authors: Motomi, Kyousuke
Genres: Comedy, Drama, Romance, Shoujo
Volumes: 16
Published: May 2007 – December 2013
After Teru Kurebayashi loses her beloved older brother, she doesn't feel entirely alone, as one would imagine, because she finds solace in messaging Daisy, a mystery sender who can only be contacted through her deceased brother's cell phone. As Teru continues to move on, she must deal with the family's debt, taking on a job with the rude yet handsome school janitor, Tasuku Kurosaki. Although Tasuku isn't anything like Teru's confidant, Daisy, she finds herself contemplating if these two new relationships are in any way connected somehow.
Dengeki Daisy and Oresama Teacher are two fantastic rom-com shoujo manga that are intriguing and amusing. Teru and Mafuyu go about their lives in a school setting, dealing with their male counterpart with whom they build an exciting and unlikely relationship. Coming from troubled backgrounds, Teru and Mafuyu are two compelling young women who have achieved a lot and made much progress in their youth.
---
5. Ah! Itoshi no Banchou-sama (My Darling! Miss Bancho)

Authors: Takao, Shigeru
Genres: Comedy, Romance, Shoujo
Volumes: 6+
Published: June 2008 – November 2011
Ah! Itoshi no Banchou-sama is about Souka Hirayama and her adventures in a new place. Souka and her mom decide to pack up and move to get a fresh start after the divorce. Souka transfers to the local technical high school and discovers that she's the only female student in the entire school! Souka's first day of school is nothing like she imagines and is ambushed by the school's "bancho" or gang leader. One of her classmates, Yuuji, comes to her rescue only to be saved by Souka herself! Taking down the class leader, Souka now holds the title of bancho. Not expecting to fill this role, how will Souka embrace her new status?
In Ah! Itoshi no Banchou-sama and Oresama Teacher, Souka and Mafuyu are two baddies that want to lead normal, teenage lives. A bit unruly, Souka and Mafuyu appear to be independent ladies, but wouldn't have had a lasting learning experience without the help of their male companions. Moreover, readers get to enjoy endless comedic outburst as well as some romance.
---
6. Obaka-chan, Koigatariki

Authors: Sato, Zakuri
Genres: Romance, School, Shoujo
Volumes: 7
Published: 2008 – October 2010
Neiro Sonoda is one bad mutha…shut your mouth! As a kid, Neiro has built her reputation as the toughest gal on the block. She's known for being a good fighter along with attaching fear to her name with the title of "Kansai's strongest woman." Although she has all of the above going for her, Neiro is a little lonely. Wanting to find love in her life, she decides to transfer to a new school in Kanto. What Neiro sees is not what she expects, as she becomes the latest member of the class for delinquents.
In Obaka-chan, Koigatariki and Oresama Teacher, Neiro and Mafuyu hold a reputation for being aggressive girls but want to shed this quality and start fresh as good, wholesome ladies. As they migrate into their new environment, their pasts resurface, forcing them to revert to their harsh, tomboy-ish ways. As we move along in both stories, the guys that Neiro and Mafuyu encounter bring out a softer and delicate side of their personalities. When the drama continues to unfold, we also see space for potential romantic developments.
---
Final Thoughts
We hope you enjoyed our recommendations for 6 manga like Oresama Teacher! No doubt all of the series mentioned draw close similarities to Oresama Teacher and are ones that will not disappoint! Even though we know these are only a few of many in existence, let us know if we've missed any! What other manga similar to Oresama Teacher can you suggest to other readers and us? Leave your comments below! Class dismissed!