I remember, during my elementary school days, rushing home after school to watch such anime and shows as Pokemon, Sailor Moon, Power Rangers, etc. It was something I always looked forward to and I often found it hard to concentrate on anything else until I finished an episode. This routine is one of the fondest memories I have from my childhood, in that everything was so simple. Spending time fantasizing about living in these cartoon worlds was so delightful and comforting. Moreover, going to school the next day and talking about the episode from the night before was all the rage and if you missed an episode, you were an outcast! Just kidding! Nonetheless, people would always fill you in and even let you borrow a recorded VHS of the episode.
In my college years, I started dating my now husband. He always had a fascination with Japanese culture, especially anime. We spent a lot of time watching various shows and movies and he introduced me to an array of anime that I was unfamiliar with and at first hesitant to watch. In addition, I was closed to change and trying new things, but he offered such an optimism and opening to anime that I would have never considered picking out on my own. We don't have an inclusive list of what we've seen, but here is my Top 5 Anime! Enjoy!
5. One Piece

Episodes: Unknown
Aired: October 1999 – Present
In an era where pirates make a significant influence on land and sea, Gol D. Roger was the most prominent "Pirate King" to sail the Grand Line in search of One Piece. Upon his capture and death by the World Government, his last words invoked a challenge to the next generation of pirates. Among the challengers is Monkey D. Luffy, unlike the typical pirate persona, he quickly distinguished himself with the highest bounty to boot. Luffy and his Straw Hat crew, with missions of their own, dream of sailing the Grand Line in search of riches, fame and glory. Their adventurous spirits take them on an incredible voyage, with countless twists and turns.
One Piece is the longest running anime I've experience thus far. I really enjoy the array of personalities in the Straw Hat crew. They are considerably different, which makes me wonder how they get anything done. Nonetheless, their animated characteristics are comedic, entertaining, and amusing.
---
4. Hunter x Hunter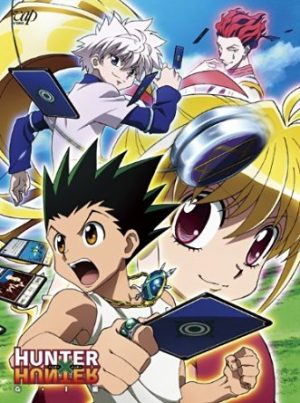 Episodes: 62
Aired: October 1999 – March 2001
Gon Freecss is determined to be the very best Hunter, in the hope of finding his father, who left him when he was an infant to become a Hunter himself. In becoming a Hunter, Gon must face perilous tasks and challenges, testing his strength and character. In completing the Hunter's exam, Gon meets several people who grow to become his close friends, Leorio, Killua and Kurapika. Each with their own goals in mind after achieving their Hunter's license, the four of them are always at each others' sides. Throughout the anime, Gon, Leorio, Killua, and Kurapika encounter various characters, creatures and obstacles that prove to be more challenging than the next. Furthermore, they never lose sight of their ambitions, continuing to grow as skilled Hunters.
Hunter x Hunter is an exciting, action packed anime leaving you at the edge of your seat. I was always kept wondering "what's going to happen next?!" Gon, Leorio, Killua, and Kurapika each had their own stories to share, which kept the series constantly riveting.
*NEVER SEEN BEFORE* Hunter x Hunter 2011 English Trailer
---
3. Kuragehime (Princess Jellyfish)

Episodes: 11
Aired: October 2010 – December 2010
Kuragehime (Princess Jellyfish) is the story of Tsukimi Kurashita and her four awkward, nerdy, and anti-social roommates, possessing a fascination and fixation with something strange, e.g., meat, older men, and of course, Tsukimi's is jellyfish. Tsukimi and her roomies all live in a home in Tokyo with a strict 'no boys allowed' rule. Tsukimi moved to the big city with the dream of becoming an illustrator. Tsukimi's world, along with the other girls, is greatly impacted when she meets a gorgeous 'lady' who is actually a guy name Kuranosuke, the alter ego of Kurako. Tsukimi and Kuranosuke are from vastly different worlds, but offer each other great advice, teaching each other the benefit of stepping out of one's comfort zone and accepting yourself as you are.
Kuragehime (Princess Jellyfish) was really fun to watch.
Princess Jellyfish – Available on Blu-ray/DVD Combo Pack on 02.28.12 - Trailer
---
2. Clannad + Clannad After Story

Episodes: 23 / 24
Aired: October 2007 – March 2008 / October 2008 – March 2009
Clannad is the first part of the journey between Tomoya Okazaki and Nagisa Furukawa. The story follows a very misunderstood boy named Tomoya and his relationships with various people in his high school, particularly with Nagisa, with whom a friendship grows romantically over time . Tomoya first notices Nagisa when she alone shouts random things, catching Tomoya's attention. Following that incident, Tomoya becomes more aware of Nagisa's presence around school and finds out that she is actually a grade older but held back because she was often too sick to leave home. As Nagisa becomes more active, she dreams of reviving the school's drama club. As such, Tomoya reluctantly helps along with four other classmates. While he interacts with his new companions, Tomoya realizes the intricate details of their lives, providing them guidance as needed and deepening their relationships.
Clannad After Story is the sequel to Clannad, documenting Tomoya and Nagisa's lives after they graduate high school and transition into adulthood. Their stories channel several joyous and heartbreaking moments, thus emphasizing the importance of family and close friends in time of need. Furthermore, a symbolic, illusionary world is intertwined into the plot, revealing to the main characters how to face their difficult situations out in the real world.
Along with the storyline, what was captivating about these anime was the artistry for Clannad and Clannad After Story. They were both incredibly beautiful, delicate, and serene, complementing the story and genre. I really enjoyed both these anime. Moreover, I don't usually cry watching shows or movies, but I fell victim with Clannad and Clannad After Story.
---
1. Fruits Basket

Episodes: 26
Aired: July 2001 – December 2001
Fruits Basket is a story of 16-year-old Tooru Honda. Under the care of her grandfather, due to the death of her parents, he and her aunt decided to renovate their home to accommodate the growing family. As construction begins, Tooru's grandfather asks if she has a place to stay for the time. She says yes even though she doesn't. Being accustomed to fending for herself, Tooru decides to camp out in an area she thought was deserted. However, the secluded home nearby belongs to the most popular boy in school, Yuki Sohma, and his cousins, Shigure and Kyou. When the Sohmas stumble upon her tent, they offer her a place to stay in exchange for housekeeping services. She accepts their offer. During her stay, Tooru gains knowledge of the Sohma family curse, which transforms the members into animals of the Chinese zodiac, plus the cat. Normally, knowledge of this is erased, but the head of the family decides to keep her memory intact. Over time, Tooru grows closer to each member of the Sohma family, thus changing their views of the curse and life. In return, Tooru gains a sense of belonging, in an atmosphere where she appears so out of place.
Fruits Basket is rated number one on my Top 5 Anime list because I can watch this series over and over again without getting sick of it, lol. Furthermore, Tooru's outlook on life, despite the various circumstances she's experienced, is very admirable and is something I strive for constantly. Throughout the good and bad, one must always have a positive outlook on the outcome; making the very best with what life deals you.
Fruits Basket – Collector's Edition – Available Now on DVD – Anime Trailer
---
Final Thoughts
My husband and I have collectively created our own routine of anime watching, which has generated a lot of old, pleasant memories and feelings from my childhood. I find much solace in our shared pastime and consider writing and sharing my experiences about different anime on Honey's a rewarding experience. Perhaps it is possible that some can relate, in part or entirely to my love and interest in anime throughout my life thus far. In the exact sense of it all, the anime community shares an identical joy in the act of watching anime.
That concludes my list for Top 5 Anime. I really hope you enjoyed my selections. Perhaps we share some favorites? Or maybe you can offer some updated suggestions? It was really difficult narrowing it all down, but hopefully you'll get a glimpse of me! As I continue exploring the tons of anime in existence, I would love to hear what else is exciting to watch. Feel free to drop a comment below!