También puedes leer este artículo en:Español
Warning: there is some content not suitable for all ages in this article. If you are under 13 years old, you can pick another article to read 😉
We know it otakus, school can be a hard issue to swallow. Waking up early, hit the books, listen for long hours, doing complicated assignments… That is why we have to recognize those teachers who are able to stand up to the challenge of teaching us. There also should be an extra special mention for those teachers who went the extra mile to be there for their pupils after school hours, helping them cope with their daily lives. Oushitsu Kyoushi Haine adds an extra layer to this challenge, as the pupils are princes in line for the throne!
The creator of this manga is Higasa Akai, who has a couple of shounen titles with historical undertones in his portfolio. Careful there, because he merely takes inspiration on Romantic histories of the West, giving them a totally personal touch. With Oushitsu Kyoushi Haine, he hits the sweet spot of moral lessons and comedy. However, Akai is not the only one who has dealt with unusual teachers and unusual pupils. Let's review a few manga like Oushitsu Kyoushi Haine!
Similar Manga to Oushitsu Kyoushi Haine
1. Great Teacher Onizuka (GTO)

Authors: Toruh Fujisawa
Genres: Action, Comedy, Drama, Ecchi, School, Shounen
Volumes: 25
Published: Dec 11, 1996 to Jan 30, 2002
Toruh Fujisawa is a mangaka with a long trajectory in the Shounen manga realm, in both the phantasy and the slice of life departments. He created a manga called Shonan Junai Gumi, telling the story of two members of a bicycle gang who love to pursue adventure and young women. One of them is Onizuka! Later, Fujisawa decided to make a follow up of the story. Little he knew that it was going to become his most popular manga.
So, Ekichi Onizuka decides to become the best teacher of Japan. He somehow lands a job supervising the rebellious class 3-4. In the middle of difficulties with his past, the students and other staff from the school, Onizuka will have to prove everyone that his unorthodox methods work. The comical problems that Onizuka has to face will remind you of the battle between Haine and his four students. We should not take these two teachers lightly, as they always prove they are right! The main difference is the shounen, hard line style of GTO, while Oushitsu Kyoushi Haine is more elegantly drawn.
---
2. Kamen Teacher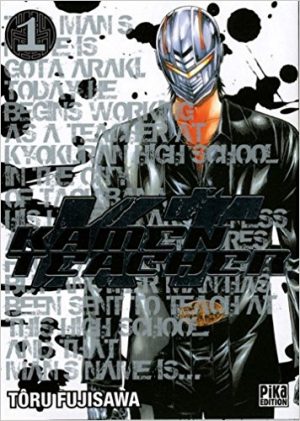 Authors: Toruh Fujisawa
Genres: Action, Comedy, Ecchi, School, Seinen
Volumes: 4
Published: 2006 to 2007
Toruh Fujisawa is back! Apparently, he liked the teacher's life too much to stay away from the topic. In this manga, Fujisawa tells us the story of a mysterious masked guy who becomes the homeroom teacher of class 2-C in a High School. Some teachers will defy him and some others will try to find his identity. Even some students will be against the new teacher. However, what is undeniable is that Hayato Juumonji, the Kamen teacher, is the perfect teacher to deal with challenges.
Although not really different from GTO's premise, this manga gets a few updates and all the rebelliousness versus experience. In these regards, it reminds us of Oushitsu Kyoushi Haine. We also find appealing the mystery in which the protagonists of both mangas are covered. We want to know more about them! And well, their harsh and energetic personalities also have something in common. The main difference is, once again, the style of the mangas.
---
3. Hammer Session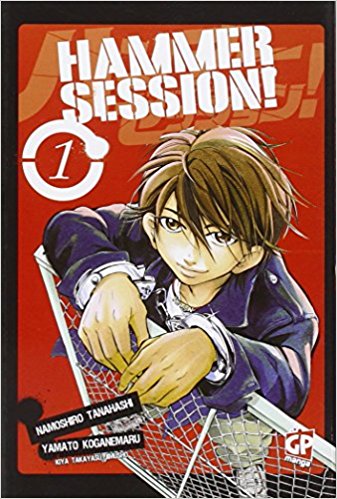 Authors: Yamato Koganemaru, Hiroyuki Yatsu and Namoshiro Tanahashi
Genres: Action, Comedy, Ecchi, School, Shounen
Volumes: 11
Published: Nov 15, 2006 to Dec 10, 2008
Yamato Koganemaru has only written a few action and mystery oriented shounen manga. Hiroyuki Yatsu has written even fewer manga that also are action oriented. As for Namoshiro Tanahashi, his story and illustration debut was Hammer Session. Anyway, if you find Haine appealing because of the class he displays while… well, in class, you might want to give a chance to this manga.
Hammer Session tells us the story of two con artists who, in order to escape from the police, offer their services to Hikari Gakuen, becoming teachers. In particular, Otawa no. 4, now renamed Hachisuka Goro, organizes unforgettable Hammer Sessions (em, somewhat like intensive courses) for the students. If you like Oushitsu Kyoushi Haine because of the comedy, or for its unusual protagonist (because come on, who can mistake Haine for a teacher?) you will not want to miss this manga. For being almost a debut, Hammer Session has been well developed.
---
Any Manga Like Oushitsu Kyoushi Haine ?
4. Boku no Watashi no Yusha Gaku

Authors: Shuuichi Asou
Genres: Comedy, School, Shounen
Volumes: 6
Published: May 14, 2007 to Jul 28, 2008
Shuuichi Asou has a curious style to draw manga that are colorful, full of action and entertainment… and also with weird plots. His most famous work is Saiki Kusuo no Ψ-nan, which recently had an anime too. We can see how Asou likes the school environment and to play with the hero character. In Boku no Watashi no Yusha Gaku, the author introduces us to Haganeno Ken, a guy who is seeminglya new student but turns out to be the new homeroom teacher. Besides that, Ken doesn't waste time in telling the students he is a hero? Just what is all this about?
If you like how people mistake Haine's appearance easily, you might want to give Boku no Watashi no Yusha Gaku a chance. There is comedy everywhere to light up your mood as well. The main difference between both manga is the style, that tends to be more simplistic and less elegant in Boku no Watashi no Yusha Gaku. Here we get all the fun of the students and teacher relationship with the shounen, action oriented spirit.
---
5. Hokenshitsu no Shinigami

Authors: Shou Aimoto
Genres: Comedy, Dementia, School, Shounen, Supernatural
Volumes: 10
Published: Sep 7, 2009 to Jun 27, 2011
Shou Aimoto has authored a few manga in the science fiction and paranormal departments. In Hokenshitsu no Shinigami, Aimoto takes one of the most typical characters we can encounter in a Japanese School: the nurse. Just imagine that the nurse in your school has super powers. How cool would that be? However, you should not be affraid as Iku Ashibata was in the beginning of the story. Hades Itsuhito was hired precisely because he can defend the students from evil creatures called Byouma.
Perhaps you like Oushitsu Kyoushi Haine, but find it lacking in suspense. In that case, you can follow up the story of Hades sensei. His battles with creepy and dark Byoma will leave you cheering for more! It also helps that Hades sensei is as mysterious as Haine. And well, in the end they make wonderful relationships with the students under their charge. Remember to not judge your teachers by their appearance!
---
6. Yasashii Sekai no Tsukurikata

Authors: Kumiko Takeba
Genres: Drama, Romance, School, Shounen
Volumes: 6
Published: Jan 9, 2010 to Dec 27, 2014
Kumiko Takeba's debut is Yasashii Sekai no Tsukurikata, a story that has everything from financial troubles, to romance and drama in school life. So, if you have ever known a scientist, you might be aware that they are always competing for funding, so that they can pay helpers, equipment, software, food and house. It can be a harsh environment, as the protagonist of Yasashii Sekai no Tsukurikata well knows. Yuu Tomonoga, a brilliant physicist, has no remedy but to work as a teacher in an all girls High School to make ends meet.
What reminds us about Oushitsu Kyoushi Haine in this story is how Yuu interacts with his students. He is a quirky genius with unconventional approaches to life, but ends up being a good influence for them. The main difference is that there is much less comedy in Yasashii Sekai no Tsukurikata and much more love. And well, obviously we have an imaginary fairytale like country in Oushitsu Kyoushi Haine, while Yasashii Sekai no Tsukurikata deals with modern Japan.
---
Final Thoughts
So, how many manga like Oushitsu Kyoushi Haine have you read before? We tried to review some not very known titles with the exception of dear teacher Onizuka, who marked a generation of otakus. You can also find further titles that have manga versions in other articles of ours 😉 Anyway, the most important thing we should remind while reading the adventures of unconventional teachers is how they mark our lives beyond giving us grades. True teachers teach us how to live! Tell us, which manga teacher is your favorite? Comment away and see you soon!
---