Let's face it. Life can be difficult sometimes and we otakus want to indulge in our fantasies and forget every hardship we go through on a daily basis. But, what if there is a magical entity that enters your life and changes your whole life for the better… or worse?
Platinum End is a manga series written and drawn by Ohba Tsugumi. The story focuses on Mirai Kakehashi who has spent much of his life suffering at the hands of his relatives., the same who had taken him in after the death of his parents. The suffering becoming too much he was about to commit suicide and then a guardian angel named Nasse appeared before him. Nasse then bestowed him with powers that could lead him to become the next god. He would just have to defeat eleven other candidates like him within 999 days. We know from Spiderman, "with great power, comes great responsibility," the question for Mirai is will he be up to the challenge of battling 11 other candidates and be able to bear the heavy responsibility and burden of being a god.
Similar Manga to Platinum End
1. Darwin's Game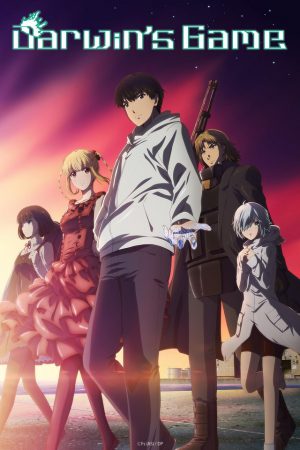 Authors: FLIPFLOPs
Genres: Action Mystery, Shounen
Volumes: 20
Published: Dec 2012 - Present
Sudou Kaname is your ordinary high school student until he received an invite by his friend, Kyouda Hiroyuki, to join mobile gacha game called Darwin's Game. Without thinking, Sudou joined the game and a snake reached out from his cellphone to bite him in the neck, marking him as a player of the game. Sudou soon come to realize that it was more than just a game where players could gain wealth through the conversion of their points, and they could only be earned by killing opponents.
Instead of an angel bestowing power to you, Darwin's Game gives each player a sigil: a unique ability of their own. Participants from Platinum End and Darwin's Game are forced, although optional if you're lucky, to kill each other to win and survive. The main protagonists of both stories didn't ask for this development but they come from a different background, and situations push them to think what would be the best course of action for their survival.
---
2. Mahou Shoujo Ikusei Keikaku (Magical Girl Raising Project)

Authors: Endou, Asari (Story), Edoya, Pochi (Art)
Genres: Action, Fantasy, Supernatural, Thriller
Volumes: 2
Published: Sept 2014 – Oct 2015
Koyuki Himekawa, the main protagonist of the story, always dream of becoming a Magical Girl. One day, her dream becomes a reality when a familiar appeared before her eyes from a popular mobile game "Magical Raising Project." Out of tens of thousands of players, only a handful of them was chosen as Magical Girls. Their job is to gather Magical Candy that could only be earned by helping people. However, an announcement comes from the administration that every week, the Magical Girl with the least number of Magical Candy will be stripped off their powers and killed.
Like Platinum End, this is a battle of survival but this time its among Magical Girls until only one remain. The interesting part of this manga is that it showcases the development and background stories of each character of how they perceive others and their true nature to do anything they can to survive. It also makes you question yourself how you maintain yourself as a Magical Girl in the face of despair and insanity. If you are interested to read a story of Magical Girls having a battle royal with modern technologies and traditional magical power in the mix, this is your manga.
---
3. Akuma No Riddle (Riddle Story of Devil)

Authors: Kouga, Yun (Story), Minakata, Sunao (Art)
Genres: Action, School, Shoujo Ai
Volumes: 5
Published: Aug 2012 – Oct 2016
Myoujou Academy is a prestigious boarding school. Hidden among the normal classes, there exist "Black Class." This specific class came with a system: 13 unique assassins and one target. Each assassin is given one chance to assassinate their target without involving people outside their class, including their teacher, and within 48 hours. The assassination will begin when an assassination notice is given to the target. If the target is killed, the killer's wish will be granted by the academy. Azuma Tokaku, an assassin-in-training, grows a bit of fondness toward Haru Ichinose, the target, and decides to take another course of action.
Akuma No Riddle provides a similar concept as Platinum End, but more of the perspective of the hunted, Haru Ichinose. Haru is a cheerful and easy-going person and you find it difficult to believe why such a girl like her is placed in this kind of situation. The art style of Akuma No Riddle is cleaner and simpler than Platinum End, and you could feel the vibe from the characters. This story provides more details of how a bodyguard and assassins operate while living and studying with assasins in the same dormitory and class.
---
Any Anime Like Platinum End ?
4. Ousama Game (King's Game)

Authors: Kanazawa, Nobuaki (Story), Renda, Hitori (Art)
Genres: Mystery, Drama, Horror, School, Supernatural
Volumes: 5
Published: 2010 - 2012
Out of nowhere, Nobuaki Kanazawa and his classmates received a mysterious text message to participate in a game called "King's Game." Everyone didn't take it seriously at first, but little did they know that failure to completing the king's request within 24 hours results in gruesome deaths. With everyone's lives on stake, will they be able to find a way to get out of this game safely?
The manga lets us experience what it feels like to be ordered and toyed by an unknown entity. Similar to Platinum End, body tolls begin to rise, friendship and sanity are thinning, and characters begin to suspect each other as the actual culprit of this game. Putting ourselves in the characters' position makes us filled with adrenaline and fear that our lives are just within death's reach on a daily basis.
---
5. Another

Authors: Ayatsuji, Yukito (Story), Kiyohara, Hiro (Art)
Genres: Mystery, Drama, Horror, School, Seinen
Volumes: 4
Published: Apr 2010 – Dec 2011
Moving to the town of Yomiyama Kouichi Sakaibara was supposed to enrolle at a new school but got stuck in a hospital due to his lung issue. There, he meets a strange girl named Mei Misaki, wearing a uniform of his school. However, he feels something is off around her and his classmates. Students of his class begin to experience indescribable deaths, and he wonders whether this was related to Misaki.
This manga provides a range of different, brutal deaths and it keeps you thinking as to who causes all of this until the end of it, just like how in Platinum End. Another tends the focus more on the horror aspects than on the mystery as they do in Platinum End. Another is similar to Platinum in a way that everyone in class suspects Misaki as the main culprit of strange, brutal deaths as if she possesses a supernatural power. The interesting part of this story is that it was difficult for readers to predict who is the actual cause of these strange occurrences. The presentation of the characters in the manga felt more human-like and you will fee
---
6. Ueki no Housoku (The Law of Ueki)

Authors: Fukuchi, Tsubasa
Genres: Action, Comedy, Magic, Shounen, Super Power
Volumes: 16
Published: Jul 2001 – Oct 2004
Ueki no Housoku is a story of how 100 god candidates are required to choose a junior high school student as their representatives. Each representative has bestowed a supernatural power to change from one thing to another. This is a story of Kousuke Ueki, a boy who can turn trash into trees, a kind person at heart, although dumb sometimes, and always risk his life for the sake of others. The winning candidate of this battle will be the next King of Celestial World and their fighter will receive the Blank Talent that allows picking talent of their choice.
The art style of the manga is a classic and the story of how the fighters are chosen and progress with their lives was like Platinum End. The slight difference is that this manga has comedy added into the mix. If you are looking for a slow-pace, fun and wholesome kind of battle royal with minimum gore, this manga would be appropriate for you.
---
Final Thoughts
Platinum End shows us what it feels like to carry heavy responsibilities and burdens by possessing and achieving a power that could change the world at the cost of innocent lives and other candidates. The story makes us question ourselves whether the characters' action considered right or wrong for moral reasons. What we love about this type of manga is that it shows, the emotions and rationality of each character possesses at difficult situations and what kind of consequences the characters will have based on their actions and choices. Most importantly, human life is immeasurable, and they shouldn't be treated lightly.
Do you have opinions and suggestions for this selection of stories? Let us know in the comments below! We love to read your thoughts and suggestions to amazing manga that we missed for this list.
---