There are many writers who conceive good stories able to entertain readers for some hours, but just few of them will leave a good name to posterity as Tsugumi Ohba. What is it that makes Tsugumi Ohba unique? Well, first of all, there is the mystery that surrounds him since "Tsugumi Ohba" is a pseudonym and the only people who know his identity are his longtime partner, Takeshi Obata – who draws his stories – and the members of his staff. Second, it is the high quality of his works that are far above the average for manga series published by authors from his same generation.
In effect, although often serialized in magazines for young readers such as Shounen Jump, Tsugumi Ohba's manga aren't exclusively meant for kids. On the contrary, the wide range of topics this author covers in his stories touches the most sensitive issues relating to Japanese society and the Japanese way of thinking, or deals with philosophical matters from an original viewpoint. Indeed, most of Tsugumi Ohba's works deal with that social prejudice that is able to render individuals disillusioned, cynical, and unhappy with their lives. There is the idea that human selfishness that is able to turn the straightest individual into an evil demon, and with that sense of justice that doesn't take into account of the most basic human rights and is an end in itself.
Therefore, Tsugumi Ohba can be a satirical, ironic, and sometimes very sarcastic writer, in spite of the fact that his works are never heavy or boring to read – although boredom is one of his leitmotif in his stories. Tsugumi Ohba is a genius because his manga are light and easy to follow, sometimes even humorous, while talking about complex subjects. So, this is probably why he got so famous that he was awarded with the Eagle Award for Favorite Manga in 2008. Do you want to know more about this mysterious author and his most-appreciated works? Then, keep on reading our countdown on Tsugumi Ohba's best manga ever.
5. Skip! Yamada-kun

"Avoid further trouble and live an easy life"-- this is junior-high student Yamada's dream. So, to be sure it becomes real, Yamada tries to avoid everything that could cause trouble: from social relationships with his peers to supplemental exams. Apparently, Yamada's only hobby is watching suspense shows (of which he is a great lover). For most of the day while he is in school, Yamada just likes to count the minutes that separate him from the end of his lessons. One day, while thinking how nice would it be if he could warp thirty or even fifty minutes later, something strange happens; the bell rings earlier than expected even though he hadn't fallen asleep! "Wait a moment," he thinks, and suddenly everything stops around him; that is when Yamada realizes he can control time. Will Yamada be able to accomplish his life's goal thanks to his powers?
There is just one word to describe Skip! Yamada-kun: brilliant. Why? Well, because this manga, in just fifty pages, is able to show how human selfishness can become terribly self-destructive. Although he is just a kid, Yamada has no interests, no passions, or no purpose in life, except for watching TV shows. Indeed, his whole existence is ruled by boredom so much so that he thinks even eating and bathing are "painful" activities, so he prefers to skip them as much as possible to be sure not to "suffer" anymore. In his words, Yamada's ideal world would be one in which he doesn't need to do anything other than watching TV forever. While passively skipping all of his life experiences in order to achieve that goal, the sloth of Tsugumi Ohba's Yamada will lead him to an ironic and pathetic conclusion.
---
4. Rakko 11-go (Otters 11)

Genres: Comedy, Shounen, Slice of life
Volumes: Unknown
Published: Aug. 2010
In a society ruled by human beings there is no place for a poor otter that wants to be treated equally by its peers, without being judged by its appearance. This is the plot in a nutshell for this hilarious one-shot that is a spin-off from the Bakuman manga chapters beyond the 80. Indeed, Rakko 11-go is a gag manga conceived by Bakuman's character Hiramaru Kazuya and it is more deeply about a half-human otter in salaryman dress who wants to be taken seriously by people who are unable of being polite to him based on his appearance. So, the otter-man has a dream: that is to change the unfair world he lives in by destroying preconceptions. But, in order to accomplish this mission, he will have to try his best to control his constant urge to fight first.
Although it is a spin-off from another series, Rakko 11-go can easily be read as an independent work. This is thanks to the topic it covers that are about the struggle of someone who looks different from the rest of the people he has to share public space with, but he never gives up the desire of living a normal life, having a normal job and being considered a full member of society anyway. Life is hard for unique individuals, but when one is determined not to give up and is able to reinvent himself, he can also get people overcome appearance and become even a leader. Rakko 11-go's sly humor is another demonstration that Tsugumi Ohba's bright ideas never fail to surprise readers.
---
3. Platinum End

Genres: Drama, Shounen, Supernatural, Psychological
Volumes: Unknown
Published: Apr. 2015 – currently
What is worth living for when you are a bored teenager in the care of abusive relatives? Isn't it better to die and put an end to a disappointing life in which there is no hope for the future? This is what Mirai Kakehashi, a depressed and gloomy middle school graduate, thinks before jumping from the roof of a tall building. However, Mirai will never fall to his death; A guardian angel is, in fact, watching over him and appears just in time to save his life. The girl, who has the appearance of a pure white angel, is called Nasse and claims to be there to give Mirai that happiness he was sure he would never find. For this reason, she grants him special powers and the chance to become the new God of the world. But, the position won't be easy to earn; twelve more people are on the wannabe-God list and Mirai will have to defeat all of them within 999 days if he wants to triumph.
A reason to live is what is often lacking in Tsugumi Ohba's characters because of boredom, depression, and passiveness in front of life's problems. Mirai is no different from the typical problematic Japanese teenagers, but he still doesn't know his existence is meant for a greater purpose. Once Mirai finds it, the path he will have to walk will bring him to challenge all basic principles of common sense. Indeed, guided by Nasse who will teach him how to be happy with his own life, Mirai will end up forgetting about his surroundings and live only according to his own desires, even though other people will bear the cost. Platinum End really is one of Tsugumi Ohba's masterpiece; Stunning and edgy, it could really end up becoming your new obsession.
---
2. Bakuman

Genres: Comedy, Romance, Drama, Shounen
Volumes: 20
Published: Aug. 2008 – Apr. 2012
High school student Mashiro Moritaka is a good son who doesn't want to cause any trouble for his family. He dreams of becoming a mangaka. He is also pretty suited for artistic jobs, but he came to think that giving up his wish and doing what is expected of him is for the best. However, Mashiro's classmate, Akito Takagi, thinks differently; Becoming a manga's author has always been his biggest dream too, but he lacks that special talent Mashiro has. Indeed, after he finds the notebook Mashiro had forgotten in class, Akito requests him to become an artist for his stories. At first, Mashiro refuses, but when Miho Azuki, the girl he likes, confesses she would like to become a voice actress, Mashiro changes his mind and makes a deal with her; When he and Akito is published in Weekly Shounen Jump and Miho becomes the voice actress for the anime adaptation of their manga, the two will get married.
The ideal path of an ordinary Japanese citizen is to go to a good high school, then a good university, and then to a good company. The first lines at the beginning of Bakuman are a faithful representation of Japanese society way of thinking, and demonstrates Tsugumi Ohba's awareness and sensitivity to his country's problems. Following one's true calling is hard and often disapproved, especially if you want to become an artist. Furthermore, artistic jobs are underpaid despite the fact the amount of work is significant enough to become dangerous for one's safety. Topics such as social judgment, family's expectations for those jobs considered more appropriate than others, and death by overwork are all very well covered in Bakuman from the extremely careful point of view of its ingenious author, showing its readers an in-depth look at what pursuing an objective is like in a country where personal freedom is subject to public opinion. This manga is a good work with a smart story that is definitely worth a try.
---
1. Death Note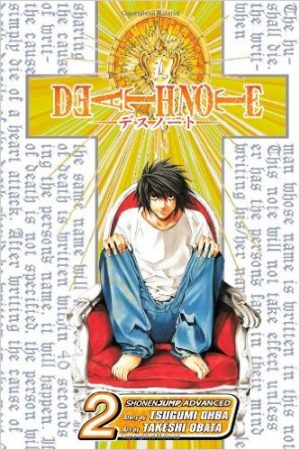 Genres: Supernatural, Psychological, Drama, Shounen, Mystery
Volumes: 12
Published: Dec. 2003 – May 2006
Prodigy Light Yagami is a bored high school student who deplores the state of the world and has no faith in the future. One day, he accidentally finds a notebook in the schoolyard and picks it up. It says "Death Note" on the cover and it contains a how-to-use list of rules on the inside; the first one says: "the human whose name is written in this note shall die". Sceptic in the beginning, Light decides to experiment with the notebook anyway by writing a criminal's name in it. When the criminal instantly dies, stunned Light recognizes that a devastating divine power has fallen into his hands and decides to use it to extinguish all criminals from the earth. After five days, Light had already killed hundreds of dangerous people. That is when a Shinigami appears in front of him. His name is Ryuk and he claims to be the owner of the Death Note. However Ryuk doesn't want it back; To him, watching over Light and his battle against Japanese investigator L--who labels Light as a serial killer and wants to give him the death penalty--is way more interesting than going back to his boring realm.
What is "justice"? What is "good and evil"? What is "fair and unfair"? Death Note calls into question concepts that are fundamental in every society but differ from person to person according to factors such as education, political environment, culture, or beliefs. They can also depend on personal experiences and opinions, and can be extremely dangerous when they become fundamentalist set on their beliefs. Just as in Light's case, what Light aspires to create is a world free from crime, fear of others, and pain. This is idealistically right, but the solution he comes up with for achieving this goal is getting rid of all the rotten apples who inhabit the world. Can killing be considered "right" when the people erased are criminals? This is the question which split the Death Note fandom in two, and thanks to which Tsugumi Ohba was able to get into authors' Olympus.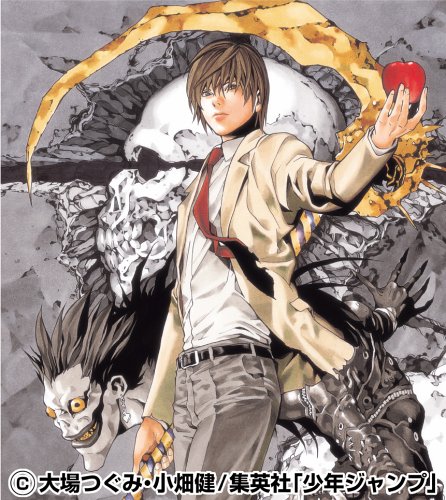 ---
Final Thoughts
If there is one person who could give present time Japanese literature a substantial contribution, it is Tsugumi Ohba. It is no exaggeration to say that all of his works are masterpieces with meaningful plot, written with great care and a smart style. Tsugumi Ohba is an eclectic author who is able to create a little something for everyone, from light humorous to more complex and engaging stories. And we can't wait to know what he has planned for us next!
And you? Did you read all of them? Let us know with a comment!
See you in the next article!
---