INTRODUCTION
The story of Haru Glory is a well-known tale to those who are avid fans of Rave (or Rave Master by its English title). Known for spawning an anime and a few video games, mangaka Mashima Hiro has indeed created a successful manga series. Mashima Hiro would go on to create Fairy Tail shortly after but for some that just isn't enough. Fans seek more manga like Rave. Maybe however you've been struggling to find manga like Rave in an ocean of manga. That is why as always we here at Honey's Anime went on our own Journey to find a collection of manga like Rave and we've come back stronger and very much successful.
Our Rave manga recommendations list comes packed full of epic stories for you manga readers to enjoy. From competition like journeys to protecting feudal princesses, our list has got you covered. The world Haru and friends journeyed through in Rave was vast and full of wonder. Similarly, our list is like that in many regards. That's why we hope you enjoy the following recommendations for manga like Rave.
Similar Manga to Rave
1. Psyren

Mangaka: Iwashiro, Toshiaki
Genre: Action, Adventure, Game, Romance, Sci-Fi, Shounen, Super Power, Supernatural Psychological
Volumes: 16
Published Date: 2007-2010
Of course in any great adventure story, the main character must take a risk, especially if it's to save someone's life. Enter Ageha Yoshina, a helper to those who need his assistance, if they can afford it. One day when he passes a telephone booth, Ageha finds a strange calling card with PSYREN printed on it. Oddly enough, a classmate by the name of Sakurako Amamiya also had gained one of these but begged for his help. Ageha decides to do so after she disappears the following day. Calling the number on the card, he is warped into a strange world where he must battle against creatures known as Taboo. Luckily Ageha stands a chance thanks to the use of psychic powers, or PSI and thus now must battle with Sakurako to return home, or face a gruesome death.
Mangaka Iwashiro Toshiaki has created a really cool story that has a very Rave-like feel. Haru's world was normal up to the point when he found out about the Dark Bring and the Rave Stones. Ageha happens upon a strange card and is magically transported into a new universe. Besides that though the two stories really attempt to create an awesome journey through different means. Haru and Ageha are similar in their cocky attitudes, although Ageha is a bit more so. Psyren also boasts some wickedly cool art that makes characters like Ageha and Sakurako really feel vibrant and anime like. Fans of Rave will feel right at home thanks to the impressive manga that is Psyren.
---
2. Crimson Grave

Mangaka: Miyake, Taishi
Genre: Action, Adventure, Comedy, Ecchi, Fantasy, Romance, Shounen
Volumes: 7
Published Date: 2006-2009
Unlike the other recommendations on this list, Crimson Grave by Mangaka Miyake Taishi boasts a strong as nails female lead by the name of Mirim. As a warrior of the elite 10 pillars sword guild, Mirim is about to gain the title of Crimson which will allow her to use a sword created by the Gods. However in her journey she must partner with Ash Grave, her complete opposite who wishes for utter destruction. The question remains why are these two at all together? What will be found next in this odd story of an odd couple partnered up?
Crimson Grave and Rave share one major thing in common: their main protagonists. Elie, Haru's partner in more ways than one, has a very secretive persona at the start of Rave. Likewise Ash Grave, our main man is mysterious. If you were looking for that unique and fun pairing you can't go wrong trying out Crimson Grave. Plus if you loved the fan service (ecchi) that was in Rave, you'll appreciate that Crimson Grave has you covered in that regard. Go forth readers, a legend needs a witness to be considered such and we want you to enjoy this epic legend tat Miyake Taishi created that is Crimson Grave.
---
3. Brave 10

Mangaka: Shimotsuki, Kairi
Genre: Action, Historical, Sci-Fi
Volumes: 8
Published Date: 2006-2010
Saizo ends up having one major job thrusted upon him. He must protect Isanami, a priestess that is going to meet the legendary warlord Sanada Yukimura. Yet soon Saizo will learn that this warlord has a plan, to gain the strength of ten warriors. For what purposes and why that exact number? These questions will be answered in Shimotosuki Kairi's work that is Brave 10. This interesting fusion of historical concepts melded with action and sci-fi with just a tinge of Seinen will leave you wanting more and more as you flip through each glorious page.
Brave 10 stands as such an odd title that it almost seems perfect to companion Rave. Rave in of itself was an odd amalgam when it released back in 1999 and yet so many manga after have had some inspiration from this odd tale. Brave 10, in many ways, takes the unique character art and throws it into a really cool action story that stands on par with Rave's mastery of cool action scenes. However, unlike Rave, Brave 10 has a more mature aura forgoing a lot of the shounen aspects of Mashima's work. Thus why we at Honey's Anime recommend it if you want a more mature version of Rave that has its own story to tell.
---
Any Manga Like Rave ?
4. Buster Keel!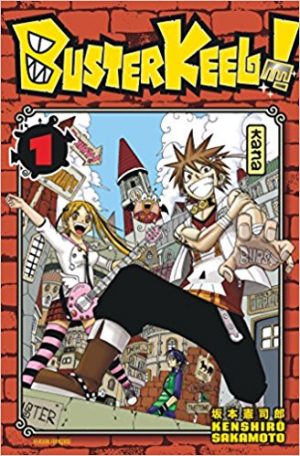 Mangaka: Sakamoto, Kenshirou
Genre: Action, Adventure, Comedy, Fantasy, Shounen, Supernatural
Volumes: 12
Published Date: 2008-2012
Rave is all about adventures, and Buster Keel loves that word. Keel is a young adventurer in a world filled with a plethora of unique ones. Keel's adventure, however, revolves around meeting a special class of adventurer, one that can summon monsters named Shiva. Meeting Ravi and her summon spirit called Mippy the two decide to join forces because apparently Ravi knows where to find Keel's master monster user. What await these two is an adventure filled with epic battles, a lot of humor and plenty of fantasy.
Buster Keel takes what we love about Rave and amplifies it in its own way. Mangaka Sakamoto Kenshirou must have loved to a certain extent Rave as a lot of the characters look and feel similar while still having their own individuality. The comedy as well is reminiscent of Rave in many ways boasting silly characters and sometimes overly odd scenarios that Keel and party end up in. Buster Keel is a great read after finishing Rave and you'll definitely want to thank us after reading this. You welcome in advance, we're here to serve after all.
---
5. The Silvery Crow

Mangaka: Kamijyo, Akimine
Genre: Adventure, Comedy, Fantasy, Shounen
Volumes: 3
Published Date: 2007
What does a thief and lover of the wonderful food that is curry and a master lock picker have to do with one another? Glad you asked, next on this recommendation list of manga like Rave is The Silvery Crow. Created by Mangaka Kamijyo Akimine, we see a story of two thieves of different trades end up finding a legendary piece of stone that is from the Demon Stone. Apparently broken into thirteen pieces, if the pieces are put back together the holder of the stone can grant any wish and have it fulfilled. John Elegadine and Lu Larue now face an interesting dilemma, what to do next? Luckily for us, they decide to attempt to find this stone before anyone else can to have their wish granted but can they deal with others who indeed want a piece of that legend? The Silvery Crow is an adventure story in every aspect of the word and for a chance to gain any wish, we can't blame these two for wanting to team up.
When we first heard of the Demon Stone from The Silvery Crow we realized wow, this is like the Rave stones, minus the wish part. In all seriousness though, The Silvery Crow is a fun ride to be sure. Boasting an epic tale of two thieves that desire an epic treasure screams a good manga story and in the end it does indeed fulfil that title. The art is also very solid boasting some very cool characters, especially John who looks straight out of a JRPG, his attitude and way of being will surely bring a smile to those who liked Haru's upbeat and fun personality. The Silvery Crow is a tale of thieves indeed cause they really steal the show…yeah we'll stick with writing articles sorry.
---
6. Flags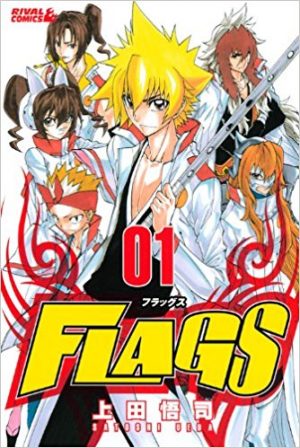 Mangaka: Ueda, Satoshi
Genre: Action, Adventure, Martial Arts, Shounen
Volumes: 2
Published Date: 2009
Our recommendation list concludes with a short but sweet story called Flags. Kurou Akazome wants to be a great patriot, warriors who battle in a competition every eight years to avoid war and hate among other countries. His father has left his footprints in history as a great patriot himself and now Kurou wants some of that glory. Kurou will team up with several others who are indeed very odd themselves but in the end what awaits Kurou, will it be grand victory or will he find himself unable to obtain his dream? Flags created by Ueda Satoshi is a short series indeed but in these two volumes is a fun action story filled with swords clashing and fists colliding.
One thing many loved about Rave, even outside the main adventure and comedy aspects, was the epic battles. Flags does a great job with art that makes every class Kurou and his competition have sheer and utter brilliance. Don't be fooled as Kurou does have a brief but grand journey himself as he follows his father's path to becoming a patriot and readers will enjoy that. The only thing you'll regret from reading Flags is that it ends too soon, but luckily manga can be re-read again and again. Thus why not give Flags a try for some amazing action and martial arts manga beauty.
---
Final Thoughts
Rave showed the world an epic adventure story that could branch into a little bit of everything. Action or comedy and even some romance were meshed into Mashima Hiro's great work and it could almost seem impossible to find such a work to even come close. However, as we see from this list, other Mangaka have indeed made their own masterpieces with their own uniqueness and individualities. Honey's Anime knows however that we could have missed another potential great title. That's why we'd love to hear your thoughts in the comments down below and as always continue journeying with us here to enjoy more great recommendation lists and other amazing articles.
---