Samurai X or Rurouni Kenshin is an anime classic which spawned a popular anime and manga, as well as a live-action movie that didn't follow the usual trend of live-action anime titles being terrible – a true inspiration within the anime medium. Naturally, given the quality of the series in question, people would like to enjoy another manga experience like the one they had with Rurouni Kenshin. And now you're here, about to find exactly what you're looking for – 6 manga like Rurouni Kenshin!
Similar Manga to Rurouni Kenshin
1. Vagabond

Authors: Inoue Takehiko
Genres: Action, Adventure, Drama, Historical, Samurai, Seinen
Volumes: 37
Published: March 1999 – May 2015
16th century Japan. Shinmen Takezou, a wild, rambunctious young man earns himself the scorn and contempt of his fellow villagers as a result of his violent streak. This leads Takezou to leave the village alongside his best friend, Honiden Matahachi, in order to find a more exciting way of life. This brings them to enlist in the Toyotomi Army; however, the Toyotomi Clan suffers a horrible defeat at the hands of the Tokugawa Clan, with Takezou and Matahachi barely making it out with their lives. The two are separated and Takezou decides to head back home; however, word has spread in the village that he killed his best friend and he is swiftly captured and left hanging up in a tree to die. Fortunately, a certain monk sees something in Takezou and frees him, giving him a new name with which he shall embark on his new life: Miyamoto Musashi.
The similarities between Vagabond and Rurouni Kenshin are striking. For starters, the two are similar in setting, with both being based in Feudal Japan. Both series are built around a powerful protagonist with a dark past. Kenshin's identity as the Hitokiri Battousai and his struggle therewith are similar to the deep-rooted anger and scarring experienced by Takezou from being vilified his entire life. Moreover, in both Vagabond and Rurouni Kenshin, the protagonists learn about the importance of friendship, slowly transitioning from lone wolves to people who value others.
---
2. Gamaran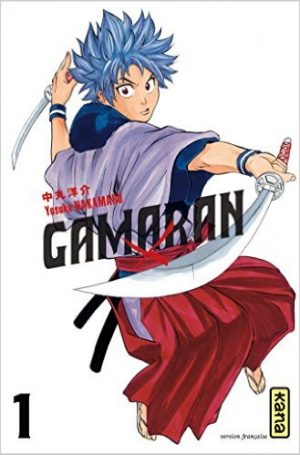 Authors: Nakamaru Yousuke
Genres: Action, Historical, Martial Arts, Shounen
Volumes: 22
Published: May 2009 – June 2013
The Unabara State in the Edo Period was notorious for its large concentration of shady martial artists who sought nothing but power and lusted for battle. The ruler of Unabara, Washitzu Naosata, is looking for a successor and calls upon his thirty-one sons with a single condition: each is to search for whoever they believe is the strongest martial artist and each of their chosen martial artists will fight each other until only one remains. The winning fighter earns their Washitzu sponsor rule over the Unabara State. Located in the mountains is the dojo of the Daigame Ryuu Style practiced by the legendary swordsman, Kurogane Jinsuke, a man fabled to be able to slay 1000 martial artists. One of the Washitzu sons, Washitzu Naoshi, comes to the dojo to find Kurogane, only to find that he has been missing for years. After seeing Kurogane's son Gama's skills, Naoshi decides to select him as his fighter, signalling the beginning of Gama's journey to become the strongest of all.
Gamaran is a tale of powerful martial artists and ambition. Much like Rurouni Kenshin, Gamaran is based on Japan's Feudal era, featuring proficient martial artists and swordsmen. The main character of both titles is an extremely adept swordsman, one who if not legendary status, is related to a person so well versed at conversation with the blade that they themselves inherit the same notoriety. Despite their immense social stature and reputations, however, both Rurouni Kenshin and Gamaran feature main characters whose reputations seem to contrast with the character as an individual.
---
3. Kozure Ookami (Lone Wolf & Cub)

Authors: Koike Kazuo (Story), Kojima Goseki (Art)
Genres: Action, Historical, Samurai, Seinen
Volumes: 28
Published: September 1970 – April 1976
Once the Shogunate's chief executioner, Ittou Ogami's life seems to have lost all meaning when he is framed for treason by the Yagyuu Clan who sought his position within the Shogunate. These charges against Ittou escalate, eventually leading to the brutal murder of his entire family save for his only son, Daigorou. Ittou then becomes an assassin for hire, while steamrolling down the path of revenge, seeking nothing more than utter destruction for the Yagyuu Clan. With his reputation as an assassin growing, the form of Ittou travelling with his son earns him the moniker of "Lone Wolf and Cub".
The similarities between Lone Wolf & Cub and Rurouni Kenshin are striking, starting with the setting of both manga being in Japan's Feudal times, between the 17th and 19th centuries. Both feature protagonists who at some point in their lives, ditch their ideals and human hearts to become total killing machines. These decisions come about as of varying circumstances; however, a life of constant violence is shared by the main characters of both manga.
---
Any Manga Like Rurouni Kenshin ?
4. Kurogane (Black Steel)

Authors: Toume Kei
Genres: Action, Drama, Historical, Samurai, Seinen
Volumes: 5
Published: November 1993 – August 2001
After his father is murdered by a corrupt government official, Jintetsu eventually gets his revenge; however, with the government hunting him down, he is forced to fight tooth and nail against leagues of assassins sent after him. After taking down assassin after assassin, Jintetsu succumbs to an attack from a pack of dogs. Following his death, Jintetsu is surprised to find himself yet again amongst the living. With the genius of the outcast inventor Genkichi, Jintetsu receives an indestructible steel body and talking sword. Unable to speak and with a large mass of his body lost to death, Jintetsu expresses himself the only way he knows how – through cold steel.
While set in a time completely different to the Meiji Era Japan featured in Rurouni Kenshin, Kurogane is still thematically compatible with Rurouni Kenshin. Both stories feature protagonists with troubled pasts, as well as corrupt governments which are to blame for our main characters' issues. Both protagonists are expert swordsmen with glittering reputations (as far as that would go for a swordsman) and earned themselves the "Hitokiri" moniker, attesting to their fearsome skills.
---
5. Takemitsu Zamurai

Authors: Eifuku Issei (Story), Matsumoto Taiyou (Art)
Genres: Historical, Martial Arts, Slice of Life, Seinen
Volumes: 8
Published: August 2006 – March 2010
Early morning on the first day of the year, a ronin named Senou Souichirou appears at Edo's Katagi settlement. Met with faces filled with fear, reproach and suspicion initially, Souichirou's life in the settlement isn't quite so easy and the carpenter's son even thinks he may not be human! Others say he smells of blood. However, Souichirou sells his sword and gets himself a bamboo replica before settling into his role as the school teacher in the neighbourhood. Months pass without trouble, but that isn't to say it isn't already on the way.
Another samurai manga based in an era in Japanese history marked by the unification of the state as we know it today, Takemitsu Zamurai's other great similarity to Rurouni Kenshin lies in the nature of the protagonist. Both Kenshin and Souichirou are mysterious former samurai who have left behind their lives as conventional swordsmen for a slower life settled down somewhere. Coincidentally, Souichirou also changes his weapon to a non-lethal variety, much like Kenshin with his reverse-blade sword.
---
6. Sengoku Youko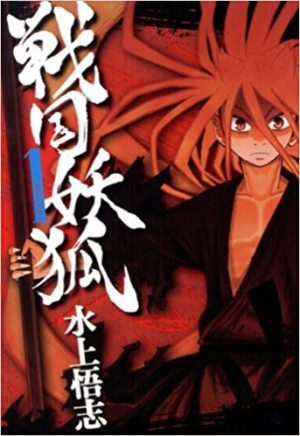 Authors: Mizukami Satoshi
Genres: Action, Adventure, Demons, Drama, Shounen
Volumes: 17
Published: December 2007 – May 2016
Tama Youko and her younger step brother, Sendou Jinka, are a pair of demon siblings who live by one creed: "Stop your evil deeds and take the right path." Together, the two travel the country in order to thwart the plans of villains and they pick up a few friends on their adventures, like the coward, Hyoudou Shinsuke. The trio will meet several evil doers, as well as countless eccentric characters throughout their many adventures.
Redemption is a theme that is quite central to many Shounen anime and manga tropes; however, it is also a prominent theme in religion and society in general. Sengoku Youko and Rurouni Kenshin have that particular theme in common – much like Kenshin, Youko and Jinka have turned away from the evil they used to be and in turn decided to thwart evil. Good for them!
---
Final Thoughts
The samurai are a huge part of Japanese history and countless stories about brave and shrewd individuals populate much of Japan's creative media. That particular era in Japanese history has spawned countless different anime and manga series, including the notable Rurouni Kenshin. With so many different titles which are thematically similar, it isn't too difficult to find a samurai manga like Rurouni Kenshin which could fit your taste. So let's get talking – what is your favourite manga like Rurouni Kenshin? Drop a comment below and tell us all about it!
---