Samurai Champloo is the creation of Masaru Kotsubo and was directed by the infamous Shinichiro Watanabe. In case you're unaware, he is also known for directing Cowboy Bebop. Most anime fans love Champloo because of the main trio of characters, cool hip-hop soundtrack, hilarious antics, fluid fight scenes, and great character interaction. Though some critics may knock down this great show a peg or two because of the so-called "filler" episodes. Real fans know that's where the meat of the show is. Those in-between episodes or what the manga adaptation focused on when it was conceived. That's what we're here to talk about today.
The premise of the manga is the same as the anime, but it focuses more on character interactions and less on developing a structured narrative. The spirit of the show was kept alive, but some different events took place than what we saw in the anime. The manga is also more light-hearted. Even though the manga had a short run, only two volumes to be exact, that was plenty of time to see Mugen, Jin, and Fuu get into some crazy shenanigans as well as stylish, fast-paced brawls.
Side note: we would have recommended one of the Cowboy Bebop mangas (since those instantly come to mind in comparison) that are basically spinoffs of the anime. However, the characterization is not consistent with the show and the stories aren't impressive in any way. So, we decided it was best to leave them out. Anway, onto the list!
Similar Manga to Samurai Champloo
1. Holyland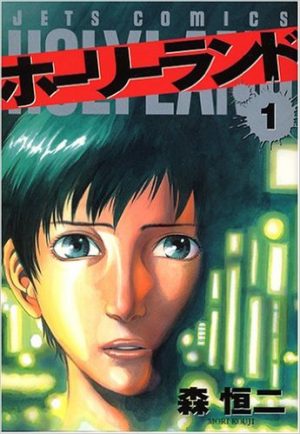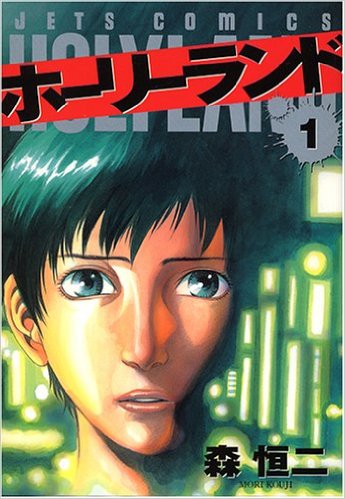 Authors: Mori, Kouji
Genres: Action, Martial Arts, Psychological
Volumes: 18
Published: October 2000 – May 2008
If all of the over-the-top action from Champloo is what drew you into the manga, then Holyland is right up your alley. This is bloody, gritty, and an extremely violent take on martial arts in the streets. Yuu Kamishiro is the typical, awkward high school student that doesn't seem to fit anywhere. He's always picked on by bullies and thugs. They see him as an easy target since he never stands up for himself. Finally, fed up with the lack of control in his life, he decides to teach himself how to fight with the help of a book on boxing. He teaches himself how to throw a few punches and immediately takes to the streets in hopes that he can begin making a name for himself through his fists and pent-up resentment.
The alleys of Tokyo become a proving ground for Yuu. He finds acceptance on the street because the only thing people care about is how well you fight and that you stand up for yourself. The stronger you are, the more respect you earn. He realizes that by fighting he learns who he truly is. But more than that, he begins forging relationships with people who admire him and look at him in a way that he's never experienced before.
Though most anime and manga can be superficial when it comes to the emotions and thoughts of a young person dealing with being an outcast of society, Holyland digs right in and opens you up to a boy feeling hopeless with no place to turn to in the world.
It's similar to Champloo in the sense that the story isn't complex or a rollercoaster of experiences. This is, however, a dissection of a truly lost character. The pencil hatches, shading, and blood splattered throughout most panels of this manga serve to pull you into this world of brutality, depression, loneliness, and lawlessness. It's one of the best martial arts mangas around.
---
2. Gangsta.

Authors: Kohske
Genres: Action, Drama, Seinen
Volumes: Ongoing
Published: Jan 2011 – ???
Style and a disposition for violence ooze out of the two main characters Nic and Worick aka the "Handymen". In the city of Ergastulum, people are frightened by all of the thugs and thieves that control the streets. But, they are not the typical gangsters that control cities. These are abnormal humans who are descendants of those that used the so-called "Celebrer" drug. These types of humans are referred to as Twilights. Ergastulum was created to house these Twilights and somewhat keep them in check.
The "Handymen" are the guys that are willing to do the jobs that no one else wants. They're basically modern-day mercenaries for hire. One day, they get a request from a friend who was a former police officer. He fills them on in details concerning a new group of thugs who have been pushing out one of the powerful mafia families in town. He needs Nic and Worick to figure out what's going on and put an end to it. Though it seems simple enough at first, they'll quickly discover that they're way in over their head.
Worick has a laid-back attitude while his partner, Nick is deaf and aloof. There are also a few side characters that propel the story forward. So, these aren't just some typical hotheads. The manga is filled with strong characters, over the top action, with a sprinkle of comedy. A lot of the fight scenes, though stylized, are also injected with a large amount of emotional weight. They're dramatic and memorable. This is another one for you action junkies!
---
3. Clover

Authors: Hirakawa, Tetsuhiro
Genres: Comedy, Shounen
Volumes: 43
Published: April 2007 – Oct 2015
Clover is a story about a kid with a good heart and a passion for seeking out a good ole brawl. Misaki Hayato has spent the last few years away from his childhood friends. His two best friends have since entered high school and have pulled away from each other. Each living a rather normal life with nothing out of the ordinary. One day, Hayato enrolls in the same school that the two other boys attend. Immediately, he begins to do everything he can to bring his friends closer together and rekindle the friendship they had when they were little kids. As expected, things do not go over so smoothly. He has to fight to re-establish that connection they once had. LIterally, fight. So much so, that he piques the interest of local delinquents.
Though the secondary characters aren't developed too well, the primary ones really shine through. This is one of those entertaining delinquent mangas that is filled with macho characters fighting for what they believe in with the gritty (oftentimes bloody) style artwork to back it up. It's an emotional rollercoaster, that's grounded in one young man's struggle to fight for friendship and come to terms with what it means to be a man. This has been widely overlooked by the anime/manga community. This is probably the case because it doesn't contain supernatural aspects or technologically advanced humans. In that sense, it's more realistic and character-driven, like Samurai Champloo.
---
Any Manga Like Samurai Champloo?
4. Vagabond

Authors: Inoue, Takehiko & Yoshikawa, Eiji
Genres: Action, Adventure, Historical, Samurai
Volumes: 37
Published: March 1999 – May 2015
If you enjoy reading stories about samurai and sword fighting, then look no further than Vagabond. This consistently rated as one of the best manga in the samurai genre. Vagabond is the retelling of one of Japan's most legendary swordsmen. Musashi Miyamoto, also known as the "Sword Saint" goes on a personal journey to discover how important close relationships are and the type of man that he wants to become. Outside of himself, he deals with other swordsmen on his journey to becoming the man who is "Invincible Under the Heavens".
Though Vagabond is jam-packed with robust fight sequences and brutality to spare, the real core of this manga is the progression of an immature punk (Shinmen Takezou) to a wise adult (Musashi Miyamoto) who learns that there times when battles should be avoided. This deep dissection of the legendary swordsmen gives you a real taste of what 16th Century Japan would have been like. His transformation is heartwarming and truly inspiring. More than that, the storytelling is masterful. With a cool blend of flashbacks and flashforwards, the story maintains an enjoyable pace that makes for a highly entertaining reading experience.
---
5. O-Parts Hunter (666 Satan)

Authors: Kishimoto, Seishi
Genres: Action, Adventure, Comedy, Fantasy, Supernatural
Volumes: 19
Published: Aug 2001 – Dec 2007
This one is an adventure story similar to Champloo. There's a girl who is searching for her father and she takes a bodyguard for protection. Sounds similar to Fuu taking Mugen and Jin to find the samurai that smells like flowers, right? Well, Ruby (the girl searching for her father) brings along Jio as her escort. Jio is a young boy who doesn't know that he's actually very special. To explain why he's special, we have to talk briefly about the world Jio and Ruby live in.
They inhabit a world, not so unlike ours, that is set in the not so distant future. Humanity fights over ancient relics that contain power within them. However, normal humans can't access the latent energy, only an O.P.T. is able to. O.P.T. stands for O-Parts Tacticians (O-Parts being the name for these relics). Very few people are born with O.P.T. abilities. This is where our boy Jio steps in. He doesn't realize it, but he's actually a powerful O.P.T. But, more than that, he has a demon sealed within his body. As Jio and Ruby search for her father, they also go on a journey to collect as many O-Parts as possible to fulfill their personal dreams. Jio is (possibly) aiming for world domination, while Ruby tries to become a world-renowned treasure hunter.
Don't let the typical Shounen vibes steer you away from this quirky manga that's been called a Naruto clone. It was after all written by Masashi Kishimoto's younger brother. And yes, there even is a time skip in 666 Satan as well. But, readers of 666 Satan would agree that the main characters in this series mature and have more depth to them than those in Naruto. Definitely, check this one out.
---
6. Psyren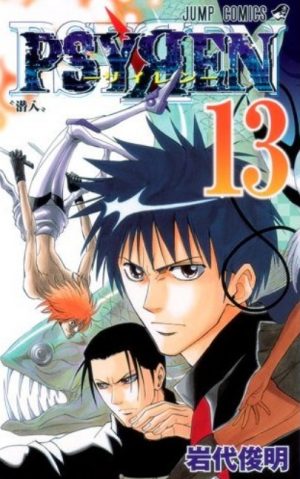 Authors: Iwashiro, Toshiaki
Genres: Action, Adventure, Comedy, Supernatural
Volumes: 16
Published: Dec. 2007 – Nov 2010
Psyren, along with 666 Satan, is an action, comedy, Shounen style manga that's highly entertaining. The story revolves around high school student Ageha Yoshina. A young man willing to help his fellow students out of the kindness of his heart. Right? Nope. He's pretty selfish and is only willing to help other for the right fee. Well this, not-so-good, Samaritan heads back home after a profitable day at school when he hears a payphone ring. He picks it up and hears a voice that is strikingly similar to his own. Not really knowing what to do or think, he hangs up the phone. But, finds a card nearby with one word written on it, Psyren. As anyone would do, he takes this card and shows it to the members of the Occult club at his school. They reveal to him that Psyren is an urban legend. Whoever figures out the meaning of what it is will receive a reward of 500 million yen. That series of events signal the start of a journey that will lead Yoshino into another world. One where he must fight for his survival and open himself up to new possibilities.
The amazing artwork, the confident protagonist lending himself out for hire, and great fight scenes are what brought this often overlooked manga onto our list. Even with all of the action going on in this manga, it still contains a large amount of comedy. The Samurai Champloo manga isn't quite as hilarious and over the top as the original anime. But it will still make you chuckle and grin when the overconfident protagonist takes a blow to the ego and has to eat a piece of humble pie. Psyren handles humor better than most Shounen manga. Couple that with stellar drawings and you've got something truly unique and comparable to Samurai Champloo.
---
Final Thoughts
So, there you have it. You've got a good selection of hardcore action, character-driven stories, epic journeys, and over-the-top humor-filled manga to choose from. Samurai Champloo is definitely a unique manga (the anime even more so) so it can be hard to pinpoint similar books. These are a great place to start. Let us know what you think of our selections and if you have any recommendations for Samurai Champloo fans. We look forward to reading your comments below! As always, thanks for reading and have a wonderful day!
---