También puedes leer este artículo en:Español
This story of three strangers on a journey across Japan blends with many modern day themes such as hip-hop culture. Unconventional fighting techniques and exoticism produce a vibrancy that is different from the jidaigeki (historical dramatization) shows that still remain popular in Japan.
Here is a list of a few animes that we recommend, some of which notably infuse fantasy and futuristic themes alongside that cool, samurai spirit!
Similar Anime to Samurai Champloo
1. House of Five Leaves
[Japanese Name: Saraiya Goyou]

Episodes: 12
Aired: Apr. 2010 - Jul. 2010
A character driven anime brought to you by Studio Manglobe, the creators of Ergo Proxy and Samurai Champloo. The main character Masa-no-suke, an unemployed samurai (J. ronin), is scouted by the charismatic Ki-ichi to take part in the kidnapping and ransom of wealthy merchants in the Edo period. Though reluctant at first, the stories and motivations behind the kidnappings slowly develop into a willingness to participate in forming a powerful and effective gang of criminals.
A beautiful music score envelopes this story of mystery, loyalty and desperation.
House of Five Leaves (Saraiya Goyou) Official Trailer

---
2. Musashi : Dream of the Last Samurai
[Japanese Name: Miyamoto Musashi Soken ni Haseru Yume]

Episodes: 1
Aired: June. 2009
A documentary style anime of the life of Musashi Miyamoto, the unrivaled swordsman of the Edo Period. Presented with 2D animated battle sequences and 3D computer graphics for narration and detailed explanations of his martial strategy.
A go-to DVD for all martial artists, to discover a historically accurate depiction of the greatest swordsman that ever lived.
Musashi : Dream of the Last Samurai

---
3. Sword of the Stranger
[Japanese Name: Sutoreinja Mukou Hadan]

Episodes: 1
Aired: Sep. 2007
In the Warring States (J. Sengoku) era in Japan, a young orphaned boy named Kotaro and his faithful canine companion Tobimaru flee from a band of Chinese Ming Dynasty warriors for reasons unknown. Among them is a Western swordsman, Lou-Lang, who only desires to find an opponent who is worthy of fighting. Along his travels, Kotaro encounters a nameless unemployed samurai (J. ronin) after seeking refuge in an abandoned temple. This mysterious warrior, Nanashi, serves as Kotaro's bodyguard through his perilous journey to the Mangaku Temple.
Sword of the Stranger (Sutoreinja Mukou Hadan) Official Trailer

---
Any Anime like Samurai Champloo ?
4. Ninja Scroll
[Japanese Name: Jubei Nipucho]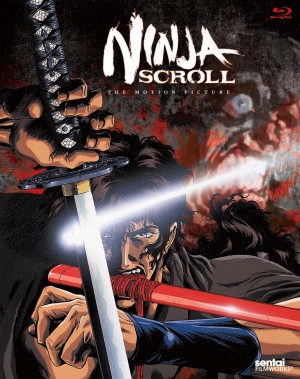 Episodes: 1
Aired: Dec. 1996
Inspired by the folk hero Yagyu Jubei Mitsuyoshi, the main character Jubei Kibagami travels the countryside of feudal era Japan, in a world of swords and sorcery. Through his attempts to find employment, he meets a young female ninja Kagero, whose occupation as a poison tester for the Mochizuki clan's Chamberlain has mutated her body to become deadly to anyone who dares to kiss or sleep with her. The duo are aided by a monk spy for the Shogunate, Dakuan, in order to battle the Eight Devils of Kimon, an organization of demons engaged in a plot to overthrow the government.
A critically acclaimed anime film with extraordinary battle sequences set in a world of violent fantasy.
(Warning : Extreme Violence and Sexuality. Not recommended for those below the age of 18.)
Ninja Scroll Official Trailer

---
5. Basilisk
[Japanese Name: Kouga Ninpo Cho]

Episodes: 24
Aired: Apr. 2005 - Sep. 2005
In the year 1614 AD, warring ninja clans are invited to participate in an event to claim a prize of the total annihilation of the other clan. The two major clans, the Iga and the Kouga, each support a different son of the ruling Shogunate, Hidetada Tokugawa. The winner will receive the support of the Shogunate for the next thousand years!
A romantic story with plenty of action, vengeance and treason.
Basilisk (Kouga Ninpo Cho) Official Free Episode 1 (Japanese Only)

---
6. Samurai 7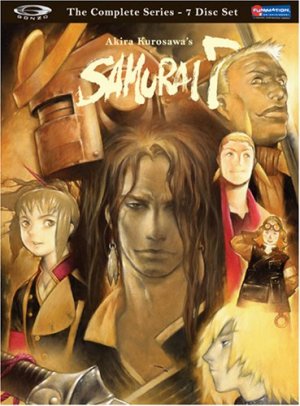 Episodes: 26
Aired: Jun. 2004 - Dec. 2004
Based on Akira Kurosawa's highly acclaimed 1954 movie 'Seven Samurai'. Every year in the farming village of Kanna, bandits come at harvest time to steal rice and kidnap women and children. The village elders are determined to fight back, and proceed to recruit warriors who can train and protect them for a meager payment of rice.
An entertaining tribute to the memory of the late, great Kurusosawa with a modern day and futuristic twist!
Samurai 7 Official Trailer

---
---