Jin Kobayashi's School Rumble lasted for nearly six years and earned recognition as a defining manga of the comedy genre. It spawned a reasonably popular anime, and a manga sequel called School Rumble Z. The story ended nearly a decade ago, therefore, some of the manga does come across as cliché. This is not meant to be a criticism leveled at School Rumble, since it was relatively progressive for its time. The series proved so popular, that a few ideas were repeated over and over again by inferior manga.
Tsukamoto Tenma has a crush on Karasuma Oji, a fellow student who plans to transfer to a new school in America. In a desperate attempt to reveal her feelings, Tenma leaves an anonymous letter declaring her love for Karasuma. Surprisingly, he decides to postpone the trip by a year, giving Tenma a deadline in which she must find the courage to approach her crush. Unbeknownst to Tenma, she has caught the eye of the school delinquent, Harima Kenji.
The premise suggests a heavy focus on romance, although the manga primarily plays it for laughs during the opening few volumes. Eventually, the relationships between the characters develop, although comedy remains the focal point throughout the series. This is a short read as well, with chapters under ten pages. The art is good, with well-presented characters that are identifiable.
If you enjoyed the random hilarity of School Rumble, here are six other manga that combine comedy and romance.
Similar Manga to School Rumble
1. Again!!

Authors: Kubo, Mitsurou
Genres: Comedy, Romance, School, Shounen, Supernatural
Volumes: 12
Published: Apr. 6, 2011 - Apr. 9, 2014
The thought of re-living high-school might not be all that enticing for some people. It could be the best years of one's life or be a recipe for disaster. Again!! follows Kinichirou Imamura, a loner who is about to graduate from high-school. Over the last three years, he failed to make any friends or even join a club, and largely regrets the way he spent his time. Just before graduating, he startles a classmate and they take a tumble down a flight of stairs.
Suddenly, Imamura wakes up and discovers that he has traveled back in time to the first day of high-school. Understandably, he first assumes this is merely a dream, although he decides to make the best of it. One of his biggest regrets was being too cowardly to join the cheering squad, so Imamura takes a leap of faith and tries to change his destiny.
While School Rumble prioritizes humour, regret is a central theme. Tenma and Kenji are aware of their feelings but constantly refuse to commit to them. Again!! takes a student who regrets most of the last three years and asks whether he can learn from his mistakes. The art is kind of crude, although the story and characters more than make up for it. Imamura is a funny and relatable protagonist who is surrounded by a three-dimensional supporting cast. Again!! blends romance, comedy, and school-drama to tell a similar story as School Rumble; while still offering a unique experience.
---
2. Musunde Hiraite

Authors: Minase, Mayu
Genres: Comedy, Romance, School, Slice of Life
Volumes: 8
Published: Sep 18, 2009 to Aug 5, 2013
High-school is the last stop before teenagers are forced to face the real world. On the cusp of adulthood, it is not surprising that a substantial majority of school-based manga focus on the budding romances that develop during this time period. Younger students are primarily defined by puppy love, while high-schoolers start to genuinely experience love and other physical desires. School Rumble shows students struggling to come to terms with their own needs, as they find one reason after another to not ask out their love interest.
Musunde Hiraite introduces a cast of 12 characters, with each chapter being told from the perspective of one of them. There is a decent amount of comedy, with each story focusing on a potential relationship. Minase does a fantastic job of making the students feel different, resulting in stories that vary in tone and pacing. Most readers will obviously have their favorite couple, although the quality of the manga is quite consistent.
The art is charming and the short chapters make this manga a perfect choice for a quick read. School Rumble has a relatively huge cast, which is matched by Musunde Hiraite. Depending on the protagonist, a few chapters prioritize romance over comedy, although there is enough of both to satisfy most readers.
---
3. 14-sai no Koi (Love at Fourteen)

Authors: Mizutani, Fuuka
Genres: Comedy, Romance, School, Josei
Volumes: Ongoing
Published: Jun 30, 2010 to Ongoing
Love at Fourteen follows two childhood friends who decide to take their relationship to the next step. These middle-school students are considered mature by their friends, which has made it a genuine challenge for other teenagers to approach them. In public, Kazuki Yoshikawa and Kanata Tanaka are nearly infallible, although this side of their persona strips away when they get together. While this couple assumes center stage, other characters and relationships are being developed as the manga progresses.
The premise might indicate that the focus is on how they maintain their public personas, but this is quickly left by the wayside, as their relationship takes up most of the attention. 14-sai no Koi is a breath of fresh air, as Mizutani decided to show a genuinely touching and hilarious budding relationship, instead of opting for the typical teenage angst found in these stories. The characters are easily the highlight of this manga, as their personalities bounce well off each other, as they find new and exciting ways to add humor to everyday situations.
Love at Fourteen is a light and enjoyable read, which delivers laughs by the bucket load. For fans of School Rumble, this is worth trying as a comedy with central characters who are not afraid to express their feelings for their respective partner. A fair few of the side-stories center on unrequited love, which is rather similar to Kobayashi's popular series.
---
Any Manga Like School Rumble ?
4. 5-toubun no Hanayome (Gotoubun no Hanayome, The Five Wedded Brides)

Authors: Haruba, Negi
Genres: Comedy, Romance, School, Shounen, Harem
Volumes: Ongoing
Published: Aug 9, 2017 to Ongoing
Being a super duper genius has its own shortcomings, which Fuutarou Uesugi knows too well. Seen as an antisocial outcast, Uesugi comes from a poor family and is trying to use his intelligence to move up in the world. One day, he meets a rich transfer student named Itsuki Nakano, who quickly gets on Uesugi's nerves. They have a huge argument before life pushes them together as Uesugi is chosen to serve as her tutor. Also, this is a harem with a twist, as Nakano has four sisters who are potential love interests. If that was not enough, they are also quintuplets.
Haruba's comedy is a new addition to the genre, as only 11 chapters have been released since it started around three months ago. The mangaka knows how to create cute and adorable characters, which are expressive enough to deliver a handful of belly laughs per issue. Uesugi is a brilliant and likable protagonist, and the sisters are more than just waifu fodder. Their personalities are being developed as they go through their own unique character arcs. While this is a harem, there is a heavy focus on comedy, with the cast being forced into a variety of embarrassing situations.
The humor is more restrained and subtle than School Rumble, although the energetic pacing and romantic undertones make 5-toubun no Hanayome a worthwhile recommendation for fans of the classic manga.
---
5. Horimiya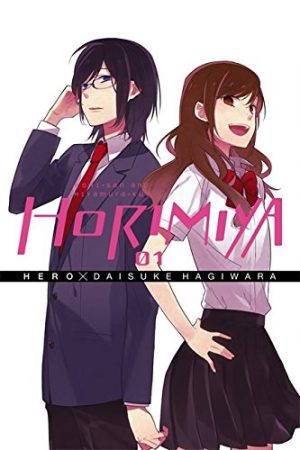 Authors: Hagiwara, Daisuke (Art), HERO (Story)
Genres: Comedy, Romance, School, Shounen, Slice of Life
Volumes: Ongoing
Published: Oct 18, 2011 to Ongoing
Love triangles are this manga's word of the day. Kyouko Hori is the perfect student, who is friendly and an academic powerhouse. Unfortunately, her busy home life leaves no time to socialize with friends, so she is generally idolized from a distance. Izumi Miyamura lays on the other side of the popularity spectrum since he is seen as a brooding otaku who is not worth noticing. This could not be farther from the truth, as Miyamura is a genuinely sweet person who happens to suck at studying. He is far from an otaku, which is exemplified by his hidden piercings and tattoo.
Hori and Miyamura accidentally meet outside of school and form a friendship. Unsurprisingly, they start to develop feelings for each other, which is complicated by the fact that Tooru Ishikawa also has a huge crush on Hori. Horimiya does not try to do anything particularly new, but a few plot twists are thrown in to keep things interesting. Rightfully considered as one of the best in the genre; the art style is immaculate, crisp, and stylish.
Horimiya has a similar premise to School Rumble, although the subject is handled with a touch more sincerity. The comedy arises from a few weird characteristics exhibited by the cast, which are shrouded in mystery. The story does a decent job of introducing new traits on a regular basis, ensuring that boredom never seeps in. With over 80 chapters released, there is enough content available to make Horimiya worth a reader's time.
---
6. Ai Kora (Love & Collage)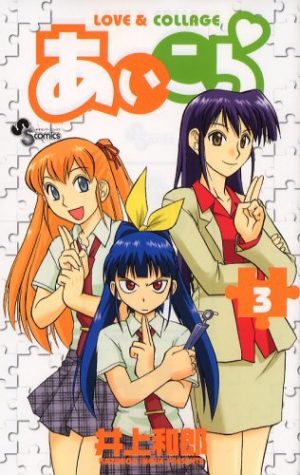 Authors: Inoue, Kazurou
Genres: Comedy, Drama, Ecchi, Romance, School, Shounen, Harem
Volumes: 12
Published: Jul 6, 2005 to Feb 6, 2008
Hachibe Maeda is far from your typical pervert. While romantic comedies tend to show protagonists who are madly in love with a particular person, Hachibe lusts after certain physical characteristics. He has yet to meet a school-girl who possesses the whole package, so his interest is piqued by a few body parts. This description makes it sound rather creepy, like Hachibe is on a mission to create his perfect waifu Frankenstein, but the protagonist is easily the best part of Ai Kora.
Things get rather complicated when Hachibe is inducted into a dormitory with five girls possessing their own perfect trait. For example, the short-tempered Sakurako Tenmaku has gorgeous blue eyes, while the Karaoke-loving Kirino Ootori possesses what Hachibe considers a perfect voice. Sadly, the latter is lost in translation due to this being a manga.
If School Rumble can be described as a wacky comedy, then Ai Kora is insane. The quick-fire humor is delivered through the many slapstick-heavy scenes, that are amplified by the unique artwork and the witty dialogue. The characters take a while to develop, but the story does manage to find a decent balance between comedy and romance.
---
Final Thoughts
School Rumble is a classic series that earned its popularity over the course of six years. Due to its fame, quite a few manga were released containing similar stories or characters. The six recommended in this article are perfect for fans of Jin Kobayashi's manga, while still offering something new. Comedy is definitely at the forefront, but each recommendation incorporates romance in a school-based setting.
Is there any other manga that you would recommend for fans of School Rumble? If yes, please leave us a comment below with your recommendations.
---