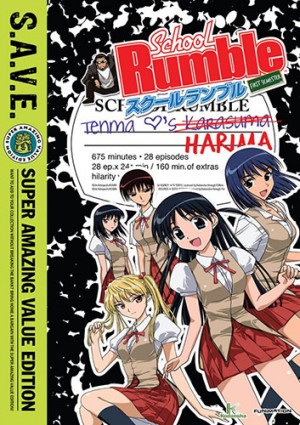 Guruguru mawaru Guruguru, mawaru Guruguru mawaru Guruguru, mawaru Guruguru mawaru Guruguru mawaru Guruguru mawaru Guruguru mawaru we here at Honey's Anime are spinning and turning, spinning and turning especially after having a marathon viewing session of School Rumble. We are sure you too will have this catchy opening theme stuck in your head after the first episode (more so after binge watching the 52 episodes and two OVAs) of this wacky romantic comedy series that originally aired between 2004 and 2005. A brief synopsis of the story is it is (1) a comedy, (2) in a slice of life format with each episode broken up into two or three stories, and (3) it's set in a high school. The plot centers around Tenma Tasukamoto, a genuinely cute sophomore girl; but Tenma has a problem, she is a total spaz. You see, the heroine has a crush on a boy in her class named Karasuma and simply cannot confess, communicate in semaphore, or talk to him in any way. We also have another complication; she isn't the only character that gets completely spastic in front of the object of their affection. Kenji Harima, the school delinquent has a crush on (guess who?) Tenma. You can see how the hijinks will ensue as each hopeless hero attempts to confess to their love. We at Honey's Anime have a list of six suggestions for you if you still need a crazy love comedy in your life after you finish up with Temna and her friends.
Similar Anime to School Rumble
1. Kaichou wa Maid-sama! (Maid-Sama)

Episodes: 26
Aired: Apr 2, 2010 to Sept 24, 2010
The story follows Misaki Ayuzawa, a student council president of a co-ed school that truly isn't used to a female authority figure. The boys nicknamed Misaki the "Demon President" for her no-holds-barred philosophy for enforcing discipline. She could also be viewed as a man hater. You'll find out she has well-founded trust issues when it comes to men. Her image is one of perfection in the classroom and at sports, oh and she is gorgeous. She has a secret though, her family is struggling. The house they live in is falling apart and every member of her family works just to pay the bills. Misaki is no exception; she gets the best job she can and does it to perfection, working at a Maid Café. We know, it's shocking in a show with a title like Maid-Sama. The twist is that the most handsome boy at school, Takumi Usui, wanders into her café one day and uncovers her secret. The question is what will he do? Will he expose her? Will he blackmail her? Or just fall in love with this amazing, hardworking heroine?
Maid-sama shares the common school life theme following a character through a combination of slice-of-life and romance adventures. The drama in Maid-sama is a little deeper than School Rumble; you care about the trouble in Misaki's life.
Kaichou wa Maid Sama! | Opening [HD]
---
2. Full Metal Panic!

Episodes: 24
Aired: Jan 8, 2002 to Jun 18, 2002
The story centers around two characters, Kaname Chidori and Sousuke Sagara. Kaname is an exceptionally bright second-year high school girl with a gift. She is what is called "Whispered," an individual who possesses an innate knowledge to build and operate amazing and powerful technology. She leads an ordinary high school life -- that is until she is secretly singled out as a Whispered candidate and becomes the target of terrorists hoping to capture her and use her skills for nefarious purposes. So she needs the protection of an agency called Mithril, and namely Sergeant Sousuke Sagara. The battle-hardened Sagara is forced to work undercover and becomes the classic "transfer student." His plate fills up fast as he has to guard Kaname and his secret from classmates and terrorists.
School Rumble and Full Metal Panic! are both set in your average high school, not one of those super elite schools for the uber-rich or one of those magical high schools where students are encouraged to fight each other like it's ancient Sparta. The schools are just your basic high school with your average students, no super powers needed for admittance. The shows also have a similar slapstick humor, whether it is the outlandish behavior of the characters or the events around them. The use of guns and military hardware including giant robots is a little out of the ordinary, but outrageous humor still stands. The arrangement of the episodes is also similar, in many cases segmenting the story into slice-of-life arcs in each episode. The majority of the slapstick has to with the overreaction of Sousuke to the most benign situations and him leaping into action to "save" Kaname.
Like School Rumble, the story boils down to an awkward relationship. While neither character in Full Metal Panic! starts off with a full-fledged confession, you understand that there will be a romantic connection the moment he threw her to the ground in the girls' locker room and pointed a gun at the door to protect her.
Full Metal Panic! PV for the Box Set of Full Metal Panic!
---
3. Gekkan Shoujo Nozaki-kun (Monthly Girls Nozaki-kun)

Episodes: 12
Aired: July 7, 2014 to Sep 22, 2014
Chiyo Sakura is one of the most adorable characters in years with her short stature and big polka dot bows. The plot follows Chiyo, who has fallen in love with Umetarou Nozaki a high school student roughly four times her size. A great thing about Chiyo is she makes her confession in episode one, or at least attempts to. She somehow instead of saying "I like you," she says "I'm your biggest fan." A statement like that would be weird to most guys, that is unless they are secretly a successful shoujo mangaka. A few miscommunications happen and she ends up as his assistant.
We see some of the ways these stories are alike right off the bat; the heroine is totally in love and the protagonist doesn't have a clue. You get to follow Chiyo as she gets involved in many ridiculous circumstances all as part of her life working with Nozaki. You find yourself rooting for this adorable little artist as she does her best to get the man she admires to notice her. The setting is also similar in that they are set in a high school. While School Rumble doesn't dissect the high school experience that much, Nozaki does. You see how he sees the students he is enrolled with. A great similarity is the way you get to see her and in many ways see the inner thoughts and monologue of the heroine.
The anime of School Rumble and Monthly Girls are both perfect if you are in the need for a good laugh at the awkward world of high school love.
Monthly Girls' Nozaki-kun PV
---
Any Anime Like School Rumble?
4. B Gata H Kei (Yamada's First Time)

Episodes: 12
Aired: Apr 2, 2010 to Jun 18, 2010
Yamada's First Time focuses on Yamada, a 15-year-old high school girl, and a virgin, who wants sex. She doesn't just want sex; her outrageous goal is to have 100 sex partners despite the fact that she is still a virgin. A chance encounter with a boy in a bookstore leads to her fixating on losing "it" to him. She doesn't realize until later that he is a classmate of hers. You get to follow Yamada and her strange pursuit of Kosuda in vignettes.
The similarities with School Rumble don't stop at the fact that a lot of it takes place at a high school and it is about a high school girl. In both you get an inside look at the thoughts of a somewhat delusional main character as she navigates young love. We also get to watch the characters' friends, like Chika Yamada (the younger sister) and Takeshita Miharu (the best friend), watch and comment on the hopelessness of the heroines.
Yamada is absolutely not appropriate for all ages. But it is very, very funny. It's a mad cap comedy with an outrageous main character as she bumbles her way toward love.
B Gata H Kei - Yamada's First Time - HD Trailer
---
5. Nisekoi (Nisekoi: False Love)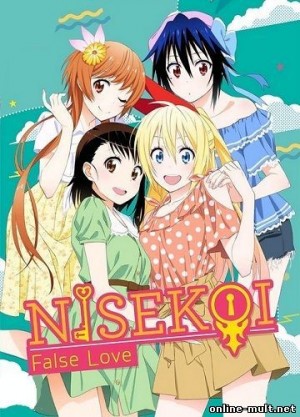 Episodes: 20
Aired: Jan 11,2014 to May 24, 2014
The plot of Nisekoi is a school romance based on absurdity and a love triangle that blossoms into that of a love quadrilateral later in the series. We start the story learning that Raku Ichijou, a first-year student, is the "heir apparent to a yakuza clan," but is determined to follow the path of the straight and narrow. We also discover he has a crush on a girl named Onodera. He then gets kneed in the face by the new transfer student Chitoge Kirisaki, leading to a case of oil meets water. We've seen similar plots in Shakespeare; in this case it leads to a similar set up of these two being betrothed. Did we mention that Chitoge is a mob princess? We find the two of them have to at least bury the hatchet and hopefully not in each other, to avoid a mob war.
The rest of this insane comedy is filled with slapstick; most of it at the expense of Raku. If you pay attention you'll even see a callout to the classic arcade game Donkey Kong in the first episode. The pace of this series is excellent. You move from one segment to the other without getting too bogged down by overall story of a pending gangland war. We still get to see a character pining away for another girl as everything and anything gets in the way of them being together. We get to see a couple that can't stand each other be forced to pretend to like each other. You don't have the weird mental pictures from our character's minds like you do in School Rumble, but you do get to hear their thoughts in many cases in small pauses between the action.
Nisekoi has been one of the most popular anime in recent years and you've probably already watched it. The whole series is a great example of a romantic school comedy involving a great cast of supporting characters. Also, you can't help but smile every time Chitoge says "darling."
Nisekoi English Trailer
---
6. Hatsukoi Limited (First Love Limited)

Episodes: 12
Aired: Apr 12, 2009 to Jun 28, 2009
The story (or should we say stories) of Hatsukoi Limited focuses on the first loves of several middle and high schoolers. The episodes tend to focus on a different character in each episode, giving you the chance to look in on the lives of these young people. You will definitely develop a favorite as the story progresses and the various threads are woven into complex plot. The relationship between Ayumi and Zaitsu is the first one you get to see, and the story of beast loves girl feels like it could have been one of the inspirations for "My Love Story." The following story features Kei, your classic tsundere, and Kusuda and is one of the best plot arcs because of its depth.
The cast of characters and the stories of finding true love are one of the elements that make Hatsukoi like School Rumble. The Ayumi and Zaitsu storyline is similar in several ways to Tenma and Harima. Zaitsu is considered a tough guy and easily scares everyone despite his truly gentle personality and his only objective is to be with the girl he fell in love with. The humor is great, but a lot lighter on the slapstick. While there is some slapstick, you just have to keep up with the dialogue for the best jokes.
You do have to be patient with this series; its pace is a little slow, but the payoff is wonderfully sweet at the end. We can't help but think this is one of the more underrated series out there. Yes, its art style is showing its age a little but get over it, the girls are still cute in their seifuku (sailor style school uniforms).
---
CLOSING
The anime above is really a short list and just scratches the surface in the romantic comedy category. We did our best to find school romantic comedies that didn't involve the supernatural (and only failed on one occasion). We could have included even crazier comedies that involve those elements like Love tu Ru or the Familiar of Zero but decided to be a little more grounded. So take a peek at these more grounded romcoms that don't need the super weird factor to make them stand out.
---