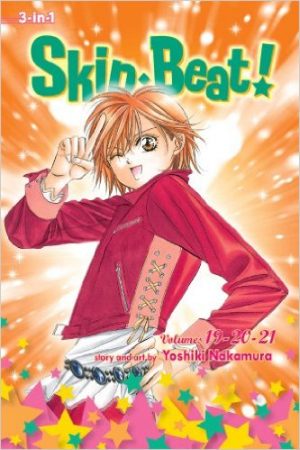 INTRODUCTION
In 2002, Yoshiki Nakamura gave birth to an amazing shoujo manga, which is still ongoing. Skip Beat! gained a huge popularity almost instantly, thanks to a non-conventional shoujo heroine who won't stay quiet and accept her fate, but will fight back instead, and a range of amazing characters. Skip Beat!'s popularity grew so much that it also had an anime adaptation in 2008. Pointless to mention how the anime adaptation, too, became immediately a big hit in the shoujo anime universe.
As probably all of you already know, Skip Beat! depicts Kyouko Mogami's adventures and hardships in the show biz. Well, not like she wanted to be a star from the start! She decided to follow Sho – her crush – to Tokyo, to try to support him in his ascent as an idol. Sadly, though, Sho was fast at casting her aside, once he became famous enough. That's the exact moment when brokenhearted Kyouko, instead of crying her eyes out, planned her revenge... Her idea is to beat Sho in the entertainment world!
If Skip Beat! actually makes you skip beats while reading it, and you crave for more, this is the list meant for you. We will suggest you six manga that share with it the same themes, hoping to tame your hunger. So please, stick with us until the end and you won't be disappointed!
Similar Manga to Skip Beat!
1. Garasu no Kamen (The Glass Mask)

Mangaka: Miuchi, Suzue
Genre: Drama, Romance, Shoujo, Comedy
Volumes: 49
Published: 1976 – ongoing
Garasu no Kamen is a manga revolving around Maya Kitajima, a 13-year-old girl. Maya has a talent for acting, and it's right when her talent is discovered that her life drastically changes. This manga follows her adventure in the difficult world of acting, among hardships, trouble and equally talented rivals. In Maya's life, love will have room, as well; yet, misunderstandings and obstacles will threaten her relationship with Masumi Hayami. With determination and tenacity, though, Maya will face every thing blocking her path head on!
Garasu no Kamen shares with Skip Beat! the same main subject: the acting world. We find two strong-willed girls – Maya and Kyouko – who are putting all their efforts to become skilled actresses. Both of them are surrounded by similar characters – friends and rivals. While reading Garasu no Kamen, you can perceive the same vibes as you do with Skip Beat! We can find in both comedy and gags to make you crack up, a little bit of mystery which allows you to stick to the pages chapter after chapter, and subtle romance. We think you should catch up with Garasu no Kamen, if you are loving Skip Beat! so far!
---
2. Honey Hunt

Mangaka: Aihara, Miki
Genre: Drama, Romance, Harem, Shoujo, Slice of life
Volumes: 6
Published: December 2006 – 2009
Yura is a high school girl, and she was born in a family of stars: her mother is a famous actress and her father is a World famous musician. Her life is turned upside down when her mother comes back and decides to divorce from Yura's father, who was caught having an affair. Since when it rains, it pours, our Yura will have to face a cold mother who doesn't want to take care of her, and who gets caught having sex with Yura's first love. It's more than she can stand! Our shy Yura will plan her revenge: to ruin her mother by becoming an actress!
Does this plot ring a bell? Well, Honey Hunt and Skip Beat! share a heroine who starts acting in order to defeat someone in the show biz, and for both – Yura and Kyouko – that "someone" was a very important person who failed and betrayed them. Honey Hunt and Skip Beat! share the same concept of a teenage girl entering the entertainment industry out of revenge; in both these series we find love triangles, beautiful boys surrounding our heroines, and a similar atmosphere able to mix together the drama with the comedy. If you liked Skip Beat!, you will like Honey Hunt all the same!
---
3. Yamato Nadeshiko Shichienge (The Wallflower: Yamatonadeshiko Shichienge)

Mangaka: Hayakawa, Tomoko
Genre: Drama, Romance, School life, Shoujo
Volumes: 36
Published: March 2000 – January 2015
Four 15-year-old boys are allowed to rent a beautiful mansion for free, in order to attend school. There's only one condition: they will have to transform Sunako Nakahara – the owner's niece – into a lady within three years. This is a hard task, as Sunako is a recluse, loving horror-movie and comfy outfits, who has a trauma from when the boy she liked told her she was ugly. Will these four boys be able to make the miracle happen?
Yamato Nadeshiko Shichienge and Skip Beat! may differ in the plot, but they are very similar in other respects. We find Sunako and Kyouko, our heroines, who are very similar. They both differ from the typical shoujo girl, and have a dark side to them, what with Kyouko who likes voodoo dolls and Sunako who collects skeletons. What's more, both Kyouko and Sunako have had their heart broken and no longer believe in love. They are trying their best; Kyouko to become an actress, and Sunako to become a lady. Yamato Nadeshiko Shichienge and Skip Beat! are different, but trust us when we say that you will feel the same atmosphere while reading it!
---
Any Manga Like Skip Beat! ?
4. Uwasa no Midori-kun!! (The Rumoured Midori-kun!!)

Mangaka: Ikeyamada, Go
Genre: Drama, Romance, Gender bender, School life, Shoujo
Volumes: 10
Published: August 2006 – August 2008
Say hello to Midori Yamato, a tomboyish 15-year-old girl. Midori lives on an island, and one day, during holidays, she meets a boy whose name is Tsukasa Hino. This boy is a soccer lover, and teaches Midori about the rules and how to play it, and she instantly falls in love with this sport! But the time to say goodbye comes, and Midori and Tsukasa part ways hoping to meet again... And they do meet again, but Tsukasa does something that Midori cannot forgive. With revenge on her mind, she enrolls an all-boy school to beat Tsukasa on the soccer field!
The common denominator between Uwasa no Midori-kun!! and Skip Beat! is the revenge of our heroines, Midori and Kyouko. Both of them are determined to overthrow their former love, because of the hardships they caused for them. Exactly like in Skip Beat!, in Uwasa no Midori-kun!! we find a love triangle, and the relationship between Tsukasa and Midori is very similar to Kyouko and Sho's one. Although these two manga differ in the plot, they don't in their development; in terms of fun and good vibes you should enjoy Uwasa no Midori-kun!!, as well.
---
5. Seiyuu Ka! (Voice Over!: Seiyu Academy)

Mangaka: Minami, Maki
Genre: Drama, Romance, School life, Gender bender, Shoujo
Volumes: 12
Published: June 2009 – February 2013
Hime Kino is a 15-year-old girl with a dream: she wants to become a voice actress, to give her voice to the main character of a popular show called "Magic Fighter Lovely Blazers". In order to pursue this dream, she enrolls a high school for voice actors, called Hiiragi Academy. This elite academy allows voice actors to make their debut, and of course, it is a school full of celebrities as well. As days go by, one of her classmates points out how Hime's voice is not suitable for a voice actress... Will Hime manage to show everyone her determination?
Seiyuu Ka! and Skip Beat! are series revolving around two teenage girls aiming at the entertainment industry. These two heroines – Hime and Kyouko – share some similarities as well: they are both hardworking, unable to give up and willing to show everyone their worth. What's more, they both are seen as disappointments by their mothers, and have rivals constantly hindering them. If you are liking Skip Beat! for the themes and an atypical shoujo heroine, we think you should read Seiyuu ka! as well.
---
6. Cat Street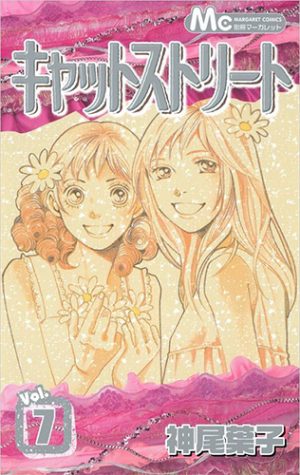 Mangaka: Kamio, Yoko
Genre: Drama, Romance, Shoujo
Volumes: 8
Published: July 2004 – September 2007
Due to a childhood incident, Keito Aoyama retired from her career as a child actor, and soon after, she withdrew from society. Years after, now 16-year-old Keito spends her time doing nothing, drowning in her own boredom. The fated meeting with a stranger will change her life for good. The stranger takes her to El liston, a free high school for reject kids like her. She decides to enroll the school and thanks to her childhood friend, and her new classmates, step by step Keito will manage to open up to the others... But will she go back to acting?
The main concept in both Cat Street and Skip Beat! is that of a teenage girl who tries to make it in the acting world, but of course there's more than meets the eye. Both our protagonists have had a difficult childhood, but that's not enough to bring them down: Keito and Kyouko don't linger on their past torment and hardships, but they look at the bright future awaiting them. Both these stories are about people struggling to find their place in life, their self-worth and happiness. Although Cat Street has a more serious atmosphere than Skip Beat!, we can guarantee that it is enjoyable all the same!
---
Final Thoughts
We hope you found this list useful somehow! As Skip Beat! is still ongoing, you can consider reading one of these six manga while waiting for the next volume. These six stories share with Skip Beat! a lot of traits, from a non-conventional heroine, to the atmospheres, that's why we are sure you will find them equally amusing. Don't forget to share your thoughts, and if you know other manga that could have fit this list, please let us know in the comments below!
---