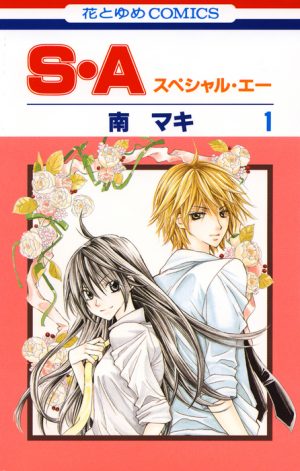 Special A is a non-conventional shoujo manga, born from Maki Minami's wise pen. Thanks to the big range of amazing characters, funny gags and a subtle love story, this manga gained so much popularity that it was adapted into an anime in 2008. The anime adaption, the plot in itself, and the cute art style guaranteed this series to be loved by the entire fandom of the shoujo genre!
The story revolves around Hikari Hanazono, an energetic girl who dreams to beat Kei Takishima, her rival since their childhood years. Love and rivalry can easily go hand in hand, that's why during high school Kei realizes that he feels something different from rivalry towards Hikari, while Hikari is totally oblivious of Kei's feelings. That's why, attending both the special class in a very prestigious high school, Hikari never misses a chance to challenge Kei, in order to realize her dream to surpass him!
Hikari and Kei's love story is peculiar; throughout this series, a lot of comedic parts give the readers very amusing moments, and all the characters are analyzed and well-described. As Special A is very singular, we tried to put in this list six other shoujo manga which are just as non-conventional and equally funny as Special A! We'll guarantee you the same good vibes you felt while reading it. Stick with us until the end, then.
Similar Manga to Special A
1. Dengeki Daisy

Authors: Motomi, Kyousuke
Genres: Comedy, Drama, Romance, Shoujo, School life, Slice of life
Volumes: 16
Published: May 2007 – December 2013
Before he died, Teru Kurebayashi's brother left her a cellphone, telling her to contact a person called "Daisy", whenever she felt lonely. Left alone without relatives, Daisy becomes Teru's shelter, and she doesn't feel sad at all, knowing that on the other side of the phone, someone is there to give her strength. Tasuku Kurosaki is the school janitor and one day, Teru is forced to deal with him in order to repay a debt. Kurosaki is the polar opposite of Daisy, he is abusive and a teaser. Teru's two different worlds finally collide, so what will happen when her life's turned upside down?
Dengeki Daisy and Special A are two shoujo manga taking place predominantly in a school setting. Both the male protagonists of these two series are very concerned about the heroine, that's why Kurosaki and Kei both try desperately to protect Teru and Hikari, who are energetic girls, but totally clueless and frequently in danger. In both of these couples, we see a very close and peculiar relationship between the guy and the girl, but Teru and Hikari are totally unable to comprehend that their counterparts have romantic feelings for them. Dengeki Daisy may have a dramatic note that lacks in Special A, but trust us when we say that if you enjoyed one, you'll enjoy the other, too!
---
2. Zenbu Choudai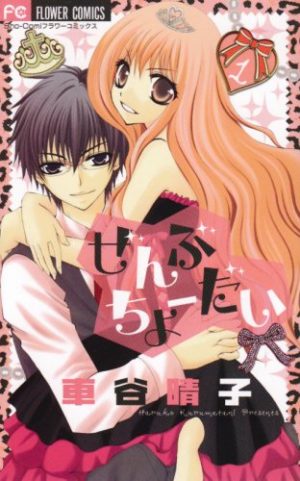 Authors: Kurumatani, Haruko
Genres: Comedy, Romance, School life, Shoujo
Volumes: 2
Published: 2008
Himeko Sakura is a perfect girl: she is good at sports, smart, and pretty. She's the queen of the school, as she is basically impeccable whatever she tries. Being so perfect, she has high expectations for a potential boyfriend, and that's why she lost a lot of supporters. When Himeko changes school, she meets Ren Oozora. Ren is even more perfect than Himeko, so much so that he can easily surpass her. That's more than Himeko can stand: she'll give him a good fight, as she can't allow Ren to steal her place as number one!
Well, as you can already see by the premises, Zenbu Choudai and Special A share a lot. We find in both a school setting, and a girl who really wants to be the number one and put all her efforts in that purpose. Sadly, though, her male counterpart becomes her rival as he can surpass her without even really trying. Himeko and Hikari share their strong determination, while Ren and Kei share their being geniuses who fall in love with a girl seeing them as a mere enemy. Zenbu Choudai and Special A are both lighthearted and funny, with comedy characterizing almost the entire story. You should catch it up to agree with us!
---
3. Last Game

Authors: Amano, Shinobu
Genres: Comedy, Romance, School life, Shoujo
Volumes: 11
Published: August 2011 – June 2016
Naoto Yanagi is a rich kid, always impeccable and adored by the girls. He's smart, good at sports, and he keeps standing at the top of his class. Mikoto Kujou is a transfer student, and she is quiet, gloomy and poor. Yet, she never fails to surpass him, immediately ousting him from the top of the class. That's how Yanagi's life goal becomes to defeat her. Ten years later, both of them in college, Yanagi comes up with a new idea: to have Mikoto Kujou fall in love with him, only to break her heart and obtain his victory. There's just one problem, the one falling in love is Yanagi...
Last Game is exactly like an inreverted version of Special A. In Last Game, the one who is always in the second place is the male protagonist, but that doesn't change the fact that the rivalry between the two main characters is the same as in Special A. Mikoto and Hikari are both dense when it's about love, so in Last Game and Special A we can see Yanagi and Kei try very hard to make their beloved girls understand their feelings. What's more, Hikari and Kei are childhood friends, exactly like Mikoto and Yanagi, who have known each other since elementary school. If you liked Special A, it's not a stretch to say that you'll love Last Game!
---
Any Manga Like Special A ?
4. Himitsu no Ai-chan (Ai-chan's Secret)

Authors: Kaori
Genres: Comedy, Drama, Romance, Shoujo, School life
Volumes: 15
Published: July 2009 – September 2014
Let's go on with Himitsu no Ai-chan and a protagonist who is a tomboy. Aiko has a rival, Leo. She wants to surpass him in every single thing, but just can't. Her life turns for the worse when her brother wants her to work for his maid cafe. Aiko is a tomboyish girl who doesn't even know how to look cute. Yet, make up and wigs can do magic, and so she becomes Mai, the maid. Leo doesn't recognize the new version of Aiko and shows interest for her, asking her out. She's in trouble, but a good idea comes to her mind: she'll make Leo fall in love with her, and then dump him! Will she manage, or will this plan be her own trap?
Himitsu no Ai-chan and Special A are shoujo manga in a school setting, and share a heroine who is strong-willed and sees her male counterpart as her ultimate, arch enemy. Both Aiko and Hikari are too stubborn to see Leo and Kei's efforts, not to mention their romantic feelings toward them. With Aiko and Hikari everything turns into a challenge when it's about Leo and Kei and the stories go on with these provocations leading to other provocations. What matters, though, is how love will bloom eventually, so we highly recommend Himitsu no Ai-chan to all of you who loved Special A!
---
5. Venus Capriccio

Authors: Nishikata, Mai
Genres: Romance, School life, Shoujo
Volumes: 5
Published: November 2006 – September 2008
Let's go on and add a bit of music to this list! Takami Habara is a rough and boyish high school girl with a passion for playing piano. Akira Sasaki is her childhood friend, and Takami considers him almost like a "little sister", as he is three years younger than her and way cuter, sweeter and feminine, too. What's more, Akira is more skilled with piano and doesn't like the idea of being seen as a "little sister" by Takami, as he likes her. One day, Akira muster his courage up and kisses Takami, stating that he likes her. How will Takami react to this sudden confession?
Once again, we are in front of a cute shoujo manga in a school setting. Even though these two manga may look totally different, by just scratching the surface we can see how they share a lot. First, the female leads: Hikari and Takami are very similar, both determined, energetic and very boyish, too. At the same time, Kei and Akira, too, are very similar. Both of them are quiet and trying to make their clueless counterpart notice their feelings. Takami and Akira's competition is on a different level, as it's about piano skills, but it's still rivalry among the two main characters, exactly like in Special A. If you feel like reading something similar to Special A, but at the same time different plot-wise, Venus Capriccio is what you're searching for!
---
6. AAA

Authors: Fukushima, Haruka
Genres: Comedy, Romance, School life, Shoujo
Volumes: 4
Published: December 2007 – March 2009
Let's end this list with AAA, revolving around Aoi Ogata! She's a middle school girl, and the president of the student council at the prestigious school called AAA, which she chose in order to find her first love, Hayato Kuroda. A sad surprise awaits Aoi, though, as she meets a gang leader called Hayato Kuroda, attending the CCC school, a school for the lowest level students. Desperate, she thinks it's just a lie, and her first love is actually elsewhere. Yet, she's curious and wants to find out the truth...
With AAA we have younger characters, but the same amount of rivalry and comedy as in Special A. Both these series have a predominant school setting, and a heroine who is strong-willed, tenacious and independent. At the same time, Hayato and Kei share some similarities, too. They're both naturally super smart, and they like teasing their counterpart whenever there's a chance to do so. These two manga share a lighthearted and relaxing atmosphere, able to make the readers laugh and have fun. If you love a shoujo manga with younger characters, and liked Special A, it's time you pick AAA up!
---
Final Thoughts
This is it! Our list came to an end, but our love for shoujo manga that are out of the ordinary is still here. We tried to give you six other manga which are on same wavelength as Special A, being sure to guarantee you readers a lighthearted atmosphere, laughter, cute characters and – of course – an amazing love story! That's why we can safely affirm that if you liked Special A, and now you're craving for something similar, you'll totally enjoy each of these stories, all the more if shoujo manga are your cup of tea! We really hope this list will help you somehow, and don't forget to let us know what you think in the comments below!
---