También puedes leer este artículo en:Español
"Anything you can do, I can do better!
I can do anything better than you!"
"No you can't!
Yes, I can!
No you can't!
Yes, I can!"
"Anything you can be, I can be greater!
Sooner or later I'm greater than you!!"
It's a race to the top in the anime Special A! Hikari Hanazono and Kei Takishima have known each other since childhood due to their dads being close friends and sports enthusiasts. Constantly neck-and-neck, the two have always competed against each other in everything, whether it's sports, academics, and everything in between. Special A is a fun and exciting anime and here at Honey's, we have made a list of 6 anime like Special A that will hopefully be just as engaging. Enjoy!
Similar Anime to Special A
1. Ouran Koukou Host Club (Ouran High School Host Club)

Episodes: 26
Aired: April 2006 – September 2006
Ouran Koukou Host Club takes place at Ouran Academy, an institution recognized and attended by the most wealthy and elite students. Haruhi Fujioka, however, is neither wealthy nor from an elite family, but was accepted by chance. As she enters the large and beautifully sculpted structures for the first time, Haruhi gets lost, stumbling into a music classroom where she meets the Ouran High School Host Club. Upon entry into this classroom, Haruhi breaks an incredibly expensive vase. Of course, unlike her classmates, Haruhi doesn't have the means to fix or replace the vase, so she must work under the Host Club until her debt is paid. Ouran follows Haruhi and her adventures with the members of the Host Club and other highlighting characters.
Ouran Koukou Host Club and Special A are both centered around a select part or a group of people that are "superior" to the rest of the students, in terms of abilities, qualities, or perhaps both. The characters in each anime are a variety of sorts, offering comedic elements to the storyline, as well as tons of surprises and twists. Additionally, Ouran and Special A are similarly upbeat and very uplifting, providing lots of enjoyment throughout every episode.
Ouran High School Host Club Official Trailer
---
2. Nodame Cantabile

Episodes: 23
Aired: January 2007- June 2007
Nodame Cantabile centers on the beauty and elegance of classical music. The main characters are Shinichi Chiaki, a talented musician and Megumi Noda, a pianist. Shinichi dreams of becoming a world-class conductor, but unfortunately, must overcome his fear of flying in order to perform globally. Often recognized as a perfectionist and arrogant, Shinichi is highly critical of his own work and the work of others, nit-picking every error and flaw. Megumi, on the other hand, who also refers to herself as Nodame, is the complete opposite, constantly guided by her whims. However, when the time comes for Nodame to play and demonstrate her skill, Shinichi is in awe at her talent and performance. In Nodame Cantabile, we observe the differences between and individuality of Shinichi and Nodame and come to learn that they have amazing chemistry, which perhaps blooms into something more.
In comparing Nodame Cantabile with Special A, Shinichi and Megumi, and Hikari and Kei are duos of extremely intelligent and gifted people. Both have characters coming from contrasting social backgrounds, but nonetheless work extremely hard to reach a high standard. Furthermore, the duos from both anime begin as opposing forces, but grow closer and collaborate together flawlessly.
---
3. Skip Beat!

Episodes: 25
Aired: October 2008 – March 2009
Skip Beat! follows Kyouko Mogami and her infatuation with her childhood friend, Shou Fuwa. Shou desperately seeks to become a rising pop star and does anything and everything in his power to make his dream come true, especially taking advantage of Kyoko. Hanging behind his coattails, Kyouko works various odd jobs in order to support Shou, until one day, she realizes it was all for naught. As Kyouko becomes fully aware of Shou's quest for fame and the ends to reach his goal, she vows revenge on Shou. As a product of her fury, Kyouko herself enters the entertainment industry in an attempt to bring down Shou.
Skip Beat! and Special A are extremely similar in that the female leads in both anime exceed the expectations of their male counterparts. In turn, the ladies gain the respect and admiration they deserve from their guys. Kyouko and Hikari possess a very competitive nature and desire to surpass their competitors. They also slowly realize their true feelings and sentiments for the guys they are dueling with, often denying their emotions from the start.
---
Any Anime Like Special A?
4. Kimi ni Todoke (Kimi ni Todoke: From Me to You)

Episodes: 25
Aired: October 2009 – March 2010
In the anime Kimi ni Todoke, Sawako Kuronuma's appearance is often mistaken for the scary girl from the movie "The Ring," thus giving her the nickname, Sadako. Her ominous look stirs others to make up rumors and such, thereby decreasing her likelihood of having friends. Consequently, all the gossip about Sawako deters people from getting to know who she really is. In reality, those who know her can say that she is opposite from this fictitious film character. Sawako is very timid, kind and sweet. As Sawako yearns for friends and a sense of fitting in, she is drawn to Shouta Kazehaya, the most popular boy. Incidentally, when Shouta starts talking to her, Sawako is super excited and overjoyed. In following Kimi ni Todoke, we get a glimpse of Sawako and Shouta's escapades, facing the challenges and triumphs of romance and adulthood, both individually and together.
Kimi ni Todoke and Special A are comparable because of the romantic-comedy theme that takes place in a high school environment. Sawako and Hikari have a certain innocence and naiveté to them, where they are slow to realize any romantic notion by the male leads. Kimi ni Todoke and Special A also contain stories of romance from unlikely and normally contradicting personalities.
Kimi ni todoke – From Me to You – Vol 1 & 2 – Official Trailer
---
5. Kaichou wa Maid-sama

Episodes: 26
Aired: April 2010 – September 2010
Misaki Ayuzawa is the first female student council president in an academy that recently transitioned from being all-boys to co-ed. Also recognized as the "Demon President" by a majority of boys at the school, Misaki is stern and strong and isn't afraid to lay down the law, sticking up for her fellow female classmates. As Misaki demonstrates to be the model student, appearing above standard among her classmates, she has a tiny little secret. Misaki embarrassingly works part-time as a café maid in order to support her family. Keeping this under wraps, no one at her school knows about her shameful secret, except for the most popular boy in school, Takumi Usui, who catches her while working her shift. Caught in a bind, Takumi holds the power of whether to bring the president down or take advantage of the situation.
Kaichou wa Maid-sama and Special A have characters with very similar dynamics and personas: the male leads are portrayed as close to perfect while the female leads are strong-minded and very determined, always trying to keep up. The artistry and character appearances also closely match one another. The relationships between Misaki and Takumi, and Hikari and Kei are both rivalrous and at the same time romantic.
---
6. Tonari no Kaibutsu-kun (My Little Monster)

Episodes: 13
Aired: October 2012 – December 2012
Tonari no Kaibutsu-kun focuses on the blossoming relationship between the very isolated, distant and ice cold Shizuku Mizutani and the emotional and carefree Haru Yoshida. Shizuku and Haru's relationship begins when she is tasked with delivering assignments to Haru's home. The romance between them starts out slow, but progressively, the duo begin to discover new aspects of themselves and each other despite what others have observed about them. Collectively, Tonari no Kaibutsu-kun presents the close connections, whether perfectly matched or opposite attraction, couples need to chance upon in order to grow.
Tonari no Kaibutsu-kun and Special A are identical because they both have romance and comedy that exists in a school setting. Shizuku and Hikari are both very hard working girls who put in all their efforts to surpass the boys they are involved with. Nevertheless, the boys seem to achieve more than them without any effort. Haru and Kei are both characters who fall for their female counterparts over time.
My Little Monster – Official Trailer
---
Final Thoughts
So there you have it. These are Honey's Recommendations for 6 Anime Like Special A. Furthermore, we know there are tons more out there. Let us know what we've missed! What other anime identical to Special A can you suggest to us and other readers? Drive out that competitive spirit! Leave your comments below!
---
---
Special A was a cute and funny anime telling the story about Hikari Hanazono and her proclaimed rival Kei Takishima. The relationship between the two was moving and captivating until the end.
In the world of anime, there should be a very consequent list of similar anime, so it is quite difficult to decide where to begin if you want to find the same atmosphere as Special A in another series.
In this recommendation list, there will be the most similar and interesting shows that you must watch if you really liked Special A.
Enjoy!
Similar Anime to Special A
1. Kaichou wa Maid-sama! (Maid-sama!)

Episodes: 26
Aired: Apr 2010 – Sept 2010
An all boy's high school recently became mixed, Ayuzawa Misaki is the first girl to preside the student council. In order to protect the other girls from the majority of a male students, she is very severe and has an authoritarian temper. However, what other students do not know, is that after school she works at a maid café. One day, Usui Takumi, a boy at her school, learns her secret and threatens to reveal everything if she does not listen to him.
The mood is similar between the two shows and the main character also has the same temper that is easily assimilated. Maid-sama!, as Special A, is a funny anime with a lot of romance scenes that everybody should enjoy very much.
---
2. Ouran High School Host Club

Episodes: 26
Aired: Apr 2006 – Sept 2006
Thanks to a scholarship, Fujioka Haruhi was able to enter the prestigious Ouran Academy for the wealthy and famous, despite her being a commoner. A lot of people say things behind her back about commoners, but Haruhi just lives and studies peacefully in the academy. One day, she meets the members of the Host Club and accidentally broke a 8-million yen vase. In order to pay them back, she will have to work as a host in the club and leave behind the peaceful days she was living.
Taking place in a school, the mood is similar, though the main character has a completely different temper. However, the relation between the characters is as cute as Special A and the story is interesting, with the same elite atmosphere. Every character is intriguing and charming while the story is easy to enjoy.
Ouran High School Host Club Official Trailer
---
3. Lovely Complex

Episodes: 24
Aired: Apr 2007 – Sept 2007
Koizumi Risa is 170cm tall, whereas Ootani Atsushi is 156cm. Each of them have a complex issue about their height. In the same high school, they are seen as a comical duet by their classmates and teachers because of all their arguments. The two of them fall in love with another student in their school and decide to support each other to achieve their love, but their feelings will progressively go in a different direction.
Full of romance and comedy, this show is catchy and charming. At the beginning, the main characters share a sort of rivalry feeling before supporting each other. As in Special A, the two main characters have pretty strong tempers which keeps the viewers engaged until the very end.
---
Any Animes Like Special A ?
4. Toradora!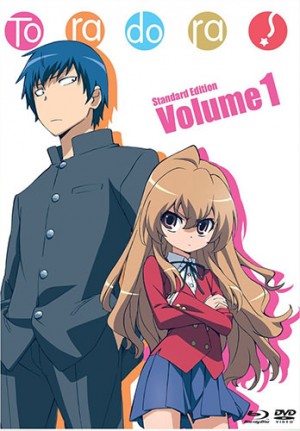 Episodes: 25
Aired: Oct 2008 – Mar 2009
Ryûji Takasu is a high school boy who lives alone with his mother. Because of his looks, everyone is afraid of him while a lot of bad rumors begin to spread around about him. On the first day of the new school year, he's confronted by Taiga Aisaka, also known as Pocket Tiger, because of her aggressiveness. After a misunderstanding, Ryûji become Taiga's "dog", cooking all her meals.
As in Special A, the main girl ha a pretty strong temper and share a strange relationship with the boy. However, their connection changes rapidly and soon becomes really cute and moving. Taking place in a high school, the relationships between all the other characters are similar to Special A.
Toradora! - Official English Trailer
---
5. Kareshi Kanojo no Jijou (His and Her Circumstances)

Episodes: 26
Aired: Oct 1998 – Mar 1999
Miyazawa Yukino is the perfect student. She is cute, smart, athletic and nice. But this is just a mask she wears in order to be liked and admired by other people. Everything was fine for her until the appearance of Arima Souichirou, who gets a higher score at the entrance examinations of the school, beating Miyazawa. One day, Arima discovers the true Miyazawa and begins to blackmail her at first.
In both anime, there is competition between the two main characters, which will quickly evolve differently throughout the show. As Miyazawa and Arima are seen as geniuses, they are considered different from other students, which can be similar to the elite atmosphere of Special A.
---
6. Itazura na Kiss

Episodes: 25
Aired: Apr 2008 – Sept 2008
Aihara Kotoko is in love with Irie Naoki since the first year of high school, and she would like to be in the same class as him. The only problem is that Irie is the best genius the school has ever seen, while Aihara is one of the dumbest. One day, the house Aihara was living in is destroyed and with her father, she will move into her father's friend's house, which ust so happens to be Irie Naoki's house.
Though the main characters are not geniuses like those in Special A, Aihara is determined to study hard in order to be in the same class as Irie. However, both anime have a main girl with a strong personality and who wants to be acknowledged by the boy in one way or another.
---
So, what do you think about this selection of anime similar to Special A?
A mix of anime school life, romance and comedy are really common and there is so many choice that it can be difficult to find another anime like Special A. Although, shows like My Little Monster and Shugo Chara could also have been on our list, but we felt the selection above fit best.
Is there another anime you would like to see in this list? If so, don't hesitate to leave a comment below!
---