To try to find a shoujo manga which isn't cliched nowadays is a hard task. Yet, if there's one manga artist who is able to turn something apparently cliched to something extraordinary, well, she is Kanae Hazuki. This manga artist created a lot of sweet stories, but her masterpiece is–without a doubt–Sukitte Ii na yo (Say I Love You).
The story revolves around Mei Tachibana, our 16-year-old aloof girl who has no friends, or boyfriend. Mei is fine with being alone, as she was betrayed by her friends during elementary school, and now she prefers to be on her own. Mei's life changes when – because of some funny circumstances – she happens to kick Yamato Kurosawa, the most popular boy in the school. Yamato is attracted to Mei's seemingly unfazed attitude, which hides a scared girl ready to kick anybody's ass. The two of them gradually become friends, and slowly but surely their relationship turns into something else.
Although the premises may seem a bit clichéd–as we said up above–Kanae Hazuki managed to make the readers stick to the pages, and in no time Sukitte Ii na yo gained so much popularity that in 2012 it had an anime adaption. For those who read this manga, we're sure you all miss the amazing characters, the dramatic situations, the unwanted foes and the comedy parts, as well. That's why we created this list! So, you all can once again feel the same good vibes, via other six manga similar to Sukitte Ii na yo. Stick with us until the end, and you won't be disappointed!
Similar Manga to Sukitte Ii na yo. / Similar Manga to Say I Love You.
1. Kimi ni Todoke (From Me to You)

Authors: Shiina, Karuho
Genres: Drama, Romance, School life, Slice of life, Shoujo
Volumes: 30
Published: August 2005 – November 2017
Sawako Kuronuma is a timid, quiet and gentle girl. Her behavior is misunderstood by her classmates, who think she is mean and scary. Sawako suffers for her situation, she's frequently hurt and sad. She just wishes to make friends, like every other normal girl. Kazehaya is Sawako's bright classmate, and the most popular boy in school. She admires his refreshing personality, and when Kazehaya starts talking to her, she begins to hope that maybe her high school life can change. That's the starting point for her life to change and become full of friends and love!
Sukitte Ii na yo and Kimi ni Todoke are both shoujo manga that develop mostly in a school setting. Both our heroines are (or look) unapproachable in the beginning, and have no friends. Mei and Sawako have a low self-esteem, and hardly try to mix with others, yet they manage to attract the most popular boys, who are – of course – their polar opposites, and will work as a "free pass" for them to become surrounded by new friends. Kimi ni Todoke lacks the mature tone wielded by Sukitte Ii na yo, but if you enjoyed one, you'll enjoy the other all the same.
---
2. Strobe Edge

Authors: Sakisaka, Io
Genres: Drama, Romance, School life, Slice of life, Shoujo
Volumes: 10
Published: June 2007 – August 2010
Ninako Kinoshita is our cheerful and curious protagonist in Strobe Edge! She has just begun her high school life and has a crush for Ren Ichinose. Ren is quiet and very gentle, but he is in a longtime relationship. That's why Ninako is ready to climb the wall of her one-sided love. However, in time, as she gets closer to Ren, she realizes that maybe her feelings are not one-sided. Her teenage journey will be filled with hardships that will make her grow stronger and will make her realize the meaning of love.
Sukitte Ii na yo and Strobe Edge are both shoujo manga in a school setting. Our protagonists, Mei and Ninako, are different in character, but they both experience love for the first time. Both of them fall in love with the most popular boys in the school; Yamato and Ren, and their love interests, are kind, gentle, and caring boyfriends. In both these series there are love triangles, other friends who become couples too, and teenage models, as well. Strobe Edge has the same vibes as Sukitte Ii na yo, and even though it may look a bit clichéd in the beginning, once you start reading it, you can't stop. Maybe it's time for you to give it a try!
---
3. Hibi Chouchou

Authors: Morishita, Suu
Genres: Drama, Romance, School life, Slice of life, Shoujo
Volumes: 12
Published: February 2012 – August 2015
Suiren Shibazeki is a very cute girl who has always attracted the boys' attention. From elementary school, she tried to avoid the unwanted looks, yet her female friends still smothered Suiren with affection. As a result, she became a quiet high school girl, with a poker face. Kouha Kawasumi is a karate student, and he is as quiet as Suiren. He manages to catch her attention, as he remained unfazed in front of her beauty. Some circumstances bring the two of them close, and gradually both of them will come to know the feeling of love.
Once again, we deal with a shoujo manga in a school setting, exactly like Sukitte Ii na yo. Like Mei, Suiren is a quiet girl who avoids other people's attention, even though it's for different reasons. Although the premises are different, Sukitte Ii na yo and Hibi Chouchou share the main concept of a girl avoiding others, and what's more, in both these series the relationship between the two main characters is explored to various degrees, and we can really understand the characters' nature and what make them act in some ways. Sukitte Ii na yo and Hibi Chouchou share a good amount of drama, as well, but Hibi Chouchou maintains a lighthearted atmosphere, lacking completely the more mature themes wielded by Sukitte . Give it a try, it won't fail you!
---
Any Manga Like Say I Love You. / Any Manga Like Sukitte Ii na yo. ?
4. Cat Street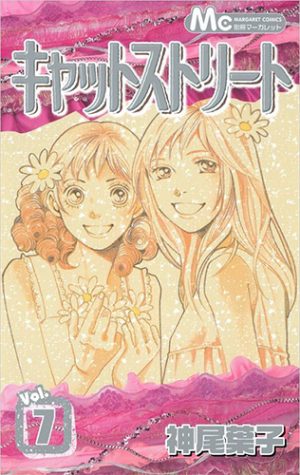 Authors: Kamio, Yoko
Genres: Drama, Romance, School life, Shoujo
Volumes: 8
Published: July 2004 – September 2007
Because of a childhood accident, Keito Aoyama had to give her career as a child actress up. After that event, she gradually withdrew from society, as well. Years after, now 16-year-old Keito does nothing but stay holed up in her room, drowning in her own boredom. When she meets a stranger who takes her to El Liston–a high school for reject kids just like her–her life begins to change. Step by step, Keito will fight her way to the top, thanks to her childhood friend and her new classmates.
Although by the premises, Sukitte Ii na yo and Cat Street may look very different, they share some important things. First, we're dealing with two shoujo manga set in school. Second, both the heroines Mei and Keito are reclusive girls who are scarred by childhood events, without friends. Then, they meet someone who manages to find a way into their hearts and gradually they become surrounded by good people. Mei and Keito face home problems, school and foes, but never give up, so we see their growth. If you liked Sukitte Ii na yo, you'll find the same good vibes in Cat Street!
---
5. Hirunaka no Ryuusei (The Daytime Shooting Star)

Authors: Yamamori, Mika
Genres: Comedy, Drama, Romance, School life, Slice of life, Shoujo
Volumes: 12
Published: May 2011 – November 2014
Suzume Yosano is a 15-year-old girl who, because of some family circumstances, had to move to Tokyo to live with her uncle. One day, she gets lost and happens to meet a mysterious man who helps her. When Suzume's new Tokyo high school life begins, she meets that stranger once again. Not only he is her uncle's best friend, but Suzume's homeroom teacher, as well! Suzume's life is bound to change for the better...
Sukitte Ii na yo and Hirunaka no Ryuusei are two lovable shoujo series taking place in a school setting. Both our protagonists begin their high school lives on the wrong foot, but before even realizing it, they both are suddenly surrounded by friends and people who actually appreciate them for who they are. We follow Mei and Suzume's first approach to love, and see them grow up through hardships, ups and downs. If you wish to read a cute shoujo manga, full of both comedy and drama, which is similar to Sukitte Ii na yo, give it a try!
---
6. Kyou, Koi wo Hajimemasu (Today, We'll Start Our Love)

Authors: Minami, Kanan
Genres: Drama, Romance, School life, Shoujo
Volumes: 15
Published: September 2007 – February 2012
Tsubaki is our cute protagonist with a passion for hair. She loves to fix her sister's hair every morning, but doesn't like too much to fix her own. On the morning of the high school opening ceremony, she happens to sit next to Kyota, the current top student who stole that role from Tsubaki. As if things couldn't be worse, he is rude and treats Tsubaki poorly. Then, Tsubaki decides to take her revenge: she cuts his hair and when he asks for Tsubaki's body as payback, she answers making his hair even shorter! Kyota is attracted to this untamable girl, and swears he will conquer her heart!
Exactly like Sukitte Ii na yo, here we have yet another shoujo manga with a school setting. Mei and Tsubaki are both normal looking girls who manage to attract the attention of the most popular boys in the school, Yamato and Kyota. For both the male counterparts, it will prove to be a hard task to find their way in the heroine's heart, and so we follow the characters' growth step by step. If you wish to read another shoujo manga with some mature themes, Kyou Koi wo Hajimemasu is what you're looking for.
---
Final Thoughts
And so, our list comes to an end! We hope you enjoyed the ride, as much as we did writing it. We gave you six other shoujo manga, sharing with Sukitte Ii na yo the most peculiar traits: an anti-social protagonist, a super popular boy who seems unapproachable when he actually isn't, and a cute love story. We really hope you'll find this list useful somehow, and if you know other manga that could belong here, please let us know in the comments below. See you next time!
---