También puedes leer este artículo en:Español
One can observe, imagine, or experience one of the many milestones in relationships: the moment when someone says "I Love You." Furthermore, how does the individual on the receiving end respond? Excited because they feel the same way? Frightened because it was unexpected? In Sukitte Ii na yo (Say "I Love You"), Mei Tachibana's outlook on socialization is significantly altered when Yamato Kurosawa enters her life, profoundly changing her perceptions on friends, love, and everything in between. Here at Honey's, we identically feel that anime sparks ardent emotions in our lives, whether by love, accomplishments, break-ups, or even loss. Coincidently, here is our list of 6 Anime like Sukitte Ii na yo (Say "I Love You), offering a dose of slice-of-life action. Will you flee or embrace the LOVE Honey is presenting? <3
Similar Anime to Sukitte Ii na yo / Similar Anime to Say "I Love You"
1. Kimi ni Todoke (Kimi ni Todoke: From Me To You)

Episodes: 25
Aired: October 2009 – March 2010
"Don't judge a book by its cover!" Tell that to Sawako Kuronuma's classmates! In the anime Kimi ni Todoke, Sawako's appearance is often mistaken as the scary girl from the film "The Ring," thus giving her the nickname, Sadako. The gossip about Sawako deters people from getting to know who she really is. Consequently, those who know her can say that she is opposite from this fictitious film character. Sawako is very timid, kind and sweet. As Sawako yearns for friends and a sense of fitting in, she is drawn to Shouta Kazehaya, the most popular boy. Incidentally, when Shouta starts talking to her, Sawako's spirit is overjoyed. Over the course of time, Sawako and Shouta venture on to new endeavors, both individually and together.
In comparing Kimi ni Todoke with Sukitte Ii na yo (Say "I Love You"), they share a similar character complex where the shy and outcast female lead seeks refuge in the popular, coveted lead male. Additionally, both opposing natures grow to embrace different aspects of life through each others' perspectives.
Kimi ni todoke – From Me to You – Vol 1 & 2 - Official
---
2. Tonari no Kaibutsu-kun (My Little Monster)

Episodes: 13
Aired: October 2012 – December 2012
Tonari no Kaibutsu-kun (My Little Monster) documents the growing relationship between the very isolated, distant and ice cold Shizuku Mizutani and the carefree yet emotional Haru Yoshida. Their relationship begins when Shizuku is tasked with delivering homework assignments to Haru's house. As such, their romance proceeds slowly, but the two of them begin to discover new aspects of themselves and each other despite what others have observed. With each episode, this anime presents the needed close connections one must chance upon in order to develop and grow.
In comparing Tonari no Kaibutsu-kun (My Little Monster) with Sukitte Ii na yo (Say "I Love You"), both are romantic comedies highlighting the buildup of a friendship among two opposites into something more. Also, My Little Monster and Say "I Love You" have strong, dynamic characters that provide significant support to an already fantastic storyline.
My Little Monster – Official Trailer
---
3. Bokura ga Ita (We Were There)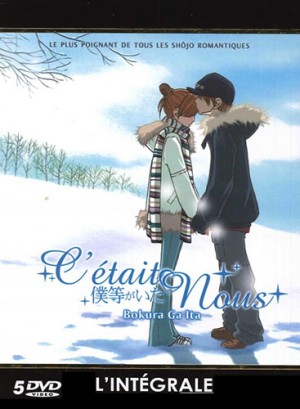 Episodes: 26
Aired: July 2006 – December 2006
Nanami Takahashi begins her first year in high school. Mentally prepared, Nanami has her mind set that her school life will go as typically portrayed in teen movies, which consists of making tons of friends and gaining popularity rapidly. Further along, Bokura ga Ita revolves around the budding relationship between Nanami and Yano Motoharu, a boy from her school. Collectively, we journey through the struggles and joys of blossoming romance, drama, and comedy between Nanami and Yano.
In comparing Bokura ga Ita with Sukitte Ii na yo (Say "I Love You"), the animation is very similar between the two, displaying very light and delicate artistry. Moreover, the development of the characters and storyline are very simplistic and easy to follow.
---
Any Anime Like Say "I Love You" / Any Anime Like Sukitte Ii na yo?
4. Hiyokoi

Episodes: 3
Aired: December 2012 – December 2012
Hiyokoi highlights the adventures of Hiyori Nishiyama, a very shy and awkward girl starting off at a new school. Hiyori is quickly drawn towards the very attractive and charismatic Yuushin Hirose. In this three episode special, Hiyori and Yuushin navigate the school year before Christmas holiday. Additionally, these two very visually dissimilar characters provide an interesting and exciting plot.
In comparing Hiyokoi with Sukitte Ii na yo (Say "I Love You"), again the element of "opposites attract" is demonstrated. Furthermore, there are components of realism to each story.
Hiyokoi Trailer 1 4 Dec 2012 Moe Yukimaru Original Anime
---
5. Kaichou wa Maid-sama!

Episodes: 26
Aired: April 2010 – September 2010
Misaki Ayuzawa is the first female school president in a school that newly transitioned from being all-boys to co-ed. As she is deemed "Demon President" by a majority of males at the school, she is not afraid to lay down the law and stick up for her fellow female classmates. Strong and strict, Misaki appears to be running the show. However, as she appears as nothing short of perfection among her schoolmates, she embarrassingly works part-time as a café maid in order to support her family. No one at her school knows about this shameful secret until the most popular boy in school, Takumi Usui catches her on her work shift. Caught in a bind, Takumi holds the power of whether to bring the president down or take advantage of the situation to get closer to her.
In comparing Kaichou wa Maid-sama with Sukitte Ii na yo (Say "I Love You"), they share familiar aspect of characters falling in love with each other in very cute and funny ways. Also, the main characters share identically close personality traits.
---
6. Ao Haru Ride (Blue Spring Ride)

Episodes: 12
Aired: July 2014 – September 2014
Ao Haru Ride also known as Blue Spring Ride follows Yoshioka through her life in high school. Recognized as the "cute girl" in middle school, Yoshioka is on a mission to revamp her image due to the hate she received from her female peers and the popularity and awe from the boys. As such, Yoshioka is faced with the many issues and obstacles of being a teenager: love, romance, friendship, etc. On top of that, her new, contrasting image disrupts how she really is naturally. Correspondingly, her friend from middle school also joins her in high school, Kou Mabuchi. Kou's appearance too has greatly changed from middle school. Taken together, Ao Haru Ride, channels Yoshioka and Kou discovering themselves and the development of their relationship.
Ao Haru Ride (Blue Spring Ride) and Sukitte Ii na yo (Say "I Love You") both are about romance, friendship, school life and the triumphs and failures of each. They are also both heart-tugging, enjoyable anime that succeeded incredible manga. The stories mean for the audience to truly be engaged, really feeling what the characters do.
---
Final Thoughts
So there you have it. These are Honey's Recommendations for 6 Anime like Sukitte Ii na yo. (Say "I Love You"). The element of opposite attraction combined with Drama, Comedy and Romance are what propel these anime collectively. Further, we know there are tons more out there. Let us know what we've missed! What other anime identical to Sukitte Ii na yo (Say "I Love You") can you suggest to us and other readers? Leave your comments below! We'll LOVE YOU for it!
---
---
There are few anime that capture the existence of a lonely high school career such as Say, "I Love You".
Every small detail to the largest social dilemma has been accurately portrayed through Tachibana and her fellow cast of characters.
Therefore, to find similar anime posed quite a challenge and here are the fruits of such labor.
Six anime that won't disappoint fans of Say, "I Love You" and will hopefully bring forth the same feelings of love and longing as Say, "I Love You".
Similar Anime to Suki tte iinayo / Similar Anime to Say "I Love You"
1. Kimi ni Todoke (Kimi ni Todoke: From Me to You)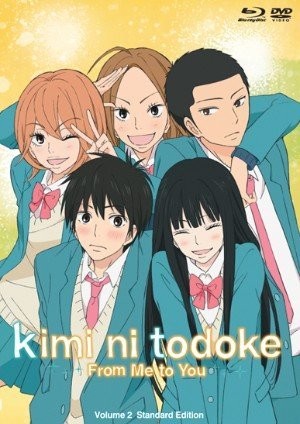 Episodes: 25
Aired: Oct 7, 2009 - Mar 31, 2010
Poor, misunderstood Sawako is feared by her classmates because of her name and because of this she is consistently isolated by her classmates when in truth, Sawako is a sweet, gentle soul always will to lend a hand to someone in need. A chance encounter changes everything when classmate, Kazehaya, sees her school uniform and asks for directions to their school. Sawako happily helps him find his way and reveals her smile to him. Taken aback by her innocent beauty, Kazehaya develops feelings for her and begins to pull Sawako out of her shell for the world to see.
While the main characters in Say, "I Love You" and Kimi ni Todoke may be fundamentally different from each other, don't dismiss this anime outright. Both shows revolve around school life and feature rich character development from each member of the cast. Both of the main women in each show travel the road to self-discovery and eventually learn who they are and what they truly want. Fans who love Say, "I Love You" will also enjoy the rich school life and drama of shoujo anime Kimi ni Todoke.
Kimi ni Todoke - From Me to You - Vol 1 & 2 - Official Trailer
---
2. Love Com (Lovely Complex)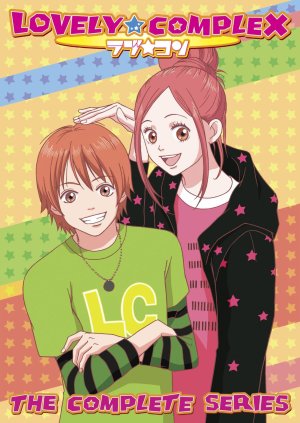 Episodes: 24
Aired: Apr 7, 2007 - Sep 29, 2007
Risa Koizumi stands 5' 8" tall dwarfing other girls at her school and making it difficult to date while her classmate, Atsushi Ootani, has a similar but opposite problem. He's only 5' 1" making him shorter than the average female in his class. Together, the duo decides to help each other date their ultimate crush, but what they didn't anticipate was that they would end up growing closer to each other instead.
Lovely Complex is a classic example of school life shoujo just as Say, "I Love You" is. The coming of age tales are quite similar in that love blossoms in the most unlikely of places. What became a working partnership can easily transform into something more. In both animes the characters are very strong willed and display very human qualities that viewers can relate to easily.
---
3. Skip Beat!

Episodes: 25
Aired: Oct 6, 2008 - Mar 30, 2009
When Kyoko Mogami runs away with her childhood friend, Shou Fuwa, so he can pursue his dreams of being a pop star, she never expected to be taken advantage of. When Kyoko finally comes to the realization that Shou only thinks of her as his personal maid, she sets out to beat him at his own game…by become an actress. Once recruited by a prominent talent agency, Kyoko meets Ren Tsuruga, a famous actor, who decides to help her on her journey through show business. Their relationship begins rather rocky, but soon forms into something much more complicated, all while battling each other's heavy pasts.
Skip Beat! 's story is one of coming to terms with one's own past as well as personal growth. Kyoko is strong willed, giving Skip Beat! the same shoujo vibe as Say, "I Love You". Both main female character leads are unwilling to let go of the past, but slowly learn to trust again thanks to the men that love them. The same high tension drama found in Say "I Love You" can also be found in Skip Beat! giving fans a feeling of being satisfied.
---
Any Animes Like Say "I Love You" / Any Animes Like Suki tte iinayo ?
4. Itazura Na Kiss (ItaKiss)

Episodes: 25
Aired: Apr 5, 2008 - Sep 25, 2008
At the bottom of her class, Kotoko Aihara, has a huge crush on the school's smartest and most popular boy in school, Naoki Irie, and decides to confess to him. She discovers that Naoki is not the man she thought he was when he simply takes her confession and heartlessly rips it up. Upset and mad, she returns home to find the house her father painstakingly built has collapsed in a mild earthquake. With no place to go, her father's close friend offers them a place to stay, but unfortunately the family friend happens to be Naoki's father! Now living under the same roof as her ex-crush, she slowly begins to melt his icy heart.
Kotoko's tale is unique in the sense that once the two main characters become a couple, the store continues on for many years giving viewers a unique perspective on how relationships are not always easy. The romance and fluff moments only seen in shoujo and slice of life anime can are abundant in Skip Beat giving Say "I Love You" fans that warm, fuzzy feeling experience they so desperately crave.
---
5. Hachimitsu to Clover (Honey and Clover)

Episodes: 26
Aired: Apr 15, 2005 - Sep 27, 2005
The story begins with three roommates; Yuta Takemoto, Takumi Mayama, and Shinobu Morita, who attend an art school together in Tokyo and are introduced to a new student named, Hagumi Hanamoto, the daughter of Professor Shuji Hanamoto's cousin. It is revealed that Hagumi, or Hagu for short, is a prodigy whose paintings are often sought after and as a result, she suffers from great amounts of pressure and anxiety. Through her budding friendship with these three love struck men, she begins to overcome her worst fears.
The personal struggles Hagu is burdened with affect her social life significantly not unlike Tachibana in Say, "I Love You". Every day is a constant battle of trust and self-doubt, but eventually both women open up through the warmth of other people around them that care. Honey and Clover is a coming of age anime where self-confidence is the difference between the successful and the failures. Tachibana learns a similar truth in Say, "I Love You" and viewers can easily relate to this lesson in their everyday lives.
---
6. Parakiss (Paradise Kiss)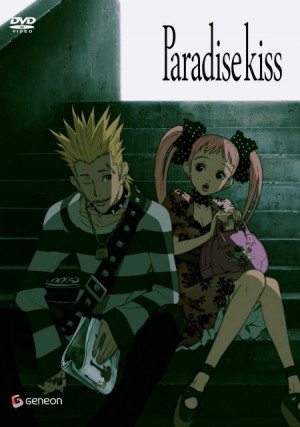 Episodes: 12
Aired: Oct 14, 2005 - Dec 30, 2005
As a student at a prestigious high school, Yukari Hayasaka believed education and hard work were the only ways to make it in real world, but after meeting some fashion students at a school downtown and being "kidnapped" to model, she begins to doubt herself. As Yukari is exposed to the fashion world more and more, she happens upon a man named George who takes an equal interest in her. Romance blooms and soon Yukari is forced to make a decision between her academic life and the fashion world.
Just as Tachibana has her worldview turned upside down, Yukari embarks on a similar journey in Paradise Kiss. Both young women are paralyzed by their past experiences and are initially unwilling to question themselves, but with a little help from newfound friends, they learn to trust not only themselves but others as well. Viewers will love the high quality animation and colorful characters in Paradise Kiss just as they loved the familiar characters in Say, "I Love You".
---
While Say, "I Love You" is certainly unique and hard to emulate, anime that emit the same feelings of angst and drama do exist and will bring fans much joy. Discovering the same types of honest stories told in different styles can bring a refreshing spin on a tale previously viewed as trite. Thankfully, many of these series are rich in plot and character development forcing viewers to tear their eyes from the screen once finished. In addition, some of the shows listed have multiple seasons including Honey and Clover and Kimi ni Todoke. Please enjoy these series at your leisure and let us know what you think in the comments!
---