Manga like Tsurezure Children hit us with multiple emotions. When it isn't making us laugh from constant comedy, it's making us smile with great romance from different couples. Tsurezure Children is one of the best 4-koma we've read here at Honey's Anime that we knew we needed to find similar manga so we won't fall into despair once it ends. After hours of research—that may have made our sides hurt from crying with laughter—we have successfully found our list. Welcome to our 6 Manga Like Tsurezure Children list.
Now if you're currently reading Tsurezure Children like us, then you might be wondering how could we have found any manga just as good as it. Well, we here at Honey's Anime use our combined might and make the seemingly impossible very possible. Our 6 Manga like Tsurezure Children list has other 4-koma manga as well as stories of weird relationships that seems to somehow work. Folks, we warn you, be prepared for emotions to fly as you read our list and begin to try some of these other works for yourself. If you're prepared then let's dive into this manga like Tsurezure Children list together.
Similar Manga to Tsurezure Children
1. Musunde Hiraite

Mangaka: Minase, Mayu
Genre: Comedy, Romance, School, Slice of Life
Volumes: 8
Published Date: Sept, 2009- Aug, 2013
Musunde Hiraite aims at telling multiple tales of romance between high school students. Each chapter we witness the story shifting to a new pairing who will soon be hopefully a couple. Stories like Akechi who has fallen for a girl he wanted to just get information for or Hiro who can't seem to get his upperclassman to accept his love. Will each character live happily ever after or be destined to fail? Find out in this romantic comedy collection for yourself.
Let's begin our 6 Manga Like Tsurezure Children list with a manga that isn't too far from the same idea. Musunde Hiraite by mangaka Minase Mayu mirrors the format of delivering comedy and romance in multiple short stories. With 8 volumes in total, be prepared for numerous romances to begin. We also want to mention the great art style that makes Musunde Hiraite a pleasure to read from beginning to end. If you love Tsurezure Children as much as we do—and who doesn't—then you won't want to miss Musunde Hiraite.
---
2. Ojojojo

Mangaka: Cool Kyoushinsha
Genre: Comedy, Drama, Romance, School, Slice of Life, Seinen
Volumes: 4
Published Date: Jun, 2012-Apr, 2017
Jigokumeguri Haru has a lot going for her. Not only is her family extremely wealthy but she also has celebrity status thanks to her lineage. Unfortunately, those same great qualities—combined with Haru's arrogance—has made most not want to talk to her. Even after transferring to various schools Haru just can't be seen as likeable. Then one day an odd student by the name of Kawayanagi Tsurezure enters Haru's life and things take an interesting turn.
First off, that main dude's name being Tsurezure just made it seem like fate that Ojojojo was going to end up on our list of 6 Manga Like Tsurezure Children. Besides the name though, both Tsurezure Children and Ojojojo share a lot in common. The fact that the romance story in Ojojojo is so odd—but cute mind you—reminds us of the various weird relationships found in Tsurezure Children. We loved every second reading Ojojojo thanks to its funny romance, drama and overall cute 4-koma theme. You're missing out if you don't try out Ojojojo.
---
3. Bocchi na Bokura no Renai Jijou

Mangaka: Shima, Tokio
Genre: Comedy, Drama, Romance, School. Slice of Life
Volumes: 2
Published Date: Aug, 2013- Sept, 2014
In high school there is a lot to be expected of an individual. Besides getting good grades to have a chance at going to a nice university, there's also the thought that this is when you must get into a relationship. For Ichijou Hajime, he seems to be behind everyone on that last part. Now without a girlfriend, Ichijou seems like such an outcast to all of his classmates who seem to be in relationships. Though it seems as if destiny has something in store for Ichijou when a new girl transfers into his art class by the name of Ninomiya Chitose. Is this a tale of romance or maybe just a new friendship for Ichijou? Find out in Bocchi na Bokura no Renai Jijou.
We completely understand the story of Bocchi na Bokura no Renai Jijou. High School has a lot of drama and getting into relationship seems to be one of the top drama filled issues for most. Thankfully though Bocchi na Bokura no Renai Jijou doesn't take itself too serious giving readers a cute rom com that is short but sweet. Bocchi na Bokura no Renai Jijou echoes the elements we love in Tsurezure Children strongly thus why we felt it deserved a place on our manga like Tsurezure Children list. Bocchi na Bokura no Renai Jijou is a manga that you will love as much as Tsurezure Children and maybe love because it reminds you of your own high school love story.
---
Any Manga Like Tsurezure Children ?
4. School Rumble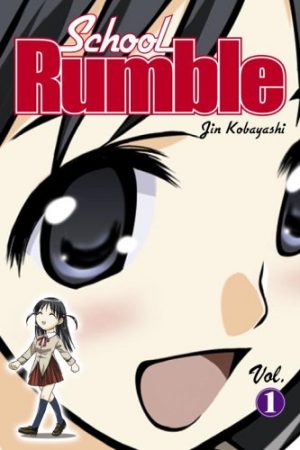 Mangaka: Kobayashi, Jin
Genre: Comedy. Romance, School, Shounen
Volumes: 22
Published Date: Oct, 2002- Jul, 2008
Tsukamoto Tenma is facing a moral crisis! The love of her life Karasuma Oji is about to leave to and study abroad leaving Tenma little time to tell him how she feels. With no other options, Tenma crafts a long confession letter but doesn't sign it. Luckily for Tenma, it seems like Karasuma decided to delay his transfer for one more year. Now, Tenma must scramble to make Karasuma notice her. Tenma unfortunately doesn't yet realize that there is one other who also like Karasuma and plans on launching her own attacks to make him notice her.
School Rumble is one of those manga that when you begin reading you find it nearly impossible to stop. Not only is the comedy great but so is the art story in equal measure. The various things Tenma does to get noticed by Karasuma sometimes leans on the overly ridiculous but that is what makes School Rumble so great. It asks the ultimate question, what would you be willing to do for love? School Rumble is a great manga and if you need something to read while waiting for more Tsurezure Children then you definitely need to try out School Rumble.
---
5. Yandere Kanojo

Mangaka: Shinobi
Genre: Comedy, Romance, School, Shounen
Volumes: 17
Published Date: Jun, 2008- Apr, 2015
It only took one glance for love to hit Tanaka Manabu and Ryuuzaki Reina hard and fast. Oddly enough though neither Tanaka nor Reina seem to be similar in anyway shape or form. In the case of Reina she happens to be a tough delinquent girl who leads two others in causing mischief in both the school and the public. Meanwhile Tanaka is a smart student who seems very off at times thanks to his geeky nature. Despite this, the two have become a romantic couple. However, can Reina and Tanaka deal with each other's difference to keep their love strong?
Besides being a 4-koma like Tsurezure Children, Yandere Kanojo is also just as goofy and outrageous in its presentation. Yandere Kanojo made us laugh out loud so many times we found ourselves getting stares in public at times. While the comedy is the main genre of Yandere Kanojo the romance element also stands strong being both cute and sometimes very serious. Tanaka and Reina will have many trials and tribulations fall upon them as their love continues and if you want to know how it goes down then you're just going to have to read it yourself. It's a no brainer that Yandere Kanojo gets a solid recommendation from us here at Honey's Anime.
---
6. Kono Koi wo Wasurenai

Mangaka: Nanba, Atsuko- Kuramochi, Mari- Kimura, Ayako- Yoshii, Yuu- Mitsuya, Omi
Genre: Romance, Shoujo
Volumes: 1
Published Date: 2006
Kono Koi Wo Wasurenai tells the story of multiple romances that seem to blossoming. However, Kono Koi wo Wasurenai does this by having different mangaka craft different stories with different tones. Stories that follow a girl who doesn't like men without money who ends up dating a freelancer or a young man who just got confessed to but by multiple girls. Each story is short but sweet in Kono Koi wo Wasurenai and all are contained in one volume. Now then the question is, which of the stories within Kono Koi wo Wasurenai will become your favorite?
Ending our—which by no means implies this isn't as good as the others—is Kono Koi wo Wasurenai. We love seeing what different mangaka can do with romance stories and with Kono Koi wo Wasurenai you actually get several mangaka who use their storytelling for their own take on what a shoujo romance could be. Some of our favorite stories were Ready, Go! and Snow, Pilling Up Feelings. However, the whole collection of stories within Kono Koi wo Wasurenai are great and there wasn't a single story that didn't resonate with us. Definitely check out Kono Koi wo Wasurenai for some great shoujo romance comedies that will put a smile on your face or have your emotions in overdrive.
---
Final Thoughts
Tsurezure Children and the manga above are the perfect manga to read when you're just having a sour day. These works show relationships that are silly but seem to work despite a myriad of reasons why they shouldn't. Have you read any of these manga already or are you now planning to? Let us know in the comments so we can hear your thoughts. If you want to show your love to Honey's Anime keep coming back for more articles and lists just like this one. Now then it's time to get back into re reading some of the chapters of Tsurezure Children so please excuse us.
---