También puedes leer este artículo en:Español
With a few episodes already out for most current series, we've quickly found ourselves part way into the 2016 Winter season. So now would be the perfect time to get a good idea of what shows you might be missing out on, what diamonds are hiding in the rough. Here we'll be looking at what the Winter season has to offer you romance lovers, whether it be your standard boy meets girl shoujo, or the rarer tales of boy's love.
No one's judging, there's no order to the list today. This is just a small peek at the series you should be watching, so read on.
1. Momokuri

Episodes: ?
Aired: December 24th 2015 to ?
After many moons of candid photographs, observing and generally stalking her crush Shinya Momotsuki, Yuki Kurihara plucks up the courage to confess, which "Momo", without giving it much thought, accepts. Making it past that first hurdle, the two must now work out what it really means to be in a relationship, which is no easy task for first timers.
Based on a web manga, the series is currently only being streamed through the producer Comico's app, so unfortunately the video quality is a bit sad. But of course this doesn't take away from the characters or story, both of which are an absolute joy, and for a romance comedy, the series is super cute and incredibly soothing to watch.
A fairly low key production, it's nice to see a fairly new series that may never have otherwise been animated, get picked up in the form of half episode shorts. Being an ONA, the time between releases doesn't seem to be entirely set, but hopefully we're not left out in the cold for too long. If you want something short and relaxing to watch when you've some time to spare then Momokuri is well worth picking up.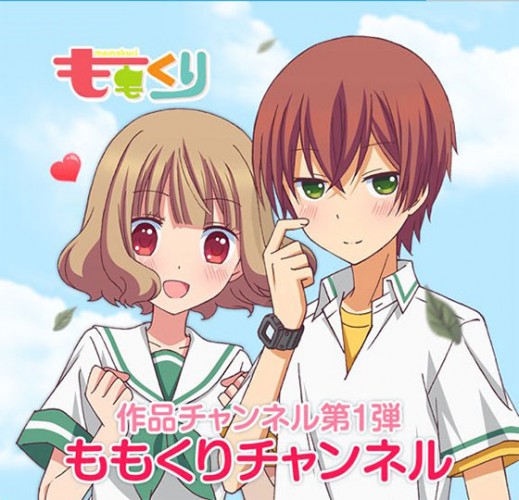 ---
2. Kono Danshi, Mahou ga Oshigoto desu

Episodes: 4
Aired: February 5th 2016 to February 26th 2016
The season's Boy's Love anime, Kono Danshi, Mahou ga Oshigoto desu follows Chiharu Kashima, an employee at the Wizard Bureau's Crisis Countermeasures Division. At the bar he frequents, Kashima meets a friendly stranger, Toyohi Utsumi, who declares his love for Kashima shortly after their meeting. The story watches their relationship grow as the two become closer.
Kono Danshi, Mahou ga Oshigoto desu is an original work, and part of the Kono Danshi series which so far includes several OVAs and a drama CD. The first in the series to be aired on TV, fans of the previous installments have a lot to look forward to, with quality likely to be higher than ever before, and the same director, Soubi Yamamoto, making a return.
Although the first episode has yet to air at the time of writing, the series' promotional videos do an excellent job of showing off the distinctive animation style, and stunningly detailed art that will hopefully be present throughout. Although only four episodes long, considering the unfortunately low number of shounen ai titles around, Kono Danshi, Mahou ga Oshigoto desu is very much looking like an oasis in the desert for boy's love fans.
---
3. Akagami no Shirayuki-hime 2nd Season (Snow White with the Red Hair)

Episodes: 12
Aired: January 12th 2016 to ?
For those not familiar with the series which aired last year, Shirayuki, our sweet red haired heroine, was once an apothecary working in the city of Tanbarun, until the prince of the country tried to make her his own. After escaping his clutches she is found and rescued by Zen Wistalia, the prince of the neighboring country Clarines. In an attempt to repay the debt now owed, Shirayuki joins his palace as a court herbalist. Back for a second season, Akagami no Shirayuki-hime once again follows Shirayuki and the other residents of the royal palace of Clarines.
If you've not seen the first season, it's probably a good idea to do so before jumping into season two, and why wouldn't you when it's such an excellent series? Season two has started off with much of the same vibe as the prequel, with some hints of romance, comedy, and some enjoyable interactions between the cast, with Obi and Ryu in particular being a cute pair to watch from the first episode.
With Bones once again at the helm, you can expect to see the same high production quality and polish that the series deserves. Akagami no Shirayuki-hime is, as before, likely to be one of the top shows of the season, and any fans of the shoujo genre should be sure not to miss it.
---
4. Norn9: Norn+Nonet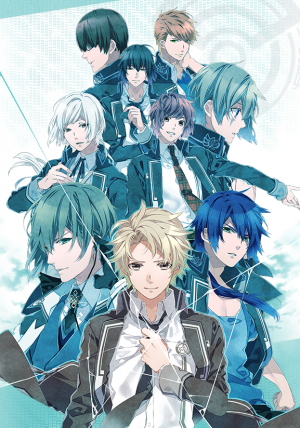 Episodes: 12
Aired: January 7th 2016 to March 24th 2016
The Norn ship, a futuristic aircraft home to twelve youths with special powers. Suzuhara Sorata, a Japanese elementary schooler, is transported through time and space to the ship, not knowing why or how, and sets to work trying to find a way back home. At almost the same time, outsiders have attacked the thought to be impenetrable ship and somehow made it inside, raising questions about the twelve's loyalty to each other, and to the Norn. With so many questions and so few answers, things appear to be getting very complicated, very quickly.
Norn9: Norn+Nonet is adapted from the popular otome game by the same name, a reverse harem featuring nine boys and three girls. Although there are numerous routes in the original game, the anime appears to focus more on the heroine Koharu, the last of the twelve to board the Norn. As a visual novel with such a deep storyline, it will be interesting to see how it'll be handled in only 12 episodes, though fortunately in the episodes aired so far things seem to be moving at a fairly quick pace.
Along with some seriously beautiful background art throughout, the series is also blessed with a great soundtrack, the opening song being sung by Nagi Yanagi, well known for performing themes from Nagi no Asukara and My Teen Romantic Comedy SNAFU. Norn9 is worth trying just for the art and music alone, and hopefully we can expect some more romantic developments in the upcoming episodes to keep things interesting.
---
5. Nijiiro Days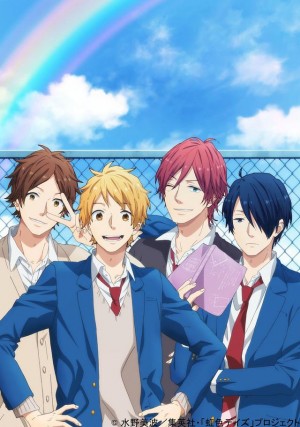 Episodes: 24
Aired: January 10th 2016 to ?
Sitting in the snow after getting dumped by his girlfriend at Christmas, a passing girl hands Natsuki Hashiba some tissues for his teary eyes, and in doing so makes herself unforgettable. Now the start of the new term, Natsuki is quick to find out that he and his new crush attend the same school, cue awkward high school romance. Nijiiro Days revolves around the lives of four high school boys: Natsuki, Tomoya, Keiichi, and Tsuyoshi, in their attempts at love, school work, and generally messing around.
A manga adaptation, Nijiiro days focuses on the boy's lives rather than the female characters, which is quite unusual for a shoujo manga, though having Natsuki as a rather innocent and feminine lead helps. It's surprising how different the four main characters are: a maiden, a jock, a bondage addict and an otaku. But with each of the guys being so unique, it feels like they're being given more space as individuals, so that hopefully each of their stories will develop nicely over the 24 episodes.
The cast from the drama CD is back for the anime, so anyone who's already a hardcore fan of the series can look forward to that, and it's always reassuring to hear an already established cast are working together again. From the episodes currently aired, Nijiiro Days is perfect if you want something light hearted, that's perhaps a bit more focused on comedy than romance.
---
6. Prince of Stride: Alternative

Episodes: 12
Aired: January 5th 2016 to ?
Stride: a sport that combines the speed of short distance running with the flourish of parkour. Honan Academy was home to one of the strongest Stride clubs in Japan, until its 3rd year members stepped down. This comes as somewhat of a surprise to new 1st year Nana Sakurai, who was hoping to become the team's new manager. But with some other new first years ready to sign up, it's time to get the Honan Academy Stride Club back in form and racing.
Honestly just knowing that the series is produced by Madhouse is enough of a reason to give an episode or two a try, with some brilliant looking animation and colorful, vivid art. Originally based on an otome game, the Price of Stride anime looks like it may deviate somewhat from romance, and focus more on the Stride club member's relationships with each other and on the sport itself, with the first few episodes being somewhat reminiscent of Free!.
Prince of Stride is likely not one of the most romance focused shows here, but none the less any fans of otome games or bishounen will certainly find it to be worthwhile watching. If you're into sports shows then even better, as the idea of Stride itself is quite an interesting one, and has so far been exhilarating to watch.
---
Conclusion
So that's it for Winter 2016, and it's feeling like a pretty interesting season. With numerous shorts and OVA type shows, you'll definitely have to stay on your toes to keep up with it all!
Maybe you already planned to watch everything here, or maybe there was something new that piqued your interest? Either way, why not let us know in the comments below!
---