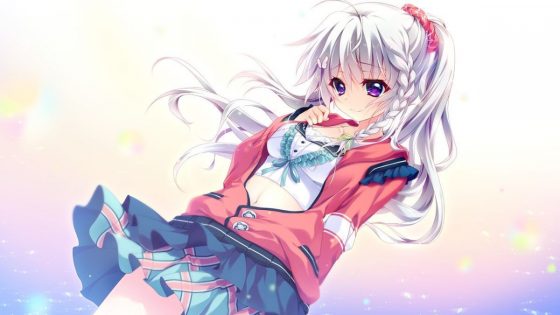 What You Need to Know:
Sekai Project and Palette are super excited to announce that 9-nine-:Episode 2 is coming to Steam on August 16th! The game will be $19.99 USD and will launch with a 10% discount for the first week of sale. 9-nine- Episode 2 is the second volume in a series of supernatural mystery games, with Episode 2 telling a story centered around Sora Niimi. The entries in the the 9-nine- series share the same setting and world, but each entry focuses on a different heroine.
9-nine- is a tale of the town of Shiromitsugawa, host to mysterious Artifacts and the superpowers they bestow on their Users. A tale of a brother and sister with a close bond, and also a murder mystery where they hunt down the culprit behind a series of supernatural murders. Each game has an independent story that can be enjoyed on its own.
Source: Official Press Release
Kakeru Niimi CV: Jun Teratake
Profile
Protagonist of the story and a second year at Hakusen Academy.
Though he can be a bit on the blunt side, Niimi is a reliable young man with a strong sense of responsibility.
After Kujo explained to him about the Artifacts, he joined her on a mission to get to the bottom of the mysterious petrification incidents plaguing the town.
According to Sophitia, he himself is an Artifact User, but he is completely unaware of it, and his ability remains unknown.
Spec
Height: 180 cm
Hobby: Building models
Likes: Hearty home cooking
Dislikes: Not standing behind his promises
Profile
A first-year at Hakusen Academy and this installment's heroine.
Sora is the protagonist's cheeky little sister.
Free-spirited to a fault, she spends most of her time barging into Kakeru's room and eating his snacks or playing his games.
However, despite her outgoing demeanor, she's quite the coward.
Thanks to the mysterious powers of her Artifact, she can manipulate her presence as she pleases.
Spec
Height: 156cm
Measurements: 82-58-77
Blood type: B
Birthday: July 20th
The many-worlds interpretation posits that every random motion produces a novel branching universe. A butterfly flapping its wings rarely means a hurricane across the world, and human choices are no exception—our little everyday choices rarely bring about earth-shattering changes. But for Kakeru Niimi, one of those little decisions is about to make a big difference.
One night, Kakeru's cheeky little sister Sora asks him to let her stay the night. And from the seemingly inconsequential moment when he caves in and says yes, a new story is born, a hurricane which will upturn both their lives.
The cadre of evil users, Rig Vega. The noble crew that opposes them, the Valhalla Society. In 9-nine-: Episode 2, these two forces will collide, striking new sparks and shattering preconceived notions. Can Kakeru and Sora put an end to this unveiled threat before it destroys them both?
Gorgeous art from Izumi Tsubasu (Artist of SakuSaku:Love Blooms with the Cherry Blossoms)
Multi part series with independent stories per episode
Two different endings
CG gallery
Music gallery
Movie gallery
FULL Japanese voice acting (Including the main character!)
Japanese, English, and Chinese text. Dual-lang display options
---
The visuals on this one look gorgeous!
The story is what gets my attention.