Mangaka : Disney
Publisher : Yen Press
Genre : Fantasy, Adventure
Published : November 2020
Disney is undeniably a huge chunk of our childhood. From the quirky educational shows to the antsy teen shows. We've just spent or maybe wasted, a lot of time-consuming their products. Actually, we still do; willingly, at that! Frozen is just a game-changer, you know. Anyway, when speaking of Disney, Mickey Mouse and the gang will surely pop up, and now is the right time for that. Yen Press brings us yet another interesting snatch -- Wizards of Mickey!
Discussion Time
Wizards of Mickey, as you've probably already guessed, is all about Mickey Mouse and the entire gang as wizards. It starts off with Mickey being an apprentice wizard who can't even pull off the lowest level of magic properly. Things were, however, stirred when his master Nereus left the village, and a random stranger managed to get his hands on his village's diamagic, the tool that allows them to conjure rain magic. Mickey is forced to enter the Grandwizard Tournament, while Nereus gets prisoned by his supposed old friend.
Why You Should Read Wizards of Mickey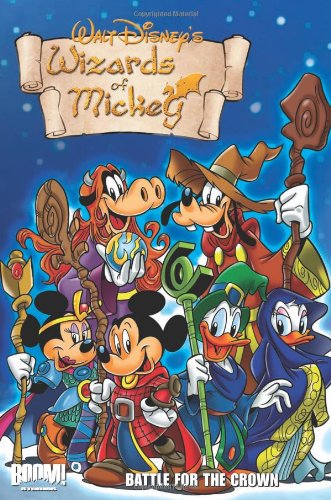 1. Fun, Action-filled Adventure
We're talking about that talking mouse, which is also Disney's mascot, so it's only valid to expect that this series will meet that bar, and it did just that. Given that the entire gang is traveling and competing as wizards, they are met with various challenges and evil wizards. They use their wits, magic, and what not to progress and get more diamagic to get even stronger. Also, they have different goals in sight. Mickey wants to save his master, Goofy just wants to know what he wants, and Donald wants to get rich. Yeah, we're all Donalds.
2. Complete Entourage
This series is sure to be star-studded. All the cast from Mickey to Clarabelle are present. What's more, they all have significant roles. If you're someone who likes seeing your childhood heroes in the spotlight again, then this series will quench your Mickey Mouse thirst. There are even child-friendly lovey-dovey scenes. Yeah, that means Mickey and the gang are spreading some love perfect for Christmas time.
3. Easy to Digest Plot
It's quite obvious that this series isn't for full-grown adults, but we won't really judge anybody. It's a good story still. Anyway, since it's originally made for children, there is no heavy plot, dark twists, or deep language. Heck, even the violence is child-friendly. On the other hand, that makes it a light and enjoyable read. It doesn't require much thinking and you can just swallow the story whole. After all, it's meant to be a fun and entertaining read.
---
Final Thoughts
There's really nothing much to say about our childhood friend, Mickey. It's Mickey Mouse, so it's definitely going to be fun. More so, this comic actually tells a long story, rather than the typical shorter bits. If Disney's been a huge chunk of your childhood or you're a big fan of Mickey and the gang, we're sure you'll love reading this series, because we sure did!