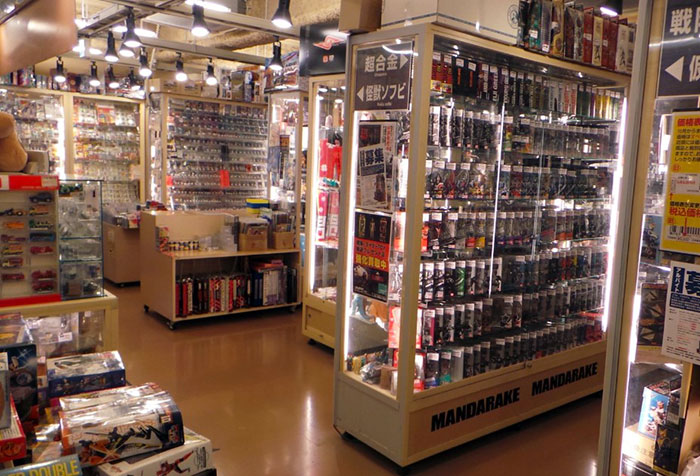 It is a must given for all anime lovers who visit Tokyo that they must see Akihabara, what we proudly call our Mecca or Vatican City. If you ever get the chance to visit, there are plenty of places to visit for a large percentage of your needs. But where can you go for the hottest anime goods? One easy answer is Mandarake. It is eight floors of anime, manga, retro video games, J-pop and tokusatsu goods. It has something for all Japan entertainment buffs. All items are used and depending on the rarity of a certain item, it can go as high as 300,000 yen!!! (Current exchange rate as of Fall 2015 is averagely 120 yen to $1USD)
Mandarake Info
Location
3-11-12 Soto Kanda Chiyoda-Ku Tokyo-to 101-0021

JR Keihin Tohoku Line, JR Yamanote Line, JR Sobu Line, Tsukuba Express

Cost of Admission

N/A

Hours of Operation

12:00 - 8:00 (everyday)

Official Website (If available)
General: http://www.mandarake.co.jp/
The Experience
The First Floor
Before entering prior to opening hours, customers can enjoy some window displays. Usually it has some nice cosplays on exhibit and various retro toys not only from Japan, but from all over the world. The first floor serves as the place where people can sell their goods. Before opening hours on weekends, lines will be packed but it is mostly with people who want to sell stuff, so you are not 100% obligated to wait in line with them. Also on display are retro toys from between the 1950s and 1970s. Paintings by Japanese artists such as Matsumoto Leiji, the creator of Galaxy Express 999 and Space Battleship Yamato are occasionally on display as well.
On the side, there is an entrance that is instantly accessible to the elevators and stairs. Customers are free to use this entrance. If you desire the exercise, please use the stairs. The elevator (only 2 sets) can get crowded, and you may have to wait awhile to get in.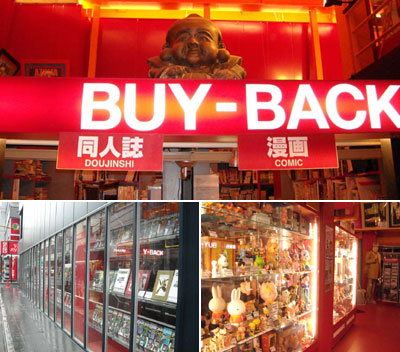 The Second Floor
This is the cosplay floor and from my personal experiences, this is mostly aimed for female customers. From Sailor Moon, Madoka, to Hatsune Miku, fans can find quality costumes, wigs, and props. There may be cosplay for male characters from series like Prince of Tennis, but due to its popularity with women in Japan, the material and design of the shirts and pants are meant to fit a woman's frame. Due to the high domestic made quality of the costumes, costumes will range between 10,000 to 30,000 yen.
Compared to other floors, this section is relatively small and is not really that crowded.
The Third and Fourth Floors
If any of you are looking for manga and/or art books, this is the place for you. The third floor is aimed for male customers while the fourth floor is for females. Most of the manga will be used and one volume can be as cheap as 100 yen and can go as high as 500 yen. Depending on the series and the quality, a 25-volume manga set can range from 2000 to 20,000 yen. The third floor sells Japanese translations of American comics as well. Both floors (and from time to time, the second) will also sell scripts and animation cels of anime series!!! There, fans are likely to see the cels of the original Sailor Moon anime series and Macross 7 for sale, and they can range from 1,000 yen to 20,000 yen.
Compared to the second floor, these floors are very spacious but between bookshelves within the asiles, these places can be very cramped. So be careful if you are carrying a backpack. Trying to walk between people in bookshelf aisles is going to be a nightmare on a crowded day!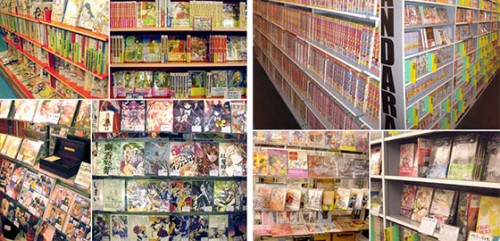 The Fifth Floor
This is for people who love hentai. This is just one of those instances where you are encouraged to use your imagination on what they got for sale in a place like this. Everyone who loves anime and knows about the hentai genre already has a general idea of how "creative" it can get and if you choose to enter, it is within at your personal discretion.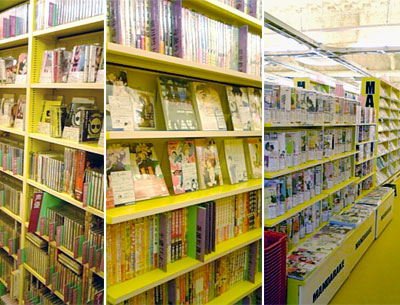 The Sixth Floor
Looking for DVDs, Blurays, retro games, CDs, and posters? This is the place for you!! The front half of this floor from the entrance is dedicated to retro games between the days of the Famicom to the PS2/Dreamcast/GameCube generation, while the back half is the place for anime, tokusatsu, and J-Drama DVDs and Blurays. Game prices can range from 1,000 yen for any common Famicom game to let's say 10,000 yen for Crows on the Sega Saturn. Most Neo Geo games can go as high as 80,000 yen!!! Also, please keep in mind these games will not work on non-Japanese consoles so you may have to get a converter, or buy a Japanese console. Retro consoles from the Famicom to the Dreamcast average from 3,000 to 6,000 yen depending on the quality. The Mega Drive however will cost 10,000 yen and so will the Mega CD. But many hardcore Sega game collectors can promise that the Japanese Mega CD (and Saturn) library has some really awesome Japanes exclusive games that justify its costs.
DVD and Bluray Japanese prices are a completely different beast altogether. For example, the 1986 animated Transformers movie on DVD there costs 15,000 yen!!! In addition, the DVD set of Mach Go Go Go (or known world wide as Speed Racer) for 25,000 yen while the Bluray is 40,000 yen!!! The bad news is that Japanese DVDs will not work on most US DVD players, but should with European due to both being region 2 coded, while the US is region 1. But in some pleasing news, Japanese Blurays will work with a good number of Bluray players around the world. So for lets say American buyers, Japanese blurays will work on American players. The prices will also apply to tokusatsu series like Zyuranger (the series that paved way the original Power Rangers) and popular J-drama series like Gokusen.
CDs can be pricey as well. I bought a CD set of Transformers soundtracks for 7,000 yen. In addition, a rare Rockman soundtrack goes for 30,000 yen!!! But for more common and mainstream franchises such as Bleach and Naruto, prices will be as low as 1,500 yen.
Compared to the manga floors, this area is surprisingly not as crowded, and has a bit more walking space in the aisles. So if you like some privacy while browsing, this might be the right spot.
The Seventh and Eighth Floors
The seventh and eighth floors are dedicated to action figures, trading cards, models and build-a-figures. The seventh floor is mostly dedicated to anime while the eight floor is dedicated to Transformers and tokusatsu. The space of these floors is the same as the remaining stores, but the aisle space is CRAMPED. If you're Yokozuna size, you're not going to fit in. Many of the retro figures, especially Ultraman and Godzilla merchandise from the 60s and 70s, are going to be astronomical. If you want the Dino buckler from Zyuranger (or the morpher from Power Rangers), be prepared to pay 120,000 yen!!! If you want master grade Transformers figures exclusive to Japan (the size of let's say 1/60 Gundam model), you may have to pay 40,000 – 80,000 yen.
If you are looking for generic anime figures, prices will be more averagely affordable between 2,000 to 10,000 yen. Most Sailor Moon and Dragon Ball Bandai figures in addition to most Gundam models will be around 3,000 to 6,000 yen. As for trading cards, be prepared to pay 30,000 yen for Sailor Moon cards from the 1990s!!! The seventh floor also sells figures of American comic book characters as well from Marvel, Image, and DC.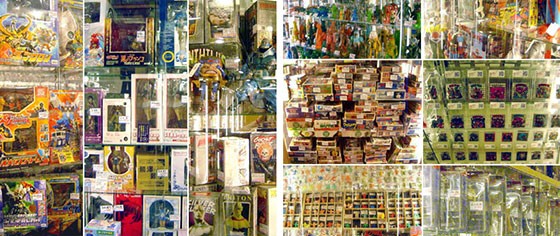 Mandarake Akihabara Complex Floor Guide
---
Additional info
The great news is that there will be foreign staff that can help if you can't understand Japanese. One of the clerks is a young American lady. She normally works the seventh and eighth floors so please look for her if she happens to be working there. Akihabara also has Wi-Fi so hopefully you should be able to access it there. On one important note, the store will have displays and signs that say you can't take pictures so if you want to post pictures of a figure that caught your eye and want to post it on your Instagram or Facebook, then you can't.
If you get hungry after some hard shopping, at the recommendation of Honey's Anime, you try this ramen restaurant just right by. It's the yellow building just right across from the front entrance, and you can't miss it. The ramen there is probably one of the best you can ever have in Japan! Unfortunately, it does get busy and during lunch, the lines are pretty hectic, but worth the wait! During the summer, there is a nice ice cream stand just right outside as well.
Overall conclusion
In other good news, there are other Mandarake locations around Tokyo such as in Shibuya, Nakano, and Ikebukuro. Outside of Tokyo, there are locations in Osaka, Utsunomiya, Sapporo, Nagoya, and Fukuoka. But nothing beats the one in Akihabara. This place has most of your needs on practically every front whether it would be soundtracks, DVDs, blurays, figures, games, posters, etc.