Hey everyone! Welcome back to "eat like your anime faves," a series where I teach you just how to eat like characters do in anime. That's right; you learn how to cook real Japanese food from anime. I'm back again to give you more of what you love!
Now that fall is here and October is about halfway done, people are dropping like flies with colds! It's even worse when you see characters you like in shows get sick! It's horrible! It's awful! You just want them to be better! In the meantime, why not cook something that not only Japanese characters love, but Japanese people do as well! Okayu is something that is a little bit of a comfort food while udon is for those who don't really have an appetite and need to eat, or if you just want a delicious noodle dish!
Okayu (Rice Porridge) from Toradora!
In Toradora! Ryuji whips this up for Taiga when she is down with a cold. Poor thing has no appetite and no energy, so Ryuji tries his hardest to make them for her. Okayu is probably the easiest thing to make on its own. It requires almost no effort, and you'll have something that is either great on a cold day, or a day when you're sick! It's a warm, filling dish that is very easy to stomach. In terms of western equivalents, the closed thing would be maybe chicken noodle soup? Sometime easy on the stomach that can give you some sort of nutrition.
Okayu (Rice Porridge) (serves 1-2 people depending on your appetite!)
finely chopped scallions
¼ cup
Note:
That's it. That's all you need to make Okayu. Since this is porridge, you need to dilute the rice as much as possible to make it reach a glutinous consistency. However, okayu rarely appears on it's own, so here are some ideas!
Optional Ingredients:
Chicken broth and some fish stock instead of water or ½ of the water portion. This will make it taste sort of like chicken noodle soup!
1 raw egg and a tablespoon or two of soy sauce
Grated ginger
Milk and honey
Salt and pepper
Miso paste
1 Cup of cooked chicken breast!
---
How to Cook It:
Soak your rice beforehand for about 15-20 minutes or wash it well.

Add in all the water and rice in a pot. (Do not use the water that you used to soak the rice in!).

Put a lid on it and turn the heat on high till the water is boiling. Routinely check the pot to make sure that it does not boil over, as rice tends to do, and stir to keep the rice from sticking.

Once the rice has cooked, there should still be a good amount of water in the pot. Put a lid back on and simmer the rice on LOW heat for another 30 minutes or so until the rice reaches a thick consistency.

Final point, if you're adding in other things other than the chicken stock, now is the time to do it!

Top with those finely chopped green onions and you're ready to dig in! Be careful though as it will be hot.
(Note: If you are underage, or new to cooking, be sure to let your parent/guardian know what you are doing. We don't want you to get hurt!)
Again like I said above, please be careful when cooking this. Especially if you're feeling under the weather. However, this is fairly easy so while it does take a bit to cook, it's well worth it! This is also great if you have a sore throat as it's easy to swallow!
Yum!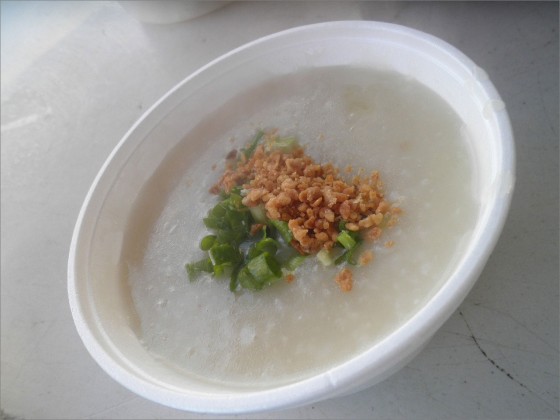 ---
Udon Noodle Soup from Food Wars: Shokugeki no Souma
Marui serves up this dish towards the end of Shokugeki no Souma! He makes it as a curry udon which is what I will be making today! For the record, you do not need to make your own roux for this. Roux takes a very long time to make, and there is no need to make your own anyways as you will not need a ton of it. Just use any flavor of curry roux that you like. You can find them in your local grocery store.
Back to udon. Udon has a bunch of different style and varieties. It can be eaten hot or cold, but this dish is perfect for colds. Especially curry. If you have a cold, are congested, or your nose is stopped up, the curry soup will help you greatly. Curry Udon is a bit more hands on, but don't be discouraged! It is worth the wait to make it! I will be giving you the full version of udon soup, but if you are really ill and want this for yourself, then feel free to cook it quickly without the things listed as optional.
Udon Noodle Soup:(Serves two)
Udon Noodles
(These can easily be found at an Asian super market. Usually they are frozen!)
2 packs
fish stock (cubed is fine)
1 tbsp
Potato starch flour (All-purpose is fine too)
1 tbsp
(Note: Optional ingredients will be added as part of the recipe)
Optional/Additional Ingedients:
½ pound (~100 g) of beef, pork or chicken
½ onion
2/3 cup of Mentsuyu (Asian Market)
---
How to Cook It:
Boil the udon noodles according to the package. Drain and then place into bowls.

Cut up the meat and onion.

Put the water, mentsuyu, meat, and onion in a pot and bring it to a boil.

Once the meat and onion have cooked, add in the fish stock and piece of curry blocks. (Note: One block has four pieces.)

Turn down the heat and stir to dissolve the roux. You do not want it to burn! Add in the flour here to thicken it and it's done!

Pour over the noodles and top with some chopped green onions if you have them on hand.

Dig in!
Curry Udon is great any time, but I really enjoy it when I have a cold. It warms my stomach and my head and clears up my sinuses. It's an all-around great dish that I recommend heavily! Again, if you are sick, feel free to skip everything in the "optional ingredients" section and just dissolve the roux and make the basic soup. You will still get the same benefits with the delicious flavor! The noodles will be soft and chewy and very easy to swallow just like with the okayu!!
Here we are at the part where I have to say goodbye. I'm sad that this week is over, but I look forward to bringing you more anime meals next week! If there is anything that you want to see made or have explained, please comment below so I know! Until next time!
Yum!
---
---
[RP_eat_like]