Anime Festival Asia is the largest Southeast Asian J-Pop & Anime Festival. Reporting a steady increase of attendees over the years, AFA continues to draw crowds from all over the world as it builds an international image of THE anime event that you wanna be in.
Of course, here at Honey's Anime, we won't make you feel left out. We are dedicated to providing you full coverage of the event over the span of 3 days.
Let's start! Honey's Anime is officially at AFA 2015 Singapore!
Anime Festival Asia 2015 Singapore (AFA 15) - Basic Information
Name & Details of Event:
Anime Festival Asia 2015 Singapore (AFA 15)
http://animefestival.asia/afasg15/
Founding:
2011
When:
27th November - 29th November
Length:
3 days
Location:
Suntec City Convention Centre
Price:
Exhibition
$13/day (around 9USD)

Exhibition + Stage Events
$23/day (around 16USD)

Specialised and early bird packages are available on website.

Hotels:
The event is located in the Central Business District, hotels nearby are premium and caters to the business class. We recommend cheaper hotels further and then taking the train to the event. It is a small country after all. Travel time is reduced!
What to Bring in Order to Enjoy Oneself:

Water, definitely lots of water. Food as well if needed. Food & Drinks are overpriced in the city area.
A haversack/backpack to keep your loots from the event.
Light sticks if you're going to the concert.
First Day Experience - Nov 27th 2015
As this is the first day, on a working Friday to boot, we entered the event a bit later and as such, the first day was dedicated to locating the popular hotspots of the event and finding our way inside the packed event hall. Nevertheless, we are able to cover sufficient ground and get juicy dips for the next day as well!
Our day begins when the conversation even started. Even before the doors are opened, long crowds have started forming to get admittance into the event area such that even local papers are reporting on it!
Event goers are greeted by myriad of familiar names once they have entered the event hall. Many of the favourite booths have returned such as Good Smile Company, Smart Doll, Pony Canyon, Odex, each bringing new and revamped content and exclusives! That's not saying there's nothing new! AFA 2015 did not fail to impress again with new booths by the good people from CHEERZ!, NHK World and Force Of Will, bringing a fresh outlook and perspective, which we were only too happy to welcome with open arms.
For today's feature, we paid a visit to Danny Choo's smart doll's booth. It was such a treat! On display is the 3D printer used to manufacture each smart doll! The line up of dolls this year was of a higher diversity than before, each adorned with new clothes, it was like a mini fashion show for doll aficionados!
Food Street
One of the biggest problems faced by us event goers is sustenance. Lugging all our goods while rushing booth to booth takes a toll on the human body. Thankfully, AFA 2015 has helped us overcome this problem with the introduction of the food street! Lined with delicious treats and even full meals, this new concept is one we truly can sink our teeth into! Ramen at a convention is always welcomed. Especially if it is by an award winning chef.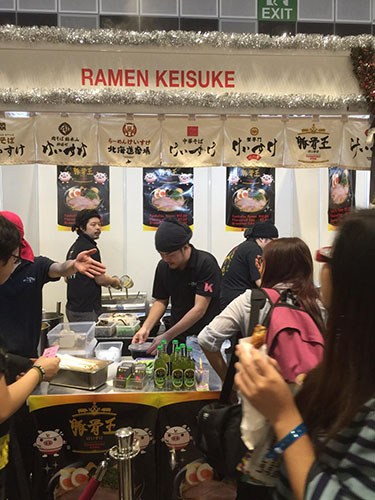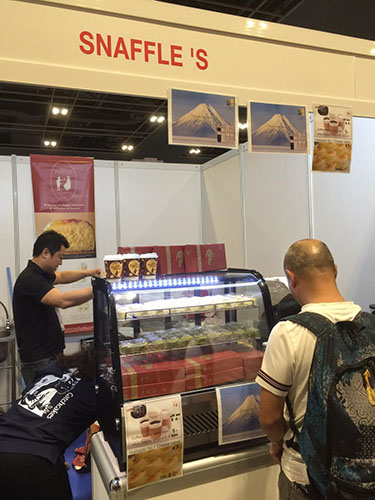 I love Anisong - AFA 2015 Singapore
Every year without fail, AFA will wrap up the day's events with the Anisong segment. Event goers are treated to popular J-Pop music and memorable Anime tracks. I think this is the AFA way of ending the day with a blast! The Anisong segment is a much anticipated event with front row VIP seats being taken up in a matter of minutes! Despite the hefty sum of S$398 (early bird VIP price) price tag for all three days, it is well worth it for the fans as they are given the opportunity to see numerous of their favourite artistes, LIVE! To put it into perspective, that's about 280 US Dollars or about 34,500 Yen.
This year's theme is Anisong Reboot! Featuring new faces, some never before seen on the AFA stage, we are of the opinion that it fits the title perfectly as it is most definitely time for a reboot! This year's line-up sees the most number of fresh new faces joining the grand stage of AFA as well as being the most varied throughout the years!
ZAQ Performance at I Love Anisong
For the Anisong Day 1, Honey's Anime would like to feature ZAQ! Fans would know ZAQ as the artist that sang openings to favourite titles such as Chuunibyou demo Koi Ga Shitai! and Highschool DxD New.
This is ZAQ's first time in Singapore and while she may be an unfamiliar face for some, she definitely did not disappoint! ZAQ opened with "Katararezu Tomo" from Concrete Revolutio: Choujin Genso. The upbeat and thrilling tempo excited the fans, bringing their unity as anime lovers to an equilibrium as light sticks started swaying with more zest. Fans instantly recognised the theme ending to Chuunibyou and started to wave their light sticks fervently. The atmosphere intensified as ZAQ started dishing out track after track of familiar openings to some well-known animes. The finale? The opening to Chuunibyou: Sparkling Daydream. A perfect way to end her act!
---
Second Day Experience - Nov 28th 2015
It's day 2 at AFA! The first order of business is to check out the crowd for today. Even though it's the early morning, there is already a crowd forming just to purchase tickets.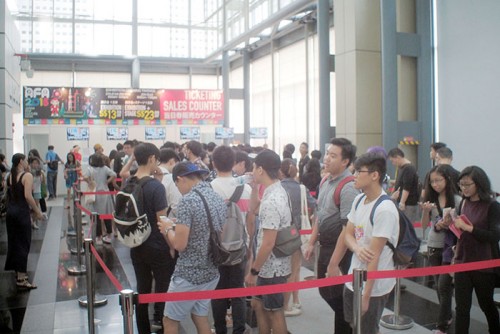 Cosplayers - The Unsung Heroes of an Event
Today, we would like to feature the very backbone of any cosplay convention. The cosplayers themselves! Cosplay is a niche hobby that requires great amounts of passion and dedication. The cosplayers are the key figures that bring life, zest and passion into an event. These people dare to step beyond their boundaries and bring forth their love and passion for anime into the material world. In collaboration with our resident photographer, we present to you, these pictures.
Unfortunately as it was a Friday, we were not able to see much cosplayers around. However, as it is a Saturday today, there is a clear increment of cosplayers at the event. The event hall was teeming in a myriad of multi colored hair and the snapping of camera can be heard wherever you go. The event sparked with energy and the atmosphere was very lively!
Before we entered the event halls, there are a couple of booths outside the hall itself. Being curious about anything otaku, we approached it. It was a booth selling makeup, a necessary extension to a good cosplay! The booth offers eyelashes, foundation cream and the likes. Whilst small, it is of very good quality!
As soon as we entered the event hall, we were pleasantly surprised to be greeted by our very own Domo-Kun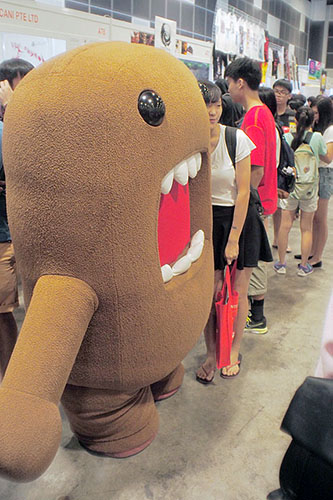 Domo greets every fan that enters the event hall with its popular trademark - his endearing Domo~
Immediately, we hit to the mini stage inside the event hall for its numerous events. Today's AFA mini stage event also featured a guest cosplayer! Some of you will know of her as YingTze.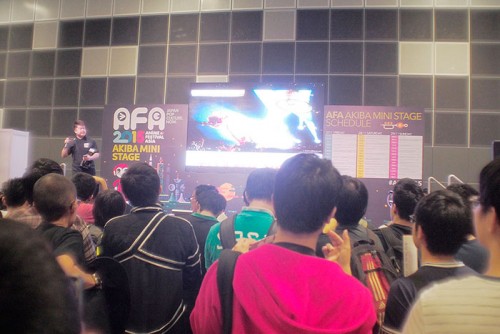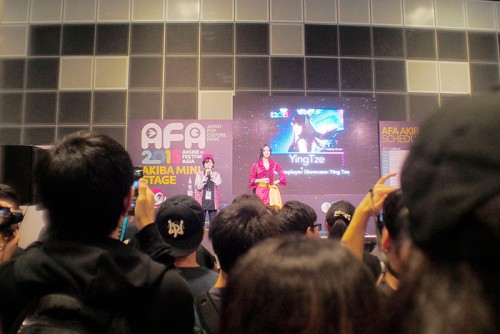 Close to the Mini Stage, we've managed to find a Canon photo booth. Here, the expensive equipments provided by Canon will capture your perfect cosplay moment. You can choose to pose in costume or simply be cast away to a whole new world with the expert technology of digital photography.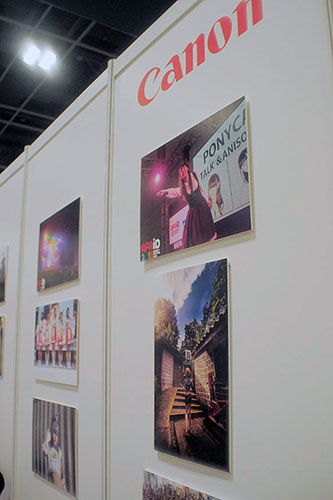 ---
Final Thoughts
Without the passionate display by cosplayers, there will be no life to the convention. Without their efforts to bring the inanimate to life, there would not be an essence to an event. One of the greatest joy of event going is to mingle with friends and to find people with the same niche hobby that is anime. Realising that such an unorthodox hobby does exist and that there are people who shares that same hobby with you gives you the ultimate sense of acceptance and camaraderie.
And with that, Honey's Anime will sign off from Day 2. Please look forward to the finale of AFA 2015!
---
Singapore AFA2015 Article Tour
You are here.