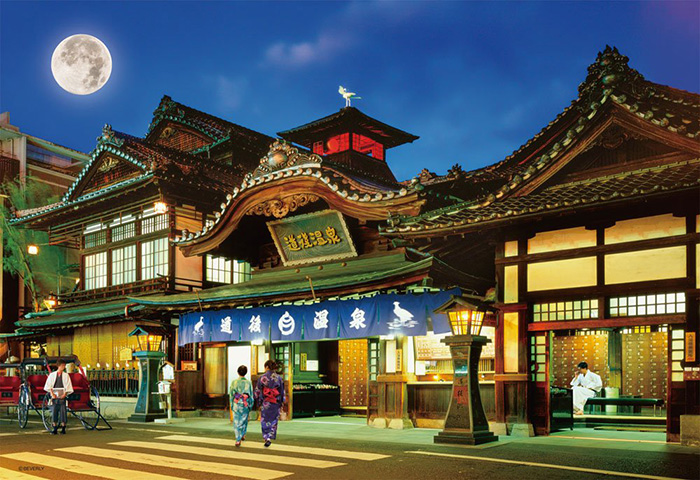 A good number of you have likely seen Spirited Away, the first anime feature film to win an Oscar. When Chihiro, the main character, finds herself in a world of spiritual creatures from Japan's folklore, she becomes a servant at the Yubaba bathhouse. As a matter of fact, Dogo Onsen is unarguably considered one of Japan's oldest hot springs. While the world of Spirited Away is obviously not somewhere you can disappear to, you can still visit and enjoy a bath in the very bathhouse that inspired the Yubaba bathhouse in Spirited Away, which is Dogo Onsen in Matsuyama, Japan.
Info
Location
Address: 5-6 Dogo Yunomachi, Matsuyama, Ehime 790-0842 (Main Bathhouse), 19-22 Dogo Yunomachi, Matsuya, Ehime 790-0842 (Annex Asuka no Yu and Tsubai no Yu bath houses)

Nearest train line(s): It is a 25-minute train ride from JR Matsuyama Station on the Iyotetsu Tram and a 20-minute train ride from Matsuyama City Station on the Iyotetsu Tram

Cost of Admission
Amount in ¥en and Dollar$: (Level 1) 410 yen 60-minute access to the Kami no Yu bathhouse (Level 2) 840 yen for a 60 minute stay, includes rental yukata and access to a traditional tatami room, (Level 3) 1250 yen for one hour access to the Tama no Yu bathhouse, and a tour of the Emperor's bathing facilities, (Level 4) 1550 yen for an 80 minute stay which also includes access to a private tatami room.
Hours of Operation
6:00am to 11:00pm (last admission 10:30pm)
Time and days
Except for New Year's holiday, Dogo Onsen is open everyday
Phone Number
089-921-5141
Official Website
https://dogo.jp/en
The Experience

As you all know, a good portion of anime beyond Spirited Away always has an episode dedicated to when the cast visit a hot spring for all kinds of hijinks. So if you want the ultimate experience of what it's like to visit one, you must visit Dogo Onsen! As portrayed in anime, the hot springs are separated into two sections; one for men, and another for women. The first floor is called the Kami no Yu, and the second floor is the Tama no Yu. The Kami no Yu is more of the general bathhouse, while the Tama no Yu feels more like an exclusive suite.
The interior is very exquisite and is very hard to verbalize to someone who has no familiarity with Japanese art and/or architecture. Its traditional exterior design is notably made of wood and truly looks like it was made some five centuries ago. When you're inside, the flooring is very modern and comfortable, and the tile art on the walls are truly captivating. If you ever wanted to know what traditional architecture looks like with modern tools and materials, then Dogo Onsen is it! As portrayed in Spirited Away, you must first shower yourself before entering the bath and the interiors in that movie pretty much reflect what you can also see in reality.
As for the bath, naturally, you're going to have to get naked in front of strangers, family, and your friends. If you're comfortable with that, then make the best of it! We suppose you could cover your privates with a towel, and in most instances, they won't let you wear a bathing suit. If you're not comfortable getting naked in front of others, then there's still plenty to do within the surrounding area!
---
Additional info

Before we get into what else is there to do around Dogo Onsen, we wish to point out that as of present, Dogo Onsen allows individuals with tattoos to come in. In case some of you didn't know, a good number of hot springs in Japan don't allow customers with tattoos due to perceptions with how they relate to gang activity. So if you have tattoos, then you should come here! Another stipulation we also wish to note is that as of present, a majority of Dogo Onsen is under renovations, so only the Kami no Yu bathhouse is available upon the drafting of this article.
Some official merchandise you can buy on site are face towels, soap, shampoo, and conditioners. Some of the tatami rooms also provide traditional sweets such as Bocchan dango. On the 2nd floor, it has a small exhibit of Dogo's history which displays some of its old ticket stubs, and its documented history.
The surrounding area is one of the nation's greatest tourist attractions as there are souvenir shops, hotels, and inns at almost every corner. If you don't feel comfortable being naked in front of other people, you can just wash your feet at the foot bath just outside the hot springs. In addition to some shopping, you can also visit Dogo Park, Ishiteji Temple, and Isaniwa Shrine. Most hotels offer yukata, or thinner kimonos for summer weather, and you can enjoy taking a stroll in the surrounding area as you wear them. Last, we promise you can get some of the best massages in Dogo to give you a much relaxed experience (but these aren't the kind with happy endings you might be looking for!).
---
Final Thoughts
With the 2020 Olympics set for Tokyo, we can't blame everybody's perception of Japan being centered around its capital. Obviously, there's more to Japan than just Tokyo. Dogo Onsen, located in Matsuyama on the Shikoku island, is going to give you a different flavor of Japan. That flavor is more of the classic and quiet kind. If you want something that feels retro, where you can easily walk around for some convenient souvenir shopping and quality dining, then the Dogo area of Matsuyama is likely what you're looking for. Much of the city is accessible by walking and bicycling, and if you manage to avoid going there during national holidays such as Golden Week in May or Obon in August, then you can have a much more pleasant time. If you go during that time, expect congestion as insane as Tokyo's rush hour!
---