Last weekend, we visited the Big Apple's flagship anime convention, Anime NYC! We found so many amazing cosplayers among the 55,000+ attendees, and here are some of our favorites. Be sure to follow these talented people on social media, and enjoy our Anime NYC 2022 Cosplay Roundup!
Some of the most popular sources for cosplay were big modern hits like Chainsaw Man and Jujutsu Kaisen. One attention grabbing Denji cosplay came from Bash.cos, who added realistic blood effects to their chainsaws, and Cachecats' Rika Orimoto outfit turned heads with its highly detailed monster puppet.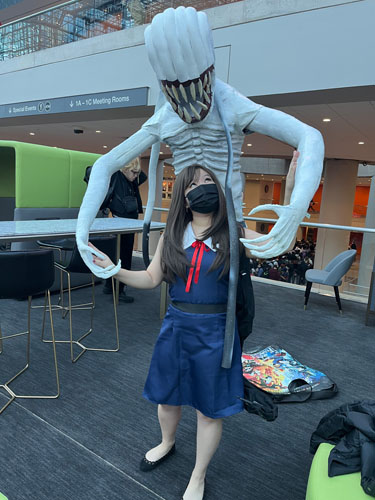 We were also pleasantly surprised to see high-effort renditions of characters from very new anime. Drharleyquinzel and Easyasjdd perfected the cute couple energy of Desumi and Fudou from Love After World Domination and Waikei33 stayed incognito as the terminally shy Bocchi from Bocchi the Rock. We even caught a rare moment where perfect strangers Onyxglow and Mekatokinaka posed together as Foo Fighters and Jolyne from JoJo's Bizarre Adventure: Stone Ocean.
We also saw some unique takes on familiar concepts. Salty_sushi8's Strawberry Miku is an interpretation of a yet-to-be-released Hatsune Miku 15th Anniversary figure, and Tangymilk's KFP employee mascot costume features all of the tasty menu options that Hololive idol Kiara's restaurant provides. And let's not forget the humanoid versions of the Banjo-Kazooie heroes and Pokémon's Squirtle Squad that we ran into!
And finally, here are some classic cosplays that any good convention these days would be lost without. Milkpinnell and his partner bring just the right demonic vibes to Demiurge and Albedo from Overlord, Tibbanylee and Eelalegna pose cutely in front of their anime counterparts as Miyuki, Kaguya, and Ai from Kaguya-sama: Love is War, and Yungjoyboy doesn't hold back the flashy charm as Tengen Uzui from Demon Slayer.
---
Final Thoughts
What did you think of these cosplays? If you went to Anime NYC 2022, what did you dress up as? Let us know in the comments, and thanks so much for reading!
---