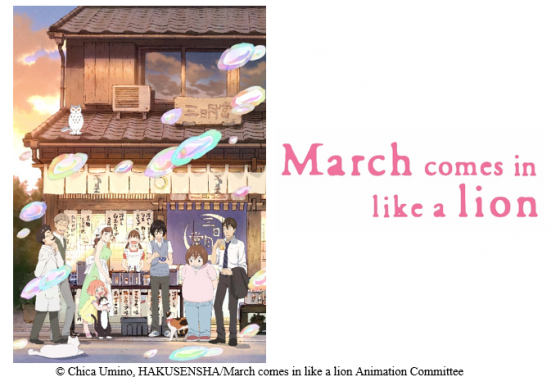 What You Need to Know:
Attendees at Bang Zoom! Entertainment's panel were thrilled as Aniplex of America announced their plans to produce the English dub of the second season for the heartfelt TV series March comes in like a lion at Anime Central in Rosemont, Illinois. The announcement also revealed that the Open Auditions hosted by both companies at Anime Central would be for the beloved, heartwarming series' second season.
Now in its sixth year, the Open Auditions provide a unique opportunity for fans to test out their skills as a voice actor and be in an anime series. The winner of the Open Auditions will be featured alongside the series' phenomenal English voice cast including, Laura Post (KILL la KILL, Magi: The Kingdom of Magic), Kayli Mills (Fate/Apocrypha, Occultic;Nine), Xanthe Huynh (anohana –The Flower We Saw That Day-, Sword Art Online) and Kwoi Dao (Katsugeki Touken Ranbu) under the direction of English ADR Director and seasoned veteran, Wendee Lee (Cowboy Bebop, Blue Exorcist, Your lie in April).
Each participant in the Open Auditions will receive a special March comes in like a lion button featuring one of the series' iconic shogi cats, with past winners of the Open Auditions involved on the English dub for shows including Magi: The Labyrinth of Magic, Magi: The Kingdom of Magic, ALDNOAH.ZERO, Asterisk War, and Your lie in April.
Source: Official Press Release
---
One of my favorite shows for sure! Its compelling storytelling which addresses many social problems is quite moving. Plus all the funny and warm things too!
Emotionally riveting show for sure!
---