Game Info:
System: Nintendo Switch
Publisher: Nintendo
Release Date: June 16, 2017
Who it Caters to
Arms targeted audience is most definitely is fighting/boxing game enthusiasts, whether they are kids, teens or adults alike. The game comes with several levels of difficulty that can adjust easily to any type of audience, whether it's someone who picked up Nintendo nunchucks for the first time or those fanatics who have been waiting to test out the new sweet Nintendo Switch controllers. One thing is certain, calling some friends over to play, or having internet access for your console, will make your experience better because the NPC fights can get quite boring really fast.
Nonetheless, the game was made for people that enjoy punching things, whether you're a punching Spring Man, or that drink off your desk... Unless you have infinite vitality in real life, or tiny hands, this game most definitely needs a pro controller.
What to Expect
Loads and loads of fun, for like… three days or so.
This game is certainly attractive at first, all will seem wonderful whilst you pick fights against different vivid and quirky characters. The arena is something you always look forward to, as you can have fun guessing what character belongs to what arena. Getting used to the game's mechanics, curve punches, mini games, unlocking different set of arms is something that will feel overwhelming at first… but, once you find out that -THAT- is the point of the game, punch and collect arms, everything will seem much less appealing... What, no real "story" mode? That was a sloppy move for a new title, Nintendo. With no story what so ever, the game gets really old, fast… it won't be more than an hour when you start poking around the options looking for more to do. The game is plain and simple: turn on your console, pick your character and fight - that's it. Really. But hey, don't get us wrong, it's certainly addicting if you don't mind things being extremely repetitive.
The point of unlocking arms is so that you can mix and match em, having a different set of arms versus a different set of characters, developing your personal tactics and strategies to use with a partner or complement a duo fight. The real endgame starts is when you build up enough confidence in your Arms combination skills and start challenging players online, this is the only way the game gets challenging and the only way you can enjoy the contents of the game to the maximum.
ARMS Accolades Trailer - Nintendo Switch
Story
Arms has a difficulty set from 1 to 10, which of course, gets progressively harder the higher the number; but the "story" progression is set to be exactly the same in each level, and it doesn't really change if you pick X or Y character, you will ALWAYS get the same goal. The story challenge is always a random set of fighters against you and an NPC, or friend (two-players) in a random arena; 10 stages of two turns, in which two stages area target mini game and volleyball minigame and ending in the last arena against the champion. Victory will always trigger the same generic celebration cutscene, and the only thing that will change will be a number of coins rewarded, depending on the difficulty.
Gameplay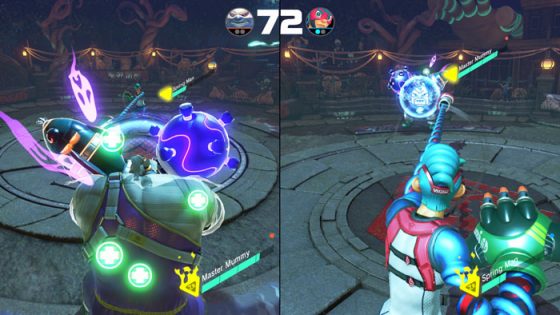 Dodge and think fast, but move slowly. Learning to run in Arms can possibly be one of the most challenging things in the game if you're going for the motion sensor controller and possibly covering the second in line. Mobility is crucial to this game, and without a doubt, pro controller users have the upper hand in Arms, as they have more stability in the movement of their characters than any other controlling method. As for the characters, it can only offer the basics of fighting games, fast but weak damage dealing or slow with a devastating hit and.. the mediocre "balanced in between both". Even when you can unlock arms of different characters to add to a certain character, each character has its own unique special ability. You can try out different arms to try and balance out the stats of the character you like the most, but in the end, you can notice which characters are clearly OP over the rest.
The Looks
Arms is BRIGHT, with all caps, because this game cannot chill out with the colors, so if you're not a fan of people knowing what you're playing from 40 feet away, this might bother you. Of course, if this game wasn't a parade of confetti, it would most definitely not feel like a Nintendo fighting game; each character is vivid and goofy looking, and even though they don't talk, you can feel they are all very energetic and forward in personality, something that is very appealing when you're playing a game entirely for fun, and not for the plot.
Every character is well designed, each with its unique trait that matches almost too comically with their name. For example, Ribbon girl's stretchy arms are made of ribbons, and so is her hair and.. hair ribbon.. her eyes are also swirly, like ribbon strips! Another case is Min Min, the obvious Chinese girl, whose hat is just a ramen bowl upside down, and the noodles form her hair and arms, her punches, as you guessed it, are also Chinese themed, some being able to transform into Chinese dragons. Mecanica, Ninjara, Spring Man… it's really easy to figure out the special powers and arms of each character just by knowing their names.
Honey's Gameplay Consensus: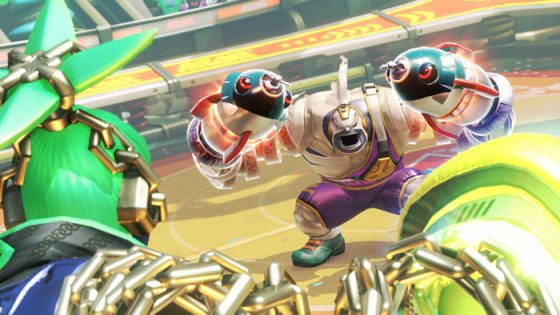 The pros and cons says it all!
Honey's Pros:
Fun multiplayer

Character design is memorable

Stress relief (when punching the air!)

Competitive online matches

Mini games while you wait in online lobby

Exercise?
Honey's Cons:
Expensive vs playable content

No story

Limited number of characters

Motion sensor sucks for PvP competitions

Hard to use controller, no remapping

Exercise?
Honey's Final Verdict: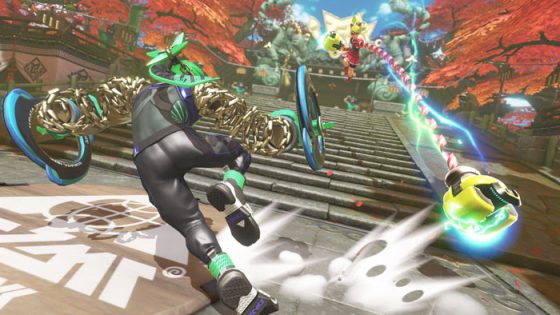 In all honesty, this game's maximum worth is around 30 dollars, not 59.99. The best would be to get the game when it' on sale, a really priced-down used version or ask for it as a present, because coming out of your own wallet, it might feel like you were robbed in the end. In a couple of days, your game will just become just another cd case stored in the bottom part of your game shelf, just waiting for that one day your friends decide to come over for a chill indoor hang out, or whenever Nintendo decides to launch a relevant DLC for it.
Arms starts with a good swing but time definitely knocks out enjoyment really fast. The game has a few free DLCs coming out, including new characters and all, but will Arms really last on its feet until round 2? That's something for you to find out for yourself!