I'm sure we all remember how awesome Attack on Titan was when we first saw the anime 2 years ago! Now that the 2nd season is just a year away, the anticipation couldn't be more intense. So naturally, what's the best way to ease our yearning hearts? Awesome cosplay of course!
You may be surprised to learn that most of these cosplayers are of the female persuasion, but honestly, that just makes it so much better! Levi looks cooler than ever, and Eren looks about ready to crush some titans! Of course, you have some Armin and Erwin for some cuteness and ruggedness respectively. 🙂
So anyway, enjoy this smashing Attack on Titan cosplay gallery!
Attack on Titan (Shingeki no Kyojin) Cosplay
Levi Cosplay
02
03
04
05
06
07
08
09
10
11
12
13
14
15
16
17
18
19
20
Eren Cosplay
21
22
23
24
25
26
27
28
29
30
31
32
33
34
Armin Cosplay
35
36
37
38
39
40
41
42
43
44
Erwin Cosplay
45
46
47
48
49
50
51
52
---
About Attack on titan
Several hundred years ago, humans were nearly exterminated by titans. Titans are typically several stories tall, seem to have no intelligence, devour human beings and, worst of all, seem to do it for the pleasure rather than as a food source. A small percentage of humanity survived by walling themselves in a city protected by extremely high walls, even taller than the biggest of titans.
Flash forward to the present and the city has not seen a titan in over 100 years. Teenage boy Eren and his foster sister Mikasa witness something horrific as the city walls are destroyed by a colossal titan that appears out of thin air. As the smaller titans flood the city, the two of them watch in horror as their mother is eaten alive. Eren vows that he will murder every single titan and take revenge for all of mankind.
(Source: MangaHelpers)
Attack on titan Characters Profile
Levi Profile
Birthday: December 25
Height: 160 cm (5'3")
Weight: 65 kg (143 lbs)
Affiliations: Scouting Legion, Special Operations Squad
Levi is known as humanity's most powerful soldier. His rank is a Captain in the Scouting Legion division. Levi is also the leader of the Special Operations Squad, an elite team that he hand-picked in order to protect Eren Yeager. While it is said that he is blunt and unapproachable, it is noted that he has a strong respect for structure and discipline. There are rumors that he was originally part of underground crime before he became a soldier. Although he often appears to be unfriendly, he cares deeply for his team and has never undervalued human life. He is also a notorious clean-freak.(Source:MyAnimeList)
Eren Profile
Age: 15
Birthdate: March 30
Height: 170 cm (5'7")
Weight: 63 kg (139 lbs)
Position: 104th Trainees Squad, Scouting Legion
Graduation rank: 5th
Eren is Shingeki no Kyojin's protagonist. His adoptive sister, Mikasa, notes on numerous occasions that he acts on impulse without thinking things through, and she often pulls/carries/throws him when he starts fighting with others to protect him from himself. Along with Mikasa, he tends to spend his free time with their mutual friend, Armin.
His father is a doctor (whom is well respected by Hannes and potentially many more) whilst his mother is a housewife.(Source:MyAnimeList)
Armin Profile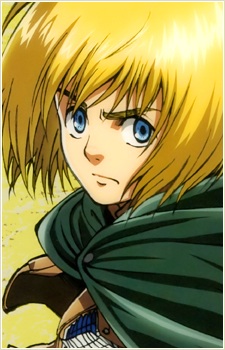 Age: 15
Birthday: November 3
Height: 163 cm (5'4")
Weight: 55 kg (121 lbs)
Position: 104th Trainees Squad, Scouting Legion
Graduation Rank: Outside the top 10
Eren's best friend, he is physically weak yet emotionally strong. Even though lacking in actual combat, Armin is a genius on theoretical courses and can make plans even under extreme pressure. Even so, Armin kept on thinking that he is weak. He himself does not notice the things he does for Eren and Mikasa, and believes himself to be completely incompetent and hates himself for having to rely of Eren and Mikasa.(Source:MyAnimeList)
Erwin Profile
Birthday: October 14
Height: 188 cm (6' 2")
Weight: 92 kg (203 lbs)
Affiliation: Scouting Legion
Commander of the Scouting Legion, known for his foresight, intelligence and drive. His ultimate goal is for humanity to return to its former glory, and would sacrifice any number of his men for the sake of mankind as a whole.(Source:MyAnimeList)
---