It's not about the battles… We just want to see our waifus being cute!
System: PC, PlayStation 4
Publisher: Idea Factory, Compile Heart
Developer: Idea Factory, Compile Heart, Felistella
Release Date: Feb 12, 2020 (PS4), Feb 13, 2020 (PC)
Azur Lane: Crosswave Launch Trailer
Who it Caters to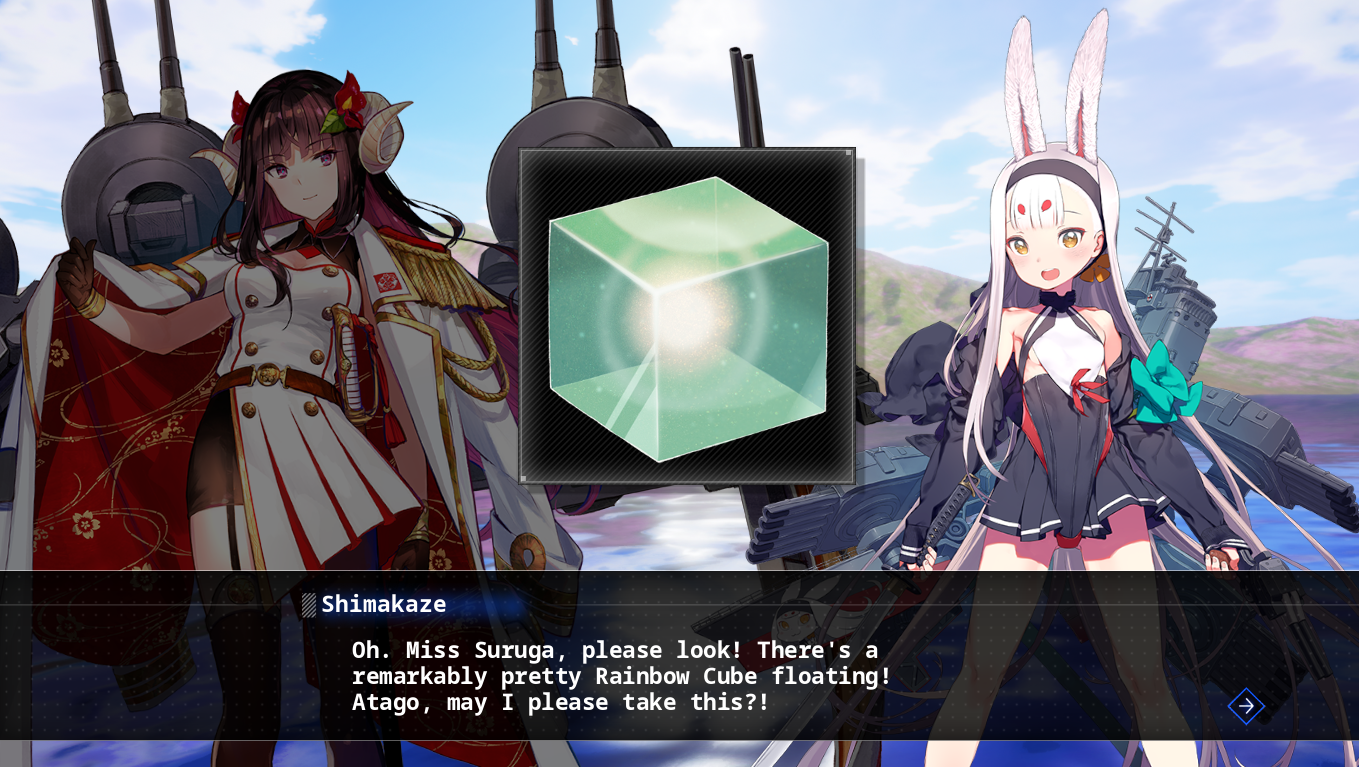 In Japan, mobile games about collecting beautiful ship-girls and using them to fight enemy fleets have proven to be quite popular, but Japanese games like Kantai Collection not always have the same impact overseas due to the lack of localization or a proper global release. Azur Lane, however, is a Chinese franchise that not content with conquering both the Chinese and Japanese markets, now is also trying to melt the hearts of every moe lover in the world, with the Western release of Azur Lane: Crosswave.
Crosswave is a 3D spin-off for PS4 and PC, releasing in the West only a few weeks after the anime version of Azur Lane. Full of kawaii girls reminiscent of the most famous ships from WWII, this is a game that a lot of people may find dull, but we're sure that everyone in search of a cute waifu will be more than happy to join the adventure!
What to Expect
Azur Lane: Crosswave is a perfect mix between a lighthearted visual novel and a modern Japanese RPG, complete with spectacular anime graphics and a lot of grinding. It follows the story of Shimakaze and Suruga, two young and quite inexperienced members of the Sakura Empire who happened to find and easily destroy a fleet during a training session. Unfortunately for them, sooner than later the girls find out that the damaged fleet was not part of the training event and in fact belonged to the Sirens, a mysterious and powerful alien faction.
Unlike in the original Azur Lane, in Crosswave you'll spend most of your time watching these ship-girls (aka Kansen) interact with each other just like in every other visual novel, all while they try to figure out what are these strange cubes (or 'hexahedrons', as Kaga likes to call them) that suddenly appeared in the ocean. Other than admiring these sexy ladies, your objective is to experience the story from Shimakaze's perspective, with some not-so-friendly battles here and there to give these ship-girls a purpose.
Visuals
From the map overview (full of chibi versions of the girls, nonetheless) to every single design, everything in Azur Lane: Crosswave looks exceptionally pretty and well-crafted. Yes, all these characters were created to entice us and keep us drooling in front of the screen for a good chunk of time, so instead of ignoring the elephant in the room let's just celebrate the talent of all the character designers involved. Mission accomplished, guys!
In the battles, the HUD is clean enough to compensate for how oversaturated the screen can get when shooting and being shot. Outside of the battles, the menus are also simple to navigate, and that's more important than it sounds because for some reason, not all JRPG get menus right nowadays.
If you ask us, the thing we like the most about Azur Lane: Crosswave is the outstanding intro movie featuring all characters and the always beautiful ocean. One of the problems with this game, however, is that the dynamic poses of the girls not always go with what's actually happening in the story. How about more poses and animations?! We definitely enjoy visual novels and we know how this goes, but still...
Sound, Music
Azur Lane: Crosswave has a quite interesting soundtrack, with songs ranging between excellent rock tunes (most battle themes), some upbringing pop melodies, and a couple of epic choral and orchestral arrangements here and there. As we mentioned before, we really liked the opening movie and that's in part thanks to 'Dawn of Freedom', a catchy song by Saori Hayami (Shimakaze's seiyuu) and composer/arranger Chihiro Tamaki.
Although nothing otherworldly, Crosswave's OST goes really well with the game and it perfectly complements everything on the screen. And if we talk about perfect complements we have to mention the voice acting, which truly helps to bring life to these girls and its world politics. It's OK to be attracted to a 2D ship-girl, but you can't help falling in love with your Secretary Ship if she has a charming voice too, right? Azur Lane: Crosswave's voice acting is certainly on point, not only in the visual novel portions but also when fighting or browsing the menus.
Gameplay
So, Azur Lane: Crosswave is a mix of visual novel and action RPG, right? But how does this work? First, let's talk about the Story mode. The whole story is told using different kinds of dialogues and interactions between the dozens of girls you'll find in the game, and so you have to move your character around the map (pretty much like a ship sailing across the ocean) going from event to event. Some events are narrative only while other events involve a little bit of chatting and a confrontation at the end; red events are obligatory for the story to progress, but we encourage you to play the green events too if you want to better understand what's going on.
Once you're in a fight, you have to meet certain objectives, from defeating other Kansen to destroying mass-produced fleets (which consists of different uncrewed ships and airplanes). To be honest, there's not much strategy involved in these fights: one button is the primary attack, and then you have a lock-on attack and some other defensive/offensive skills. The other important button is the one you need to either dodge incoming bullets or activate your armor. Just learn to dodge bullets and time your skills, and you'll be good even if you're playing on Hard difficulty.
After a fight, you earn experience points, money, and A points. With every new level, your Kansen will get stronger, but you can also use money will help you buy new parts and upgrades, and A points are used to scout out other ship-girls. After every battle, you also get different items that will help you strengthen your fleet. If you want better rewards, you need to clear a stage within 2 minutes and with no casualties, in order to get the S rank.
In the first episodes of the game, only Shimakaze and Suruga will be available, but then you can start recruiting new waifus. Your party consists of 3 main Kansen and 3 support Kansen, but if you use certain combinations of characters, you can unlock secret events and bonus effects; for example, Shimakaze and Suruga are the 'Protagonist' fleet (HP & Reload +7%, Firepower & Torpedo +3%), while you can also link any 3 or more ships with mismatching socks for the 'Asymmetry' fleet (Firepower +20%), or put Belfast and Unicorn together to form the 'H&W' fleet (Torpedo, Aviation & Reload +5%). If you want even more power, get your Kansen to level 100 and give her a Cognitive Chip to activate the Cognitive Awakening, or maybe even show her your love! All recruited girls have an affinity level (Stranger, Friend, Crush, and Love), so once they are in love with you, you can try the Pledge system and increase her stats by giving your Kansen a special item.
Grinding for new items, money, and A points is easier if you play the Extreme Battle mode, a series of specific battles against different well-crafted fleets. For better results, try alternating between the Story mode and the Extreme Battle mode! This will also help you make better use of the shop, and it will prove more fun to those who don't enjoy the visual novel scenes.
Honey's Gameplay Consensus:
Azur Lane: Crosswave is all about grinding, bonding with your splendidly designed waifus, and experiencing a simple story about anthropomorphic battleships in an alternate world. There are no innovative mechanics, there are no impossible bosses, and certainly, you won't find a groundbreaking storyline either. Although any Azur Lane fan will have plenty of things to do before putting this game aside, other people may not find this title that attractive... especially if you spend 90% of the time reading instead of battling other Kansen or mass-produced fleets.
Could this have been better? Absolutely, but let's remember this is nothing but a spin-off, and the main focus will always be on the mobile app. All in all, we definitely enjoyed our time with Shimakaze and the rest of the girls, and we're more than happy now that we finally have a Western version of this game.
Honey's Pros:
The Kansen designs are gorgeous and the Japanese voicing is the cherry on top of the cake!

When you get tired of all the chit-chatting, you can always go to the Extreme Battle mode and shoot like there's no tomorrow.
Honey's Cons:
Not even the hardest mode is difficult enough, so you won't find any challenge other than grinding for your desired characters and upgrades. And the fighting mechanics? Just spam the same buttons over and over again...

If you want to get the S rank in every battle, these fights never will go above 2 minutes. Blink and you'll miss all the fireworks!

For those who are not familiar with visual novels or don't care about sexy ship-girls interacting with each other, the Story mode may come off as boring. Don't come expecting anything too complex and you'll be fine, though.
Honey's Final Verdict:
For those new to the Azur Lane franchise, this game can very well be a decent starting point. If you're more of a 'show, never tell' person and get bored fast with visual novels and grindy games, then move along because Azur Lane: Crosswave is not for you.
---