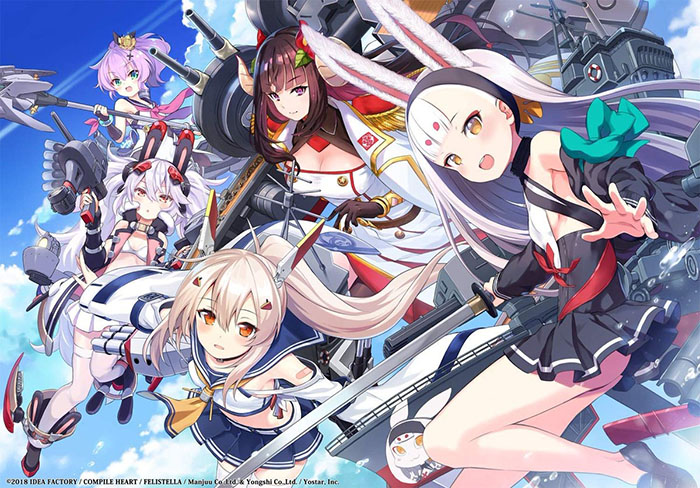 The Earth's oceans have been under siege by aliens known as Sirens and they have almost driven humanity into extinction. Nations around the world—Eagle Union, Royal Navy, Sakura Empire, and Iron Blood—form an alliance faction named Azur Lane and use ship girls (girls fused with naval ships) to combat the alien threat. But different ideologies have forced the Sakura Empire and Iron Blood to split from Azur Lane to become the Crimson Axis. One faction believes that using Siren technology against the Sirens is the key to ending the war, and the other faction stands firm and believes humanity has the power to defeat the aliens. Will the two factions continue to fight against each other or will they band together once again and fight the true enemy, the Sirens?
Azur Lane, the side-scrolling shoot 'em up mobile game featuring ship girls, is so popular (rivaling KanColle), that hearing the news of an anime adaptation of the mobile game is no surprise to anyone. So how is Azur Lane The Animation? For one thing, Azur Lane The Animation is quite the eye candy with beautiful artwork, a good dose of fanservice, and decent battles. But should you watch Azur Lane The Animation if you haven't played their video games? Well, yes, you should and here are the three reasons why!
1. Ship Girls!

Okay, this is a no-brainer and the cast of ship girls is obviously the main selling point of Azur Lane asthe entire cast are ship girls—anthropomorphic interpretations of World War II warships from various nations, but mainly from the United States Navy (Eagle Union), United Kingdom Royal Navy (er, Royal Navy), The Imperial Japanese Navy (Sakura Empire) and Nazi Germany's Kriegsmarine (Iron Blood). Azur Lane has an impressive roster of 300+ ship girls, but since the anime couldn't cram all of them in a 12-episode anime adaptation, at least we get some very lovely girls to fixate our eyes on.
On the Azur Lane side, we have the starter ships from the mobile game, Laffey and Javelin. The aces Enterprise, Belfast, Cleveland, Illustrious, Prince of Wales, Hornet, and Unicorn… Oh boy… Unicorn… We'll get back to her later. Anyway, on the Crimson Axis, we get Japanese and German ship girls from fan favorites like Atago, Kaga, Ayanami, Takao, Zuikaku, Z23, and Prinz Eugen. All of these girls have alluring personalities, and a very distinct look to them like their exotic silver hairstyles, voluptuous proportions, and skimpy outfits. Basically, the Azur Lane cast is so distinct, it's near impossible to confuse them with the cast of the other ship girl franchise, KanColle.
2. Very Attractive Character Designs

Azur Lane is also known for its very attractive character designs with some showing a lot of skin in the mobile game. The designs translate well in anime form and give each faction a distinct look. The Eagle Union girls wear sailor uniforms, the Royal Navy wear the usual British posh and maid uniforms, the Sakura Empire girls are your shrine maidens and fox girls, and the Iron Bloods are the ones with the gray-red uniforms with some freaky biological-like ship parts as reference to Nazi Germany's unethical human experiments and inventing radical technologies that were advanced at the time.
As we mentioned in reason number 1 to watch Azur Lane, the characters wear skimpy outfits and the majority of them are very well-endowed. The characters are designed to catch the eye emphasizing uniforms that showing lots of skin rather than practical ones that will actually protect them from cannon fire and freezing waters. Belfast is a maid with a uniform that is probably too small for her because her boobs are so huge. Akagi and Kaga wear traditional shrine maiden dresses, but with a modern twist like showing off their cleavage and very short skirts. And lastly, Unicorn, a very young aircraft carrier who wears only a pair of panties slightly covered by a very thin see-through white one piece dress. There are certain scenes where the anime teases you that she has nothing covering her young and supple breasts… You feel like you're committing a heinous crime just by looking at Unicorn, in all honesty...
3. Yuri Fanservice

After watching the first three episodes of Azur Lane the Animation, there were no signs or even a mention of the commander or admiral (the game's player character), so it's probably safe to assume Azur Lane the Animation will feature a 100% all-female cast. And since the anime is centered around girl characters, the resulting ecchi fanservice will be of the yuri kind. The fanservice here is very subtle and not very frequent. But when the fanservice does show up, it provides a bit of an entertaining downtime or it stops scenes from taking themselves too seriously. Ecchi moments include groping, girls getting naked, some girl-girl moments, and the usual lewd verbal humor. Don't expect a Valkyrie Drive: Mermaid kind of yuri fanservice, though, and personally, Azur Lane's take on fanservice is fitting for its personality: fun and a bit mischievous.
---
Final Thoughts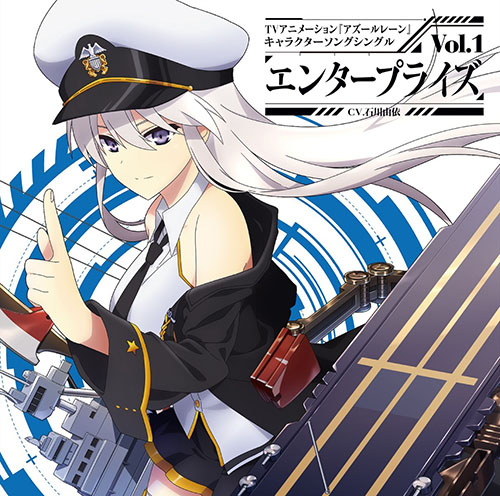 And there are the 3 reasons why you should check our Azur Lane the Animation to satisfy that seasonal ecchi itch. The fanservice is great because the character designs are very attractive with eye-catching costumes and their personalities often result in ecchi situations that make the overall viewing experience very fun.
But what do you think of Azur Lane the Animation? Do you think it's a decent adaptation of a mobile game? Oh, and, do you have any ship girls you like? As always, please leave your thoughts in the comments section below!
---