Bakuon!!

---
Genre:
Slice of Life, Sports
---
---
Studios:
TMS Entertainment
Synopsis
High Schooler Hane Sakura first becomes interested in getting her motorbike licence when she finds cycling up the slope on the way to school just a little too tiring.
Hane joins the bike club with classmate Onsa Amano, who already knows how to ride. With the support of her fellow fun and unique club members, she manages to successfully get her licence.
She buys her very own motorcycle, and finally starts living the life she always dreamed of - but when she starts riding, she discovers that every day is filled with surprises and new discoveries!
Characters & Voice Actors List
Hane Sakura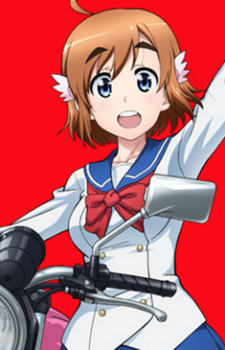 Voice Actor: Reina Ueda
---
Birthday: May 3
Height: 157cm
Blood type: B
Biography: First year at Okanoue Girls' High School. Exhausted from biking the hilly path to school, she decides to get a motorcycle license. She rides a Honda CB400 SF.
Rin Suzunoki

Voice Actor: Nao Touyama
---
Birthday: April 9
Height: 157cm
Blood type: O
Biography: Hane's classmate. A motorcycle fanatic, she's crazy about Suzuki bikes. Her bike is the Suzuki GSX400S Katana she inherited from her father.
Onsa Amano

Voice Actor: Yumi Uchiyama
---
Birthday: April 2
Height: 155cm
Blood type: A
Biography: Hane's classmate. She has a unique love of bikes, to the point that she chose her school because it had a motorcycle club. She rides a Yamaha Serow 225W.
Hijiri Minowa

Voice Actor: Rikako Yamaguchi
---
Birthday: December 23
Height: 160cm
Blood type: AB
Biography: A well-off young lady who wants to be bad, so joins the motorcycle club. She always rides in the sidecar of her butler Hayakawa's Ducati 750SS Imola Replica.
Raimu Kawasaki

Voice Actor: TBA
---
Birthday: Unknown
Height: Average
Blood type: Unknown
Biography: The silent type, Raimu is somewhat of an enigma. An upperclassman in the motorcycle club. Said to weigh as much as three apples. She rides a Kawasaki ZX-12R.
Other Title
ばくおん!!
Airing Info

Legal Streaming:

Theme Songs

Opening Song: Feel x Alive by Sayaka Sasaki
Ending Song: Broom! Broom! Ride On! by Hane Sakura (Reina Ueda), Rin Suzunoki (Nao Touyama), Onsa Amano (Yumi Uchiyama), and Hijiri Minowa (Rikako Yamaguchi)

Adaptation

Manga


Main Staff

Original Creator: Mimana Orimoto
Director: Junji Nishimura
Series Composition: Kurasumi Sunayama
Character Design: Isao Sugimoto
Sound Director: Takeshi Takadera
Music: Ryosuke Nakanishi
(Credit Honey's Anime when you use our description.)
---