What You Need to Know:
Bandai Namco Entertainment America Inc. announced that Code Vein™, the bloodthirsty third person RPG, is slated for a 2018 release on major home consoles.
Code Vein is a third-person action RPG that finds players assuming the role of a Revenant. After stumbling into Vein, players are tasked to embark into the world with a companion picked from the various residents of Vein to uncover lost memories and an exit out of this new demented reality. The world of Code Vein is dangerous, full of vicious enemies and monstrous bosses to put players' combat skills to the test.
We'll drop a little more detais below, but if you'd like to get the full feel for Code Vein, be sure to check out the official website.
Source: Official Bandai Namco Entertainment Press Release
Revenants also have access to Blood Veils, devices capable of draining the blood of their enemies in order to enhance their own abilities. Exploiting these enhanced abilities known as Gifts, players can change their form to increase their strength, weaken enemies, and utilize new weapon abilities with overpowered attacks. Utilizing the vast array of weaponry along with each character's Gift, players can adapt and strategize to a variety of battle conditions that suit their play styles.

Code Vein provides a fresh anime aesthetic and blood-curdling gameplay twists to the popular 3rd-person action RPG genre, said Eric Hartness, Vice President of Marketing for Bandai Namco Entertainment America Inc. The talented development team at Bandai Namco Studios is creating a tightly crafted experience filled with plenty of challenge that our fans crave along with a smart and engaging story that is sure to draw players deeper into the world of Code Vein. Let the feast begin!
Code Vein Screenshots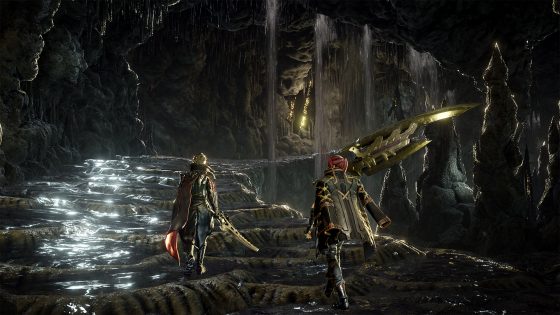 ---
Whoa, Code Vein looks so cool! Love the character and level designs! Graphics are looking sharp so far! Can't wait!
Sad that we have wait so long for this, but I imagine the patience will pay off. This looks gorgeous
---