What You Need to Know:
Starting tonight, MOBIUS FINAL FANTASY fans can dive into new FINAL FANTASY VII collaboration content featuring the legendary villain, Sephiroth.
Until March 31, the new collaboration event, "Fatal Calling Part 1," features an original story with appearances from Sephiroth and Cloud, along with a new materia system built specifically for MOBIUS FINAL FANTASY.
Fans can also summon and transform into the newest Ultimate Hero, Sephiroth. "Hero of Despair," a new warrior-type Legend Job themed after the One-Winged Angel, will also be available to summon.
Source: Official Press Release
Added Details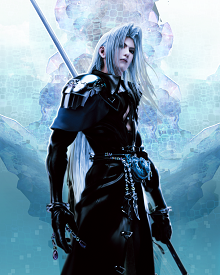 All-New FINAL FANTASY VII REMAKE-themed Quests and Regions: In addition to the "Fatal Calling Part 1" event, "Sephiroth Descends," the newest multiplayer quest, is available only in February. Players can enjoy more of the original story content through Parts 2 and 3 of the "Fatal Calling" region that open on February 8 and 15, respectively.
Powerful FINAL FANTASY XV and FINAL FANTASY XIV collaboration cards: Back by popular demand, the Noctis, Prompto, Lunafreya, Aranea, Gladiolus, Ignis, Iris, and Ardyn ability cards from FINAL FANTASY XV, along with the Bahamut, Odin, Garuda, Titan, Alexander and Bismark ability cards from FINAL FANTASY XIV are all available to summon for a limited time from February 1 - 7.
Special In-Game Bonuses: Up to 14 Summon Tickets, 2 Growstars and the Sephiroth: Dissidia FINAL FANTASY ability card may be obtained by simply logging in during the month of February.
New Aerith-themed Meia Job Available to Summon: "Flower Girl of Midgar," a new Legend Job, is available to summon from February 15 - March 1.
Limited Time Purchase Bonus: During the entire month of February, those that purchase 6,000 Magicite will receive the Legend Job based on Cloud, "SOLDIER 1st Class" and 1 Growstar material card
"Last Calling" Ranking Event: Hardcore players can take on the one-on-one battle against Sephiroth and climb up the rankings to receive in-game rewards from February 22 - March 1.
FINAL FANTASY VII REMAKE "Eclipse Contact" Collaboration Event Extended: Those who missed the previous FINAL FANTASY VII REMAKE-themed collaboration event will be able to play through the collaboration event region until March 31.
---
Sephiroth is BACK! OMG!
And he still looks like a total bad-ass! Love it!
---