2019 was a phenomenal year for anime, perhaps even better than the juggernaut that was 2018. We had hype shounen shows, enticing mystery thrillers, adorable romance stories, and so much more! Let's take a look back at five of our favorite anime from the past year—and if you missed any of these, you owe it to yourself to check them out!
---
5. Kimetsu no Yaiba (Demon Slayer: Kimetsu no Yaiba)

Episodes: 26
Aired: April 2019 – September 2019
Demon Slayer has it all: a unique Taisho-era setting, gorgeous animation from Ufotable, loveable characters (including the always adorable Nezuko), and a fascinating shounen storyline that's just getting started. It took standard shounen tropes, like monsters-of-the-week and a team of elite heroes, and refined them into fresh new ideas that we can't wait to see explored in the next several seasons. From what manga readers are saying, we're in for a treat!
---
4. Mob Psycho 100 II

Episodes: 13
Aired: January 2019 – April 2019
The first season of Mob Psycho 100 was already a masterpiece in its own right, but this season rose to a whole new level. Particularly of interest was the character development between Mob and his mentor Reigan, who came to a mutual understanding and respect of one another after Reigan had been taking advantage of Mob's psychic powers for so long. Even minor characters like Emi and Minori packed so much emotion into their subplots that we couldn't help but cry! At this point, it's clear to us that Mob Psycho 100 has surpassed One Punch Man in pretty much every way.
---
3. Yakusoku no Neverland (The Promised Neverland)

Episodes: 12
Aired: January 2019 – March 2019
The Promised Neverland is equal parts edge-of-your-seat mystery thriller and cheesy 4D mental chess match, but that's why we love it so much. This tale of three genius kids who plan a prison break from their orphanage (which is secretly a processing plant for human meat) reminds us a bit of Death Note... if Death Note hadn't tanked its own storyline 2/3s of the way through. Watching Emma, Norman, and Ray try to outwit their "mama" and escape with all of the other kids is great fun and kept us coming back for more every single week.
---
2. Dororo

Episodes: 24
Aired: January 2019 – June 2019
Dororo is one of our favorite kinds of modern anime: an updated adaptation of a very old manga that keeps the spirit of the original but improves it in pretty much every way (see also Devilman Crybaby, Parasyte, and Banana Fish). This anime takes the basic concept and story beats of its mediocre source material and transforms them into an epic tale of redemption, friendship, and what it really means to be human. Osamu Tezuka would be proud!
---
1. Vinland Saga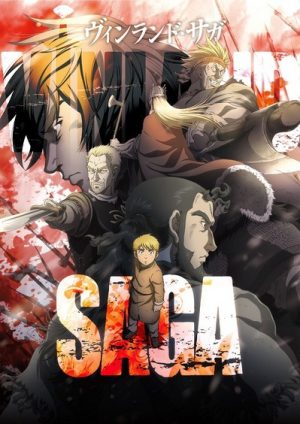 Episodes: 24
Aired: July 2019 – December 2019
Speaking of high pedigree historical epics that star angsty teenage leads and explore the darkest depths of the human soul, Vinland Saga is our anime of the year! Every character has depth and complexity, the subtle commentary on the Vikings' glorified violence and the Christians' self-enforced helplessness still resonates with our society today, and the presentation is just so powerful and emotional that every important moment hits with the weight of a battle axe. And the best part is that this first season was just the prologue to the full story that the manga has been telling for years!
---
Final Thoughts
We also loved Attack on Titan Season 3 Part 2 for its cathartic conclusion to one of the biggest basement-related mysteries of all time, Fruits Basket 2019 for its stellar reimagining of a classic shoujo series, BEASTARS for its deeply relatable character writing, and JoJo's Bizarre Adventure Part 5: Golden Wind for its sheer style and the studio's dedication to the source material.
What did you think of our list? Did we leave out any of your favorite 2019 anime? Let us know in the comments, and thanks so much for reading!
---