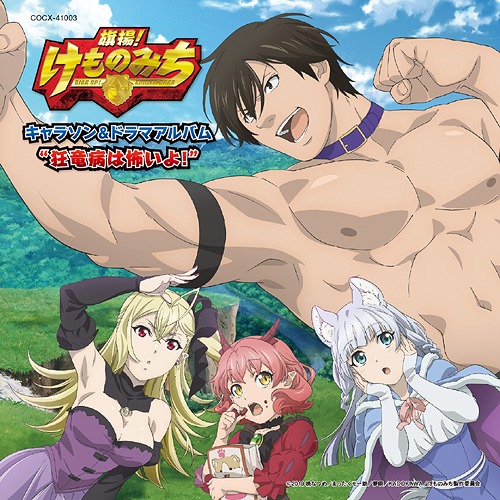 Time to travel to another world once again! Oh, isekai... a genre in which the protagonist is transported to an alternative world. A few years ago it was just a novelty, but now is a growing trend that overpopulates every new season's chart. But no matter if you're one of those people who think all isekai anime look the same or just another fan of these exciting stories, let us introduce you to the best isekai adventures of 2019!
From dangerous and cruel worlds that will challenge even the bravest of us, to the beautiful landscapes of a quiet, medieval town. Are you ready to visit several worlds in just a few minutes? Here we go!
---
5. Hataage! Kemono Michi (Kemono Michi: Rise Up)

Episodes: 12
Aired: Oct. 2019 - Dec. 2019
A lot of isekai stories start with a man dying before becoming the hero of a new, monster-infested world, but this is not quite the case. In Hataage! Kemono Michi we definitely have a hero, a pro wrestler that vanishes before the eyes of the public in the middle of a fight, only to learn that he's being summoned by a princess to destroy all the beasts that wander the kingdom... but little did princess Altena know about Genzou's unconditional love for animals!
Instead of fighting monsters, Kemono Michi is a show about a guy befriending these creatures under the most incredible circumstances, and somehow drawing an interesting harem-like group of girls with animal treats, from a nefarious vampire to a servant wolf-girl to a destructive half-dragon loli. All in all, this anime is kind of a parody of a lot of isekai tropes, although it also uses some of them if needed.
---
4. Honzuki no Gekokujou: Shisho ni Naru Tame ni wa Shudan wo Erandeiraremasen (Ascendance of a Bookworm)

Episodes: 14
Aired: Oct. 2019 - Dec. 2019
Did someone mention tropes? Well, you can't have an isekai anime without them, but at least you can try to shake things up by starting with something completely unexpected. What if there's an isekai anime with a female, magicless protagonist?! Ascendance of a Bookworm deals with an adult female book-lover who reincarnates in a medieval world after ironically being crushed to death by a pile of books. The only problem is that, in this new world, books are nowhere to be found... and she's just a little girl!
Now as Maine, this girl's only purpose in life is to find any books or create them herself if there's no other choice, but for a five-year-old girl in a poor state, this doesn't sound like an easy task. Will she be able to learn to read and write in a "foreign" language, and then create books in a world where ordinary people don't even know about their existence? Find out by watching this great isekai of 2019!
---
3. Sword Art Online: Alicization - War of Underworld

Episodes: 12
Aired: Oct 13, 2019 to Dec 29, 2019
The first part of this story featured 24 episodes, but the first season of the War of Underworld arc is not only better but even more epic! Alicization, as you may know, is the new installment of the Sword Art Online franchise, a story about Kazuto Kirigaya (aka Kirito) being transported to a video game that feels all too real. In this case, that game is what we know as Underworld... but is it really a game?
The best part of this story, other than the gorgeous art, is that it gives more screen time to the whole cast of protagonists, sometimes even ignoring Kirito as the main character. The story is rather complex, but we have a lot of action scenes building up to the War of Underworld too. However, this is only the introduction to that, as there are a few sequels already confirmed to expand the whole plot. If you like your isekai with some dark elements to spice things up, go ahead and give SAO: Alicization a try!
---
2. Shinchou Yuusha ~Kono Yuusha ga OreTUEEE Kuse ni Shinchou Sugiru~ (Cautious Hero: The Hero Is Overpowered but Overly Cautious)

Episodes: 12
Aired: Oct. 2019 - Dec. 2019
Now, the next two shows definitely feel similar to each other, and maybe that's why a lot of people love them both. So first, let's talk about Shinchou Yuusha, a simple anime about a hero being summoned to save a world on the brink of destruction... but with a twist!
The hero of the story is Seiya Ryuuguuin, a seemingly normal human summoned by Ristarte, a goddess who soon discovers that Seiya has stupidly high stats for an earthling. However, while Seiya does indeed level up incredibly fast, he has one little defect: he likes to take an awful lot of precautions before every action. Oh, and he also loves to ignore her! The character chemistry here is great, and not for the right reasons, although you'll also like the secondary characters and how they interact with the protagonist duo. It may be corny and too cliché at some times, but it also delivers a nice and unexpected plot-twist by the end. Be sure to watch it from start to finish!
---
1. Tate no Yuusha no Nariagari (The Rising of the Shield Hero)

Episodes: 25
Aired: Jan. 2019 - Jun. 2019
Just like Shinchou Yuusha, this is the story of a human being transported to a world that's about to be destroyed by evil forces. The difference is that Naofumi Iwatani, the protagonist, is part of a larger group of heroes that will help him in this adventure. Because they are there to help him, right?? Starting with the wrong foot, Naofumi discovers that not only the other 3 heroes are too narcissistic and selfish to act as a group, but he's also the only one who doesn't have a weapon!
Using only his shield—which in time becomes both a pìece of armor and a weapon too—and accompanied by his trusty sidekicks, Raphtalia and Filo, Naofumi is now the only reliable hope to save this world. That's how the quest against the Calamities starts! In terms of quality, Tate no Yuusha doesn't excel in any category but does not fall below the average either, so we may not have the best storytelling or the most unique plot and characters, but it's a very good show nonetheless and definitely fulfills its purpose. Also, it has in Raphtalia one of the waifus of the year according to the general audience, and we agree!
---
Final Thoughts
It's hard to talk about isekai anime without talking about great heroes, and in 2019 we surely had all kinds of protagonists! From a guy who learns how to use a shield as the best weapon ever to a guy who befriends and adopt the most terrifying monsters instead of killing them, to a girl who's up to save the world by showing people the benefits of reading a good book.
So, what was your favorite isekai anime of 2019? If you're not sure about it, maybe rewatching some of our recommendations can refresh your mind and help you decide!