The 2019 season has come to a close and there have been hundreds of games that have released this year alone! The RPG genre especially has definitely boomed with some amazing games from action RPGs to adventure RPGs. Here at Honey's Anime we have played a majority of the big games released in 2019 and have painstakingly made a list of our favorites to share with you readers out there! We have made this list our top 5 favorites and hope you guys will agree with our choices as this wasn't an easy list to create. Now without further ado, here is our list of the Best Role-Playing Games of 2019!
5. The Legend of Heroes: Trails of Cold Steel III

System/Platform: PS4
Publisher: NIS America
Developer: Falcom
Release Dates: October 22, 2019
Finally seeing light in the west, our fifth entry on our Best Role-Playing Games of 2019 is The Legend of Heroes: Trails of Cold Steel III. Once more, we return to control Rean Schwarzer as he goes from student to teacher in this third entry of the series. What awaits fans is the return of familiar faces from the series and a new Class VII as they endure new political battles and a strange world-altering event looming in the shadows. The Legend of Heroes: Trails of Cold Steel III still shows the perfect marriage of JRPG turn-based gameplay with a truly deep and engrossing narrative only Falcom could produce. We definitely recommend entering the series from the beginning for newcomers so they can eventually play this third entry and catch up before the fourth releases sometime in the future.
---
4. Kingdom Hearts III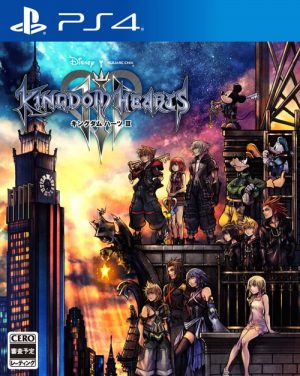 System/Platform: PS4, Xbox One
Publisher: Square Enix
Developer: Square Enix
Release Dates: January 25, 2019
Easily one of the most anticipated RPGs, Kingdom Hearts III finally released in late January of 2019 and the wait was certainly worth it. Sora and his friends will once more endure traveling the galaxy entering various worlds to save the various inhabitants from the Darkness and Organization XIII's nefarious plans but this time, the player has new abilities to make these fights easier! Kingdom Hearts III is easily one of the most gorgeous entries in the franchise and it plays just as well which shouldn't be surprising for fans. Even newcomers can enjoy Kingdom Hearts III thanks to an extensive history mode that talks of the past games albeit a bit overly simple to ensure players try out the previous games for the full tale. Kingdom Hearts III was—and is—one of the best RPGs to release in 2019 and we can't wait for the big story DLC coming in early 2020!
---
3. The Outer Worlds

System/Platform: PS4, Xbox One, Nintendo Switch, PC
Publisher: Private Division
Developer: Obsidian Entertainment
Release Dates: October 25, 2019
Do we have enough RPGs set in space? Heck no and that must have been in the minds of developer Obsidian Entertainment's mind as they created The Outer Worlds. The world—and space—has been changed by an alternative timeline causing space to be filled with megacorporations and that means troubles in the ocean above! Players will need to make their protagonist and like in the Fallout series, level them up to gain new abilities in various traits to help them fight various space-themed threats. The Outer Worlds was a surprise when it was announced a few years back but the final product truly took our breath away leaving us genuinely surprised. If you want a solid RPG that goes into the depths of the stars then look no further, The Outer Worlds has you covered!
---
2. The Legend of Zelda: Link's Awakening

System/Platform: Nintendo Switch
Publisher: Nintendo
Developer: GREZZO
Release Dates: September 20, 2019
The Legend of Zelda: Link's Awakening has always been one of the best Zelda games in the long-running franchise but this Nintendo Switch remake might surpass even the original. Utilizing new graphics, modern gameplay tweaks and new elements for the series, The Legend of Zelda: Link's Awakening is 2019's best adventure RPG hands down in our minds. Are you ready to tackle Ganon once more? Of course, you are and we recommend doing so in The Legend of Zelda: Link's Awakening!
---
1. Sekiro: Shadows Die Twice

System/Platform: PS4, PC, Xbox One
Publisher: Activision
Developer: From Software
Release Dates: March 22, 2019
The winning game of the year for 2019 should make our last choice for Best Role-Playing Games of 2019 pretty obvious. Sekiro: Shadows Die Twice is easily one of the best From Software games to ever releasing fusing the toughness of Dark Souls—a series the developers are now famous for—with action-packed gameplay akin to Bloodborne. Sekiro is not only a beautiful action RPG with vibrant landscapes and haunting battlefields but it played just as well testing player's parry skills and dodging abilities. Sekiro: Shadows Die Twice is hard as nails but it's an experience we loved enduring nonetheless. If you somehow missed out on Sekiro: Shadows Die Twice, now is your time to play it as we enter the new year!
---
Final Thoughts
Easily one of the hardest gaming lists we had to create, 2019 was the year for the RPG genre. Do you think our Best Role-Playing Games of 2019 list made the cut and included truly the best of the season? Comment below why—or why not—to let us know how we did! While you're at it, comment also what games you're looking forward to in 2020! For even more great articles like this keep stuck to our action-filled hive here at Honey's Anime!
---