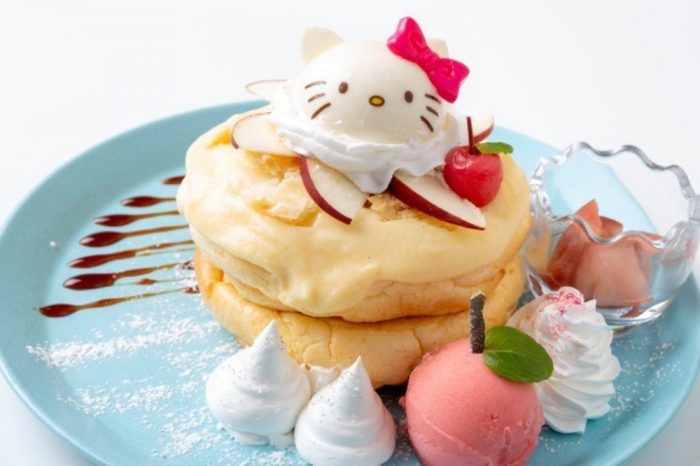 Not all great Japanese foods are necessarily traditional. Some of Japan's most famous foods are actually rooted in Western food culture, but they always have a special twist that makes them unique to Japan. Today we are going to look at how to bring one of Japan's most deliciously sweet and photogenic foods from the streets of Harajuku in Tokyo and right into your kitchen. While Harajuku and Tokyo in general are known for having Instagram-worthy street and cafe food, one of the longest-running dishes is soufflé pancakes. These pancakes are thicker and fluffier than normal pancakes and are famous for jiggling when you shake the plate.
As a warning, these pancakes are not easy to make and take some practise and patience. But if you can master them, the end result is really rewarding.
The Fluffy Pancake Craze
In the past few years, fluffy pancakes have made a huge rise in their popularity across Japan, and especially in trendy neighbourhoods like Harajuku. One of the most famous restaurants, Gram, only makes a limited number of the soufflé pancakes every day due to how much time and effort making them takes. In order to get your hands on them, you have to line up in advance just to get a ticket to come back later at designated times. If you can't get a ticket, its regular pancakes for you! Of course, this limited availability has only made the soufflé pancakes more popular because there's nothing people like more than something limited.
Many other restaurants have popped up offering these delectable pancakes, each adding their own touch to make their dish stand out. From whipped cream toppings to fruit, maple syrup, money, and even flowers, there's no end to the fun and awesome customisations these pancakes can have. Not all of us can make it to Harajuku, though, let alone wait for hours to get one of these limited tickets. So let's get onto the recipe so we can make them at home!
Japanese-Style Soufflé Pancakes ( Makes: 3 pancakes )
What you need:
cake flour (for a better result than all-purpose flour)
1/4 cup
---
How to make:
First, separate your egg yolks and egg whites into two separate bowls. Add the milk and vanilla to the bowl with the egg yolks and whisk it all together.

Next, sift the cake flour and baking powder into the egg yolk bowl as well. Whisk them enough to combine them, but be careful not to over-mix.

Using a hand mixer, beat the egg whites until they are frothy, then begin to gradually add the sugar while continuing to beat the mixture. You will know you're finished when the egg whites begin to form small peaks, like a meringue.

Heat a pan over low heat and brush it with oil. While it is heating up, you are going to combine the egg whites and egg yolk mixture. Be very careful with this step! Combine the egg whites into the egg yolk mixture 1/4 at a time, gently folding the egg whites while taking care to not break the bubbles that form. Mix it all together gently but thoroughly.

Now you are ready to start cooking the pancakes. Each pancake will be about four scoops of batter, which should be stacked on top of each other as tall as you can make them. As each layer begins to cook and become more dry, you can stack another scoop on top of it and cook that layer.

When you have one scoop left for each pancake, put your three tbsp of water in three open spots in the pan and cover it with a lid. The water will steam the pancakes to give them the right texture! After a couple of minutes, you can lift the lid and add the final scoop to each pancake.

Check to see if the pancakes can be easily lifted with a spatula. If they are sticking, give them a bit longer to cook. When they can be moved, gently flip them over to cook the other side. Steam them again with more water following the same method outlined above. When both sides of the pancakes are browned, you're finished!
Yum!
Final Thoughts
Even if you can't make it to Harajuku (or don't feel like waiting in a ridiculously long queue to get a limited ticket), you can make your own soufflé pancakes at home! Sure, they may not work out quite perfectly the first few times, but you can always learn from your mistakes. If you are having a lot of trouble, be sure to not keep the stove heat too high (they should cook slowly to cook all the way through while not burning on the outside) and don't over-beat the egg whites as they need to have a lot of air bubbles! Good luck!
Have you ever had a soufflé pancake before? Would you be willing to wait hours to get some in Tokyo? Have you tried our recipe and made it work? How were the pancakes? Let us know below!
---