What You Need to Know:
Yesterday, the official Twitter account for the manga, Bungou Stray Dogs, created by Kafka Asagiri and Sango Harukawa, announced its anime adaptation!
Studio Bones will be in charge of this project. No information about the cast or release date has been revealed so far.
Bungou Stray Dogs has one specific particularity: it features famous Japanese and a few overseas authors, as characters having supernatural powers!
Synopsis
Nakajima Atsushi was kicked out of his orphanage, and now he has no place to go and no food. While he is standing by a river, on the brink of starvation, he rescues a man whimsically attempting suicide. That man is Dazai Osamu, and he and his partner Kunikida are members of a very special detective agency. They have supernatural powers, and deal with cases that are too dangerous for the police or the military. They're tracking down a tiger that has appeared in the area recently, around the time Atsushi came to the area. The tiger seems to have a connection to Atsushi, and by the time the case is solved, it is clear that Atsushi's future will involve much more of Dazai and the rest of the detectives!
(Source: MangaHelpers)
Characters
Atsushi Nakajima
Osamu Dazai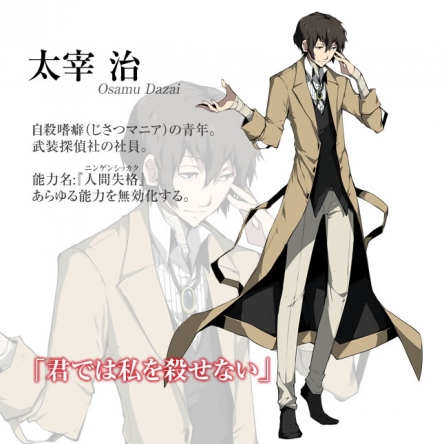 Akiko Yosano
Ranpo Edogawa
Doppo Kunikida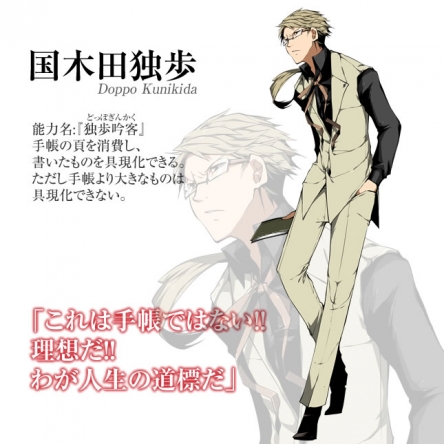 Kenji Miyazawa
Source: Natalie
---
The pictures and characters' design are awesome!
The fact that they use famous writers is also really cool to me!
One more anime to follow on my list!
[ad_dfp position="bottom1" unit_pc1="true" unit_pc2="true" unit_sp1="true" class="mt40"]