What do the neighbourhoods of Ikebukuro and Akihabara in Tokyo have in common with Nipponbashi in Osaka? Have you ever heard these names before? More than likely you've heard of at least one of them - they're some of the biggest otaku neighbourhoods in Japan! That's right, Japan has entire areas of the city that are full of otaku goods, entertainment, themed food, and more. But what exactly makes these neighbourhoods what they are? What kinds of things take a neighbourhood and transform it into one synonymous with the otaku world?
Those are exactly the kinds of questions being posed right now as a new area is trying to brand itself as the newest otaku neighbourhood in Japan. The city of Tokorozawa in Saitama, just north of Tokyo, is undergoing a huge transformation to brand itself as the latest otaku mecca. So what kinds of things are going into changing a previously unassuming neighbourhood into an otaku one? And do we really think that Tokorozawa can accomplish its goal? Keep reading to find out more!
Wait, What is Going ON Up in Saitama?!

Tokorozawa may not be a name that is familiar to you, but it has a very important tie to the otaku world even before we get into what it's doing these days to be on the otaku radar. Tokorozawa is the city closest to the real-world inspiration for the setting of My Neighbour Totoro, arguably Studio Ghibli's most famous film. The forest outside of the city is even known to the locals as "Totoro's forest." That is already enough to make Tokorozawa worthy of a visit, but wait until you see what else has opened there.
First let's talk about Tokorozawa Sakura Town, which just started to open in August of this year. Sakura Town is a massive entertainment complex aimed at otaku of all kinds - fans of games, anime, and manga all have shops to visit within Sakura Town. It's more than just a shopping centre, though. Sakura Town also boasts the Kadokawa Musashino Museum, a five-floor museum made by the publishing company Kadokawa. It includes eight-meter high bookshelves that can hold over 50,000 books called the Forest of Books, and an entire floor dedicated just to the history and cultural impact of manga and light novels.... a promised 2.5 million of them. Two more stories serve as a manga and light novel library. Sakura Town also has a very modern shrine to visit, and an up-and-coming digital art museum by TeamLAB. Not everything in Sakura Town has opened yet due to Coronavirus but it's coming along bit by bit with a grand opening planned for November 6th.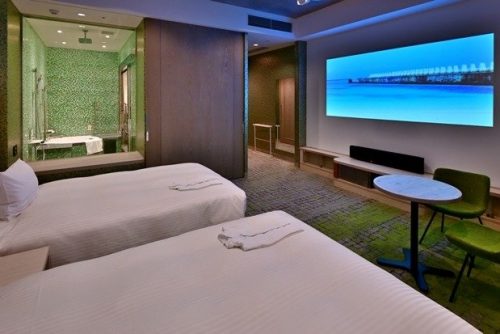 Next, let's look at something truly unique - an anime hotel! That's right, as part of the Sakura Town complex, EJ Anime Hotel will offer otaku a tempting chance to stay in an anime-themed luxury hotel. For now, there are just four anime represented - A Certain Scientific Railgun T, KonoSuba: God's Blessing on this Wonderful World, Uzaki-chan Wants to Hang Out, and Yuki Yuna is a Hero. All of the rooms have 150-inch projection screens and soundbars to enjoy anime to the fullest during your stay and have interior design based on each respective anime.
Of course, each room is designed with the anime inspiring it in mind! They have a variety of different choices, from simpler rooms (strangely called "superior," so don't get confused) to deluxe suites. Since the whole place is owned by Kadokawa, we are likely to see even more collaborations with other Kadokawa works in the future! So if you've ever wanted to spend the night in an anime, now is your chance. There will also be a restaurant with fully themed meals, and character parties and cosplay wedding plans all available, too. The EJ Anime Hotel will see its first guests from October 1st if all goes according to plan, and is taking reservations very soon!
Tokorozawa has one more unique draw going for it, and this one is totally free to experience. Japan has artistic and creative manholes all over the country, often themed with a local landmark or symbol of the region. Well, in its bid to become an otaku hot spot, Tokorozawa just unveiled 27 anime-themed manhole covers. And to set them apart from their boring counterparts even more, they also feature LED lights! These solar-powered manhole covers feature huge anime like Sword Art Online, Neon Genesis Evangelion, Lucky Star, Re:Zero -Starting Life in Another World-, and more. They make a trail from Higashi-Tokorozawa Station leading all the way to Sakura Town. The LED lights sets them apart from other decorative manholes across Japan, and really draw the eye to not just overlooking something you might otherwise never notice under your feet. These anime manhole covers go a long way to helping Tokorozawa have a very "anime town" feel from the moment you leave the train station and begin your pilgrimage!
So Can Tokorozawa Do It??

Tokorozawa has some pros and cons when it comes to becoming the next hot spot, and the difficult thing is that most of these pros and cons go hand-in-hand with one another. The biggest point about why Tokorozawa may be able to succeed as an otaku neighbourhood may also be the same one that makes it fail - and that's its location. The city is located off the beaten track, and far away from other sites people may be visiting. Ikebukuro, Akihabara, and Nipponbashi are all very central to their respective cities and are all just a short train ride away from other points of interest that draw both local and international visitors. They have a lot of train line connections, too.
These are all things that Tokorozawa doesn't have. But on the flip side, what it does have is space. And affordable real estate. Otaku neighbourhoods in the centre of the cities are well-established and have been there for years. It's hard to get new property because there simply isn't room, and prices are already high due to the area's notoriety. Tokorozawa doesn't have these same problems. New otaku places have a chance to open and thrive there where they can afford the rent and there's room to expand. Piggybacking on Sakura Town starting everything gives small businesses a real chance to get a start there.
If Tokorozawa can build enough things to draw otaku out of the city centres and up into its reaches, then it has the potential to soar and become a very new and different style of otaku hot spot. But it'll have to have some really unique and grand things that set it apart from it's (geographically) nearest competitor, Ikebukuro, to tempt people to take a trip up the train line and check it out! They're off to an awfully good start with that hotel, that's for sure.
On top of everything else, Tokorozawa isn't actually that far from central Tokyo. It's just a little over 20 minutes on one train out of Ikebukuro, which is somewhere that you may already be visiting. Maybe before this article you had never heard of Tokorozawa before, but it's looking like you may be hearing the name more and more in the coming years when it comes to otaku culture!
---
Final Thoughts

Tokorozawa has a long way to go if it wants to catch up to Japan's other otaku neighbourhoods but it's certainly on the right track. It has the benefit of being able to see what worked in other places and what didn't, along with space and a good real estate market. In the future, Tokorozawa may well be on otaku travellers' itinerary, and we are looking forward to seeing what else the city has to offer. If you are already curious to see what is has so far, you can check out the LED manholes for a great sneak peek into Tokorozawa's otaku future!
Have you ever been to Tokorozawa before? Do you think it's going to make it as an anime neighbourhood? What do you think is the most important element it needs to succeed? What's your favourite anime neighbourhood you've been to before and why? Let's chat in the comments!
---