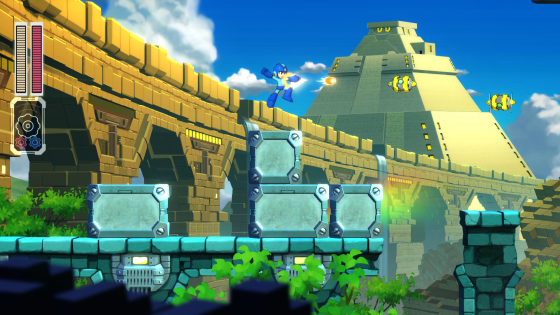 What You Need to Know:
Mega Man fans have been begging and pleading that Capcom revive the Blue Bomber and bring him back to home consoles. Well it seems that all the begging has finally paid off as Capcom revealed via their Twitch channel that Mega Man 11 will see a home console release in late 2018!
Mega Man 11 will be a great entry for both fans and newcomers to the series to dive into as it retains its signature challenge while offering a variety of difficulty options. The game is coming to Nintendo Switch, PlayStation4, Xbox One, and Steam.
The classic series takes a leap forward in visual presentation in Mega Man 11 with a 2.5D design direction introducing beautiful, completely hand-drawn characters and environments. A freshly redesigned Mega Man takes on Dr. Wily's berserk machines, defeating Robot Master bosses and taking their weapons, in an ever-evolving fight for justice with new and unique enemy designs. This is just a small taste of information of what's to come in Mega Man 11.
The annoucements don't just stop there as Capcom both Mega Man® Legacy Collection and Mega Man Legacy Collection 2 are coming to Nintendo Switch in Spring 2018, making all 10 of the numbered series games playable on Nintendo Switch leading up to the release of Mega Man 11 later next year.
Also confirmed today, all eight games from the futuristic Mega Man X series are coming to Nintendo Switch, PlayStation 4 , Xbox One, and PC in Summer 2018. The X series introduced features such as powerful armor upgrades and wall-jumping, with more mature themes in this action platforming series. Fans can expect more information on these games in the coming months.
Source: Official Press Release
Official Trailers
Mega Man 11 - Announcement Trailer

Mega Man 11 - 30th Anniversary Trailer

---
OH MY GOD! This is brining back memories of the SNES days! Nintendo is back baby!
I saw this coming from a mile away. All the big guys are coming back to support the Switch now! It's a renaissance!
---