It's All About the Bout.
Episodes : 12
Genre : Action, Sci-Fi, Sports, School
Airing Date : January 2019 - March 2019
Producers : Silver Link.
Circlet Princess Introduction and Story
Virtual reality has really stepped up a lot over the years and is now intertwined with everyday life, from crosswalks appearing to a new fighting sport called Circlet Bout. Visiting the big city, Yuuka Sasaki gets mistaken for a Circlet Bout player and ends up fighting against Chikage Fujimura. She's gifted a unique circlet and vows to come back to join a Circlet Bout club and face off once again against Chikage Fujimura since their battle ended in a draw previously. However, Union's Circlet Bout club has been disbanded and Yuuka has to work with Miyuki Kasahara and Ayumu Aizawa to convince Reina Kuroda to not only give them permission to restart the club, but to join them as well. Once Reina and Nina have joined the team, they must enter the Circlet Bout competition between all the schools and fight their way to the top for Yuuka to battle it out with Chikage once again.
Why You Should Watch Circlet Princess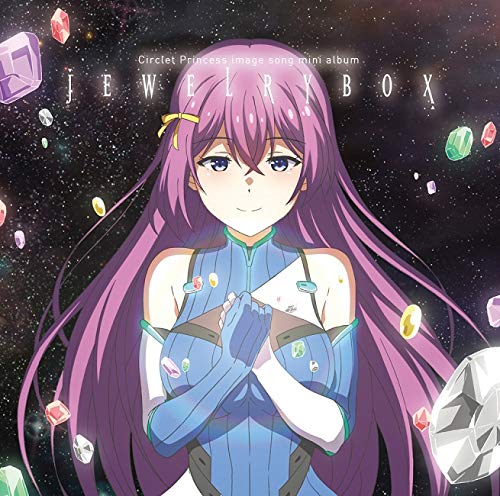 1. The Battles Are Varied.
From the opening battle between Yuuka and Chikage, the Circlet Bouts stay entertaining throughout Circlet Princess and the variety of weaponry keeps the fights fresh. It's always exciting to see what new method of fighting will show up next.
2. There Are Cute Girls Doing Cute Things.
The girls of Circlet Princess are super exaggerated machines that leak emotion everywhere. Yuuka's obsession with sour plums that no one else can stand that she eats with a straight face is particularly funny and goes hand in hand with Nina's unending snacking and the silly noises of distress the girls make. The gags and cuteness never let up.
3. It's a More Grounded Take On Virtual Reality.
Anime is no stranger to MMO's and Virtual Reality. Circlet Princess' world has advanced to the point where augmented reality devices are commonplace and used in all manner of life, even being referred to as "Mixed Reality." It makes sense that there would be game applications too, and Circlet Bout fits into this world more naturally than people jacking their consciousness into a network.
Why You Should Skip Circlet Princess
1. It Isn't Officially Licensed in English.
Circlet Princess is based on a browser game of the same name only released in Japan and, unfortunately, none of the usual suspects secured the rights for the anime localization. The only official streaming rights aside from Japan are for Chinese site Bilibili. Maybe this will change in the future if DVDs or Blu-rays are released, but for now, your options are limited.
2. The Character Designs Are Similar.
The characters in Circlet Princess may have a wide variety of hair colors and battle styles, but their designs are very similar to each other. If Ayumu Aizawa and Reina Kuroda had their hair lifted off and transplanted on each other's heads, nothing would look out of place. The Circlet Bout armors do add some flair, but short of that, the overall designs don't stand out from each other.
3. The Ending Lacks a Payoff.
Yuuka's rematch with Chikage is built up as the finale from the first episode. While that it is indeed what everything leads up to, the actual final battle cuts out midway and the scene jumps forward in time. We're never shown the actual ending of the fight, and the rest of the final episode is just exposition about the rules of Circlet Bout changing in the future.
---
Final Thoughts
The sport of Circlet Bout drives the development of Yuuka, Miyuki, Reina, Ayumu, and Nina as they each become a part of the CB Club. The spectacle of the battles and Yuuka's progression into a formidable fighter may be undermined by a weak final resolution, but Circlet Princess is an enjoyable romp with colorful characters. Do you have a favorite character or battle from the series? The comments below are waiting for you to join in the bout!
---