También puedes leer este artículo en:Español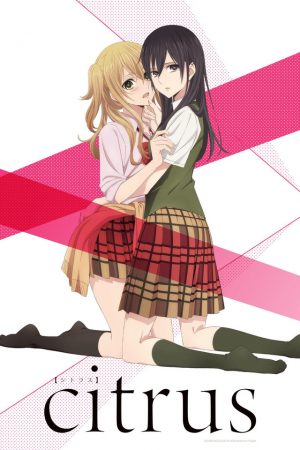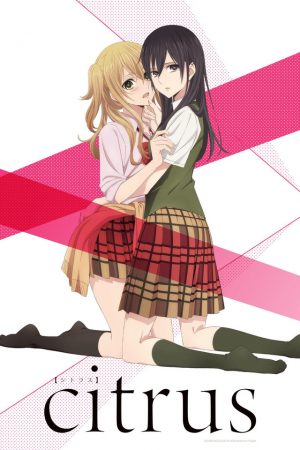 Citrus

Genre:
Drama, Romance, Yuri
---
Airing Date:
January 6 2018
---
Honey's Highlights
Okay, so this is a lot like Netsuzou Trap -NTR-, yes?
Yup. Though there will be less dudes in the series. Think of like Strawberry Panic or even the legendary Maria-sama ga Miteru.
Excellent. I exprect the drama to be over the top like with Koi to Uso or Kuzu no Honkai.
Yeah. There will be some of that for sure. I just hope there is better resolution than with the two you mentioned.
Promotional Videos / PV
Basilisk: Ouka Ninpouchou Gets New PV, OP Title, and Double ED Titles!
Official Images / Key Visuals
Synopsis
High-school girl Yuzu might look like a gyaru, but she has never been in love. After her parents remarry, she transfers to an all-girls school. Exploding with frustration at the thought of not being able to get a boyfriend, she ends up meeting Mei, the black-haired, beautiful school council president. What's more, she sees Mei kissing a handsome homeroom teacher…!
The shocking scene is burnt into Yuzu's chest. But that's not all - it turns out that Mei is her new step-sister, and they have to live in the same room! So begins a love affair between sisters that proves that opposites really do attract.
Three Episode Impression
Shoujo ai, what? Fanservice! That's probably what most people thought when they heard that there was a shoujo ai anime on air this season, so it may come as a surprise to you that many people are in fact enjoying this anime for more than its fanservice. What? Citrus is a great shoujo ai anime that really delves more into the drama between two step sisters, Yuzu who is a gal trying to fit in her new environment and may have finally discovered love, and Mei who is a girl with a troubled past and present. Much of the plot is more about drama and possibly romance than actual girl on girl action, but that doesn't mean its lacking in that either. Actually, Citrus has something to appeal to all audiences. This anime is not just about girls forcing themselves on each other like Strawberry Panic, but it has the potential to be like complicated romances like Kuzu no Honkai. For now, Citrus is definitely on our radar, whether or not we love shoujo ai.
Characters & Voice Actors List
Yuzu Aihara

Voice Actor: Ayana Taketatsu
---
Yuzu is a first-year high school student. Ever since she dyed her hair brown, she looks extremely gaudy, but she is a pure gyaru (gal) who has never experienced love. Her parents remarried and she transfers into an all-girls school. There, Mei, who is now her step-sister, is the student council president as well as the granddaughter of the board chairperson. When she begins to live under the same roof as her, Yuzu gradually starts to become aware of Mei.
Mei Aihara

Voice Actor: Minami Tsuda
---
Mei is a cool student council president and a first-year high school student. An honors student, she has both an attractive face and figure and an intellectual mind. Mei is also the daughter of the board chairperson for the school. However behind this perfect façade, she has an isolation in her heart and starts to begin toying with Yuzu.
Harumi Taniguchi

Voice Actor: Yukiyo Fujii
---
Surrounded by nothing but well-to-do individuals at the school, Harumi is secretly a gyaru. She was the very first friend that Yuzu made when she transferred in. Her special skill is that she is able to hide anything in her chest.
Himeko Momokino

Voice Actor: Yurika Kubo
---
Himeko is Mei's childhood friend as well as the vice president of the student council. She supports Mei in her work. Himeko has always liked Mei since they were little, but because Yuzu suddenly appeared, Himeko views Yuzu as a threat and rival. She is currently looking into the relationship between Mei and Yuzu.
Matsuri Mizusawa

Voice Actor: Shiori Izawa
---
Matsuri is Yuzu's childhood friend and a second-year middle school student. She has a cynical outlook on society. Because she pines for Yuzu as an older sister, she views Mei, who is the younger sister now, as an enemy.
Kayo Maruta

Voice Actor: Ikumo Hayama
---
Kayo is a member of the student council who works together with Mei and Himeko together on various things.
Episodes
12
Theme Songs

Opening Song: Azalea by nano.RIPE
Ending Song: Dear Teardrop by Mia Regina

Adaptation

Manga


Main Staff

Original Creator: Saburouta
Director: Takeo Takahashi
Series Composition: Naoki Hayashi
Character Design: Izuro Ijuuin
Animation Director: Izuro Ijuuin
(Credit Honey's Anime when you use our description.)
---