Anime NYC 2019 was definitely a lot larger in scale than the last few years and that means… more cosplayers! That's right folks, we saw a ton of great cosplayers and cosplay this year and, luckily, these fine folks were willing to let us here at Honey's Anime take some photos and share with you readers out there. Whether you were there at Anime NYC 2019 or not, you might have missed some of these great cosplayers and hopefully, we can give them credit where credit is due! Time to look at some of the amazing Cosplay of Anime NYC 2019!
Old and New Cosplay

The beauty of any convention like Anime NYC is that you get fandoms that go back from the earlier days of anime. You'll have series like Gantz—being cosplayed by @jean_wanwan on Instagram—making an appearance alongside new series like Kimetsu no Yaiba. A duo cosplay team even showed off one of our favorite series in the form of Owari no Seraph—cosplayed by @inuyanna and @piculiar_event both on Instagram—which made us smile with pure joy. Needless to say, no series old or new will ever die out with fans who cosplay these great characters from their respected series! We even saw some Speed Racer cosplayers but couldn't snag pictures as they were quite busy racing from panel to panel!
Heroes and Villains Unite!

Two of the biggest hero franchises made a big appearance at Anime NYC, Fate/ Stay Night—as well as Fate/ Grand Order—and Boku no Hero Academia. We had the famous "heroes" Saber and Archer show up thanks to @cuviicuvii on Instagram and some cool takes on two popular Boku no Hero Academia heroes—specifically Bakugo and Red Riot—thanks to @grandpakitsu who can be found on Twitter! Of course, villain cosplayers weren't shy to show their cosplay skills like @evvils on Instagram who did a fantastic job with Himiko Toga! Trust us folks, we could have snapped even more pictures of heroes from other anime series but our camera was running out with all the pics of the convention itself! Our camera was a true hero this year!
Anime Lovely Ladies!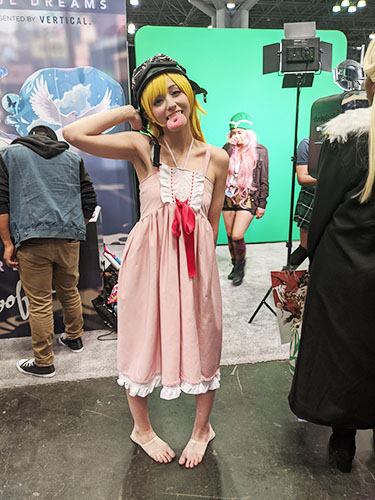 As always, we have to give some love to the lady cosplayers who truly do some incredible work with our favorite waifu. We had an impressive Zero Two cosplay—courtesy of @cloudtea on Instagram—who made our heart skip a beat or two and a lovely bunny suit version of Mai Sakurajima—thanks again @delcattnip who can be found on Instagram—from the amazing series Seishun Buta Yarou wa Bunny Girl Senpai no Yume wo Minai! Fans of the Bakemonogatari will no doubt love cosplayer @artoriagrey from Instagram sporting a lovely Shinobu cosplay! Needless to say, it was probably hard for some guys to contain nosebleeds at Anime NYC 2019 this year…we barely were able to ourselves!
---
Final Thoughts
Anime NYC 2019 had truly a dizzying amount of excellent cosplay and cosplayers! No matter where you were, you were bound to run into someone supporting a series/character with their on-point cosplay! Did you see some awesome cosplayers yourself while at Anime NYC 2019 and who are some of your favorites in our article? Comment below—be sure to share Twitter/Instagram names if you have them—so we can revel in some amazing cosplay! For even more post coverage of Anime NYC 2019 keep glued to our amazing hive here at Honey's Anime!
---