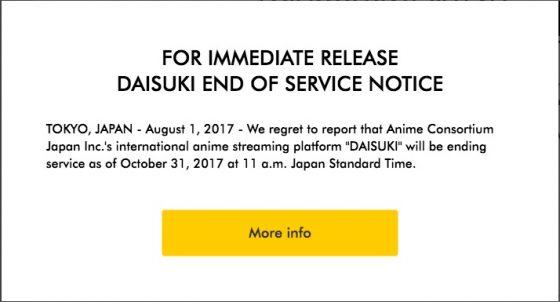 What You Need to Know:
It seems all good things come to an end. Daisuki, as part of Anime Consortium Japan Inc., has announced that it is shutting down. The service will officially close on October 31, 2017.
Since April 2013, Daisuki has risen to be a medium-sized anime streaming service with the hopes of competing with industry giants like Crunchyroll and Funimaton. However it seams that those hopes have sadly now been dashed as it is shutting down. The following is the timeline that the official site has put forward.
August 31, 2017 – 11:00 a.m. - Sale of rentable content will be stopped.
September 29, 2017 – 4:00 p.m. - DAISUKI NEXT will end all service.
October 2, 2017 – 11:00 a.m. - The DAISUKI app (iOS/Android) will no longer be available for download.
October 31, 2017 – 11:00 a.m. - All DAISUKI services (excluding free Dragon Ball Super simulcasting) will be terminated.
December 15, 2017 – 6:00 p.m. - All DAISUKI social networking service accounts (Twitter, Facebook) and customer support will be closed.
No word yet on how any of the other sites and services run by Anime Consortium Japan will be handled. In the meantime, stay safe out there kids and be sure to enjoy Daisuki, if you are a member, to the fullest over the next 3 months.
Source: Daisuki Homepage
---
Wow! I mean.. look at that. Another one goes. It seems like if you are not the big dog or exploding in popularity in this industry, your days could be numbered.
The real question my dear honey-chan is what will happen to Anime Now. They are part of Daisuki, so will they go too?
---