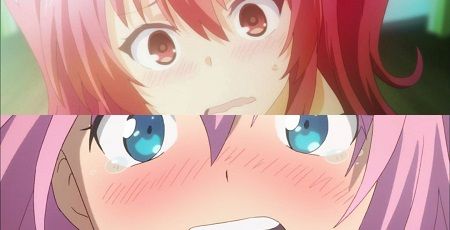 What You Need to Know:
A Japanese writer has made an analysis of the common themes among The Asterisk War and Chivalry of a Failed Knight from the current season.
Both titles are based off light novels, and follow a template-typical plot structure.
See the analysis below!
Similarities
It is based in a school
The protagonist accidentally bumps into the heroine as she's getting changed, leading to a battle that results in the heroine's defeat.
The heroines are red-haired princesses, sword wielders specializing in fire magic, and possess tsundere traits.
The protagonist appears weak but is actually powerful
There is a scene where the heroine defeats a macho axe user.
The heroine's elements clash so much that it could be considered a miracle; you would barely notice if either heroine was replaced by the other.
How to Distinguish the Series
You have to give up attempting to distinguish the heroines from their faces or personalities.
In order to correctly distinguish between the two series, a good point to observe are the sizes of the heroines' breasts. The heroine from The Asterisk War has a flat chest, while the heroine from Chivalry of a Failed Knight possesses relatively large breasts.
Source: Net Lab
Reactions Around the Web
It's too confusing when the heroine has the same
Can you compare which one contains more ecchi scenes?
I'd rather hear how to distinguish between the Osomatsu brothers.
---
Funny article, I decided to stick with just one of the two, which is definitely The Asterisk War.
Surely there are other points to distinguish them with?
---
[ad_dfp position="bottom1" unit_pc1="true" unit_pc2="true" unit_sp1="true" class="mt40"]