También puedes leer este artículo en:Español
The leaves are going from green to palettes of red, yellow and orange. Fall is here and we have a host of new series to get excited over. As a fantasy fan, it's hard not to be happy with some of the solid series we've had over the last years, and there's reason to believe that Fall will have another strong fantasy series.
1.Taimadou Gakuen 35 Shinken Shoutai(AntiMagic Academy 35th Test Platoon)

Episodes: 12
Aired: Oct 8, 2015 to ?
Taimadou Gakuen centers around a world where the use of magic, once dominant, has been curbed by the development of guns. Takeru Kusanagi attends 'Anti-Magic Academy' to learn to fight magic users. However, he himself can only use a sword and is placed in the 35th platoon, a unit for poor candidates. The 35th is eventually joined by an elite soldier by the name of Ouka Outori, who just might turn the unit's fortune around.
As far as notable SILVER LINK shows go, there's really been nothing in the action-fantasy category However, they've earned respect with shows like Non Non Biyori and the Fate/Kaleid series. Based on the PV I feel like this show can earn some interest from military fans, more so on aesthetics than anything. I liked some of the character designs, and I think if the show is action-heavy, it could come out pretty enjoyable. I'm putting this on my slate of shows I plan to try, and hopefully SILVER LINK can surpass my expectations.
TV Anime "Taimashirube school 35 test platoon" this PV
---
2. Lance N' Masques

Episodes: 12
Aired: Oct 2, 2015 to ?
Lance N'Masques is an action/fantasy series revolving around Youtarou Hanabusa, a member of the Knights of the World, the worlds last knightly order. Youtarou must hide his identity behind a masque as he goes from battle to battle.
There's not too much info floating around about Lance N'Masques that give me a strong opinion on how it's going to turn out. However, it does have some hope in it's pedigree. The director is Kyohei Ishiguro, who directed Shigatsu wa Kimi no Uso, and Studio Gokumi produced the Mahou Shoujo series Yuki Yuuna, which received some praise.
The PV showed some nice artwork and animation, but is much too short to really go on. I'll keep my ear to the ground about the show, but I'm not sure if I'm intrigued enough to watch it right off the bat.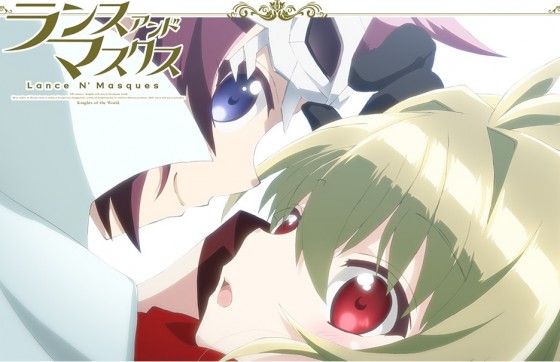 TV Anime "Lance and Masques" PV Vol.1
---
3. Heavy Object

Episodes: ?
Aired: October 3,2015 - ?
This is a science fiction Mecha show where mecha called 'Objects' have completely altered the course of warfare. The show focuses on Qwenthur, an mechanical student who wants to work on Objects and Milinda, and object pilot. Together, they may learn deeper truths about the nature of the weapons they control.
Heavy Object has a couple of interesting things going for it. First and foremost, It's a mecha show, which earns it an audience right off the bat considering Mech fans are pretty devoted and there's only so many mecha series that come out. Secondly, the director is Takashi Watanabe, who helmed Boogiepop Phantom and Slayers, among other series.
Thirdly, with Shokugeki no Soma and Prison School under their belt, J.C. Staff, already a strong studio, has had some recent success, and it will be interesting to see how they handle a mecha series. The PV's don't really sway me for or against this show, but based on the Director, I'm making sure I watch the first episode when it airs.
TV Anime "Heavy Object" Comic Market 88 public promotion video
---
4. Garo: Guren no Tsuki (2nd Season)

Episodes: ?
Aired: Oct 10, 2015 to ?
This is the second anime adaptation of the Garo Tokusatsu series. However, it has a totally different setting and different characters from the first animated Garo series. Though not too much info about the plot has been revealed, It's know that the show will be set in the Heian period of Japan and have a female protagonist.
The first reason to be excited about Garo is that it's more Garo. Garo, along with Ushio to Tora and Shingeki no Bahamut count among the 3 above-average fantasy shows that Studio Mappa has done in the last year, and I expect them to continue with this series. This is a season with several noticeable sequels, and I have positive expectations of Garo. It's a show you'll probably want to watch on day one.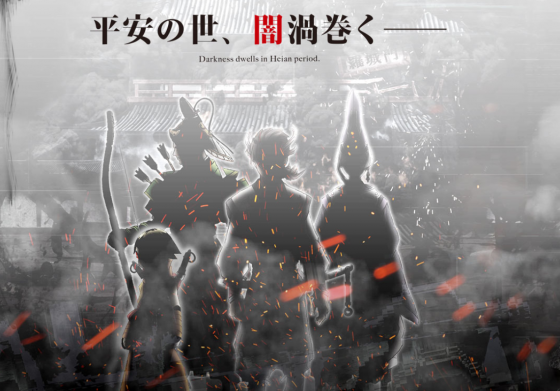 Dispatch PV "Garo - Gurennotsuki -" main cut into PV arrival! / GARO PROJECT # 87
---
5. Rakudai Kishi no Eiyuutan(A Tale of Worst One)

Episodes: 12
Aired: Oct 3, 2015 to ?
There's a school for Magic Knights, warriors who fight with weapons from the power of their souls, which is attended by newcomer Ikki Kurogane. Ikki however, has no real magical skills to begin with. He's challenged to a duel by a foreign prince, Stella Vermillion, with the stakes being that the loser must be obedient to the winner for life.
This is another SILVER LINK show, and again, they haven't really done much in the fantasy genre that's been critically acclaimed or widely popular. The premise also sounds pretty generic. However the Director, Shin Oonuma has some interesting credentials. He directed EF: Tale of Memories, Kokoro Connect, and the Fate/kaleid series, so he's done some good things. From the PV, some of the Animation looks pretty good and the series has some nice overall polish.
While the overall premise seems nothing new, some of the designs look interesting, and the main female character looks pretty cool. Based on the director, this show could be an interesting wild-card.
TV Anime "of failing knight hero Tan (Kyabaruryi)" second edition PV
---
6. Utawarerumono: Itsuwari no Kamen

Episodes: 25
Aired: Oct 4, 2015 to ?
This series follows a main character who awakes in a land totally unfamiliar to him. He's chased by an insectoid monster, but suddenly saved by a beautiful girl named Kuon. This is an adaptation of the 2nd Utawarerumono game, with many of the same voice actors returning.
Aside from that it's an adaptation Not too many details have been revealed but I think there's a reason to be hopeful about this show. White Fox has Katanagatari and Steins;Gate under its belt as well as Hataraku Maou-Sama and Jormungand (This show has the same director, Keitarou Motonaga), so they can put out some good shows. That pedigree should be enough for most Anime fans to want to check it out.
TV Anime "Utawarerumono false mask" news flash video
---
7. Gakuen Toshi Asterisk (The Asterisk War)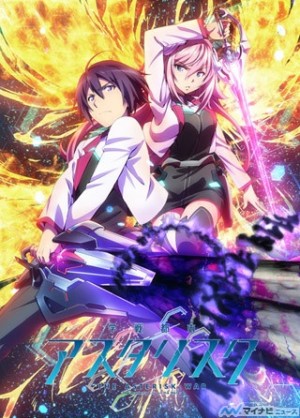 Episodes: 12
Aired: Oct 3, 2015 to ?
A cataclysmic meteor storm in the 20th century delivered Mana, an element which made rapid strides in human technology. It also lead to a new species of human born with unique stills, Genestella, or the star-pulse generation. Now, these special beings compete in battle tournaments in the City of Asterisk where our main Character, Ayato Amagari dreams of fighting in.
This is an A-1 picture Light Novel adaptation, so get ready for the SAO comparisons? Now A-1 has had a mixed record as of late. They put out GATE and Saenai Heroine no Sodatekata which were enjoyable as well as Shigatsu wa Kimi no Uso which was widely praised, but also two very dried seasons of Aldnoah/Zero. Based on the PV's, the show looks pretty polished, but doesn't necessarily stick out of the pack. We'll see what A-1 pictures can do with this one.
Anime "academic warfare city asterisk" PV 3rd
---
8. Kaku-San-Sei Million Arthur

Episodes: ?
Aired: Oct, 2015 to ?
Kakusansei Million Arthur is an ONA adaptation of the game of the same name by Square Enix. It's based on the legend of King Arthur except that one million people share the title of King Arthur and wield their own version of the legendary sword Excalibur.
Very little information has come out about this series, there hasn't even been a release of a PV yet. Hopefully this isn't a sign of a Delay, and Square Enix can get the ball rolling on this one. Fans of the original game should definitely take note, and the rest of us wouldn't hurt too much to keep our eyes peeled as well.
Diffusivity Million Arthur opening animation
---
9. Pokemon XY&Z

Episodes: ?
Aired: Oct 29, 2015 to ?
Satoshi, or Ash, for all of our American friends here, continues his adventures in the Kalso region. Satoshi will face off with Team Flare as well as investigate the mysterious phenomenon that occurs with his Greninja.
It's more Pokemon! This is yet another edition in a long-running franchise, and expect a lot of the colorful, light-hearted feel and visuals we've seen in the series so far. Expect lots of cool Pokemon battles and the cast exploring the region they're adventuring in. If you're a Pokemon anime fan, this should keep up your interest, and if not, don't be afraid to give this a try!
[Official] anime "Pokemon XY & Z" promotional video first installment / impact of new series, start!
---
10. Comet Lucifer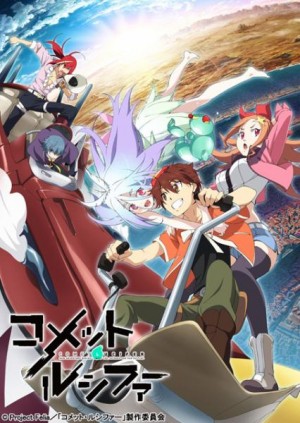 Episodes: ?
Aired: Oct 4, 2015 to ?
Sougo Amagi is a boy living on the world of Gif, which is covered in valuable crystals called gifdium. One day, Sougo wanders off into the ruins of a mine and comes upon an lake underground. It's there he meets a strange girl with blue hair and red eyes.
8bit recently wrapped up the adaptation of the Fruits of Grisaia visual novels, and are bringing us an original anime with this one. The script writer has written for a lot of Studio Bones shows in addition to Code Geass, so hopefully he can continue his good work here. Based on the PV, there's some interesting visuals and nice use of color going on in the series, so hopefully 8bit can hit their stride with this one.
TV Anime "Comet Lucifer" music video "Story of Lucifer" / TRUE
---
The Anime Industry has treated fantasy fans pretty well over the last year or so. We've had a number of strong series from that genre. In the 10 shows above, I think we'll have another one. Let us know what you're expecting of these shows in the comments below!
---