Off-road Heaven
Game Info: (Box Display)
System: PS4, Xbox One, PC
Publisher: Codemasters
Developer: Codemasters
Release Date: June 6, 2017
Who it Caters to

DiRT 4 aims to bring the off-road rally racing scene back to players once again in this newest installment. Players will once again race on legendary tracks ranging from locals such as Sweden, Norway and Great Britain to name a few. As with the DiRT series, DiRT 4 will give players the chance to feel what it's like to be a FIA World Rally Cross Champion as they earn their way through the season gaining new cars and new levels of prestige. Thanks to the power of the next gen, players can see Dirt 4 really pushes the limits boasting some amazing detail in terms of the various vehicles and environments the player will be dealing with. If you loved the previous Dirt titles and love the rally car scene in general, Dirt 4 will deliver a truly pleasant experience to you.
What to Expect
The DiRT franchise by Codemasters has always pushed the bill on the off-road racing scene and Dirt 4 shows a continuation of that trend. Thanks to some amazing real world locations, loads of new cars that can be customized and some of the best graphics, DiRT4 really has pushed the bill for its genre. There are several game modes for players to enjoy such as a long career mode, a free play mode allowing the player to customize their experience, multiplayer that allows up to 8 players and an academy that allows players to practice their rally skills. Codemasters have become well known for really making a truly immersive but fun rally car racing series and DiRT 4 has only added to their to accolades. Have you been seeking a new but fun off-road racing title that has both simulation elements as well as arcade elements? If you said yes we highly recommend DiRT 4.
Story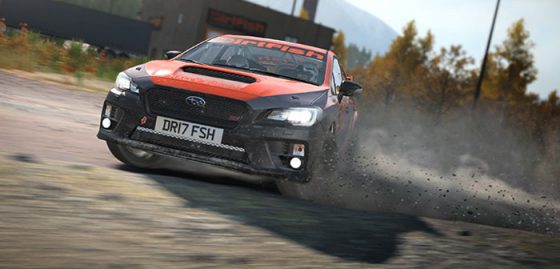 DiRTt 4 has players going through one of several racing circuits to build up their reputation and then eventually gain access to the big racing scenes. As you race you will find the challenge increasing as other AI racers set the times you must beat. As you race, real life issues may arise from engine troubles to tires blowing out. When something like this occurs it's up to you to make sure your team fixes your car otherwise you may risk a needed time in the following races. The path to the FIA World Rallycross Championship will be a long one, but as long as you better your skills you can win it.
Gameplay
DiRT 4 returns players to the familiarity of the DiRT franchise and we can't complain about that. Players will race various off-road vehicles such as Mitsubishi Lancer Evolution VI and Subaru WRX STI NR4 to name a few. DiRT 4 offers 50+ vehicles and all are quite customizable in a simple way. Also returning is the ever popular Landrush mode allowing players to use buggies and trucks to race against others both online and off. Dirt 4 has truly made sure to not only return fan's most beloved elements of the franchise but added plenty of new and modern vehicles for the racer's benefit.
Speaking of the Racing elements, DiRT 4 stands impressively as one of the best off-road racing simulation games we've ever played here at Honey's Anime. Multiple entry modes in terms of gameplay means that fans who enjoy a simpler experience can have a simpler time with controls that cater to them and those seeking realistic simulation from their racing titles will truly feel every turn on the road on their way to becoming the top racer. While DiRT 4 does desire to be loved by all racing veterans, it still has that off-road focus that some players who prefer the closed track formula may have issues with. However, thanks to Landrush and multiplayer even if you prefer other racing games, you can find a lot to love in DiRT 4.
Graphically, DiRT 4 is clearly pushing the limits of what Codemasters have done before. The DiRT series has always been impressive in terms of their details and DiRT 4 shows their penance for making an even stronger looking game. Snow, Rain,dirt flying from the terrain and the cars themselves all look incredible and really can immerse the player. While the audience members and backdrops sometimes look weak, it really doesn't become an issue unless you're nitpicking for something to dislike about Dirt 4. We've played many racing games here at Honey's Anime and we'll tell you now DiRT 4 is truly breathtaking.
Sound wise, DiRT 4 is more hit than miss, let's get the worst element out of the way, the music. DiRT 4's ost will definitely leave you wanting a wider track of song variants but that's really only applicable to menus. The true test of DiRT 4's sound comes from the rev of the engines and the on track commentary, which thankfully are perfectly fine. Engine and car sound effects sound incredible and while we've heard better from other simulation titles, it's still an impressive piece of work. The same can be said of the on track racing commentary and co-pilot's tones. Jen, the English co-pilot, has a strong voice that will be needed for those who rely heavily on turns and map reading skills the co-pilot needs to have. The narrator also does a tremendous job making witty comments about the tracks and really puts emphasis on the racing experience.
Wrapping up our thoughts, we need to focus on the multiplayer and the lasting appeal of DiRT 4. The multiplayer is solid, we didn't invest too much time into it but from what we played the game ran smoothly and we never had an issue with disconnects or freezing. Now if you're not into multiplayer, you're enjoyment of DiRT 4 will be focused on the single player modes and we'll say there's plenty to do here. The career mode has a long longevity thanks to it spanning multiple car types as well as a dozen or so races per each circuit. The free driving mode and Landrush also are fun and will be good ways to avoid getting tired of rally racing if that begins to be an issue.
Honey's Gameplay Consensus:
Let's just say DiRT 4 blew our expectations right out of the water. Every track, every race and every second we played we found an immense amount of enjoyment in this great off-road rally racing title. While the music in the menus may bore you and at times the fact that DiRT 4 caters to a specific audience, we never found any of those issues polarizing. Even if you're more geared towards racing titles that offer more circuit like environments, the multiplayer and some of the free play tracks will be your saving grace in DiRT 4. While DiRT 4 doesn't have the same volume of tracks we've seen in the previous titles, that really isn't a major issue thanks to each location having several variants, though a change of environment would have made Dirt 4 nearly perfect. Regardless though we will say DiRT 4 is probably one of the best racing games we've played in some time and we can't recommend it enough.
Honey's Pros:
Amazing Graphics

Fun Racing Gameplay

Loads of customization options

Great Multiplayer

Great Off-Road Racing game

Impressive Challenge
Honey's Cons:
Average Music Tracks

Caters to off-road racing fans

Lack of Tracks
Honey's Final Verdict:
Honestly, we here at Honey's Anime thoroughly enjoyed our time with DiRT 4. While we're sure that some may still be hesitant since it's an off-road focused racing game, we still feel if you love racing games you'll enjoy DiRT 4 with little issue. DiRT 4 honestly is a prime example of learning what a company could improve on from their last title and making sure to implement that into the newer one. With our praise and review of DiRT 4 we hope you had a good time and enjoyed our work. As always let us know in the comments down below what your thoughts are and be sure to stick to Honey's Anime for more great gaming reviews.
---