También puedes leer este artículo en:Español
The sport of racing is one of the dominating cultural and social practices of humankind's history. Whether it is by a person, vehicle or object, racing entails competition with others to see who is the fastest at covering a course or achieving a particular objective. Contenders, individually or in teams, go head to head utilizing knowledge and skills to make it to the top. The thrill of the game and the challenge to overtake another are some driving factors to what makes racing fun and we notice these elements significantly in various racing anime. Whether one succeeds or fails, the outcome is a learning experience, something to take in for future endeavors.
With that said, we present an updated list of the top ten racing anime recommendations. We know there are many more series that capture the thrills of speed and winning, so here's what we've gathered so far! Make sure to check out our previous article below. Enjoy!
10. Nasu: Suitcase no Wataridori (Nasu: A Migratory Bird with Suitcase)

Episodes: 1
Aired: October 24, 2007
Nasu: A Migratory Bird with Suitcase centers on Team Pao Pao Beer, a group of cyclists who travel east to participate in the Japan Cup. In what may be their final season together, Pepe Benengeli and teammate Jean Luigi Ciocci face an uncertain future. After the unfortunate loss of their hero, Marco Rondanini, Team Pao Pao Beer must come to terms with this tragedy and must weigh the value of their lives as cyclists. Professional cycling is serious business as there are many challenges and limits to riding. As the duo push their boundaries, we experience that misfortunes can often be a source of inspiration.
---
9. Bakusou Kyoudai Let's & Go

Episodes: 51
Aired: January 1996 – December 1996
Bakusou Kyoudai Let's & Go!! is an adventurous sports anime that focuses on two young brothers named Retsu and Go Seiba. After receiving awesome racing cars called "Mini 4WD" by Dr. Tsuchia, we watch the boys train and supe up their vehicles to contend in Japans Cup, a popular competition where racers battle the best of the best in the circuit. Based on a manga, this racing anime is a classic recommended for all ages. The characters, story, animation, and overall theme bring back a sense of childhood nostalgia, and we can't help but revisit this colorful racing anime.
---
8. Future GPX Cyber Formula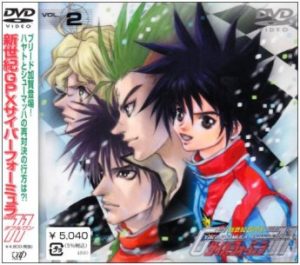 Episodes: 37
Aired: March 1991 – December 1991
Future GPX Cyber Formula captures the story of 14-year-old Hayato Kazami, an impressive Cyber Formula driver and the youngest to compete. In the 10th annual Cyber Formula Grand Prix, Hayato strives to win with help from advanced cybernavigation system Asurada and significant support from team Sugo. The journey to winning will not come easy for Hayato, as he must learn that it takes more than the best equipment to win. As he earns the respect of veteran drivers, takes part in various races, and prevents thieves from taking his cybernavigation, Hayato embraces the value of hard work and determination. Additionally, Future GPX Cyber Formula is audacious, presenting to viewers heartwarming and reflective moments.
---
7. IGPX: Immortal Grand Prix (2005) (IGPX: Immortal Grand Prix)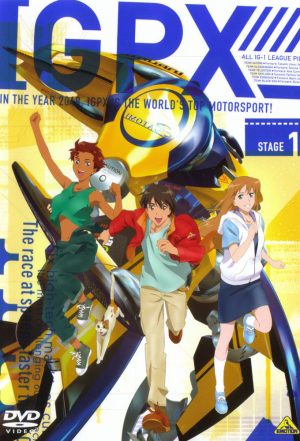 Episodes: 13
Aired: October 2005 – March 2006
The year is 2048 and the "Immortal Grand Prix" or IGPX for short, is all the rage. The IGPX is the fastest and most exciting motorsport in existence. It is so epic that a whole city is designated for the event. IG Machines—high-tech humanoid mechas—are driven in teams of three; racing at high speeds, the teams must complete three laps of the massive track. Takeshi Jinno is the up-and-comer in the IG1. A member of team Satomi, we watch Takeshi evolve as a person and a pilot. With machine, personality, and teamwork, our characters learn hard lessons in humility and competitive spirit. Furthermore, aside from the character diversity, IGPX: Immortal Grand Prix is a spectacular racing anime that gets the blood pumping and the juices flowing.
---
6. RideBack (Ride Back)

Episodes: 12
Aired: January 2009 – March 2009
Ride Back is an action, sci-fi anime set in the near distant future in which the Global Government Plan (GGP) has taken control of the planet. Rin Ogata is a promising and talented ballet dancer, but her career was cut short after she suffered a severe injury forcing her to quit her passion. After several years, while attending Musashino University, Rin comes across a club that participates in racing a "Rideback," a transforming motorbike. A riding natural, her prior dancing skills make her exceptional, making Rin a prime target of the GGP. After discovering the origin of ridebacks, Rin learns that various political factions have used these vehicles to pursue nefarious agendas, ultimately taking the fun out of the game. But what is it about riding Fuego that makes Rin's heart race? Is it being involved in something bigger than herself?
---
5. Initial D Final Stage

Episodes: 4
Aired: May 2014 – June 2014
The Initial D franchise is probably the most recognized sports anime to date providing action-packed racing, the rules of the road, and overcoming personal obstacles. Takumi Fujiwara has never lost a race, defeating just about every racing team in the region. Now, it all comes down to one last run with his opponent driving an identical car to his, the famed AE86. The situation boils down to one thing—which driver can handle the Trueno best? With instinct and technique, Initial D Final Stage shows those intrigued with racing that it takes more than competence to be good at a sport. Heart, passion, and a willingness to familiarize oneself with the subject are essential.
---
4. Uma Musume: Pretty Derby

Episodes: 13
Aired: April 2018 – June 2018
Uma Musume: Pretty Derby follows the story of "horse girls," great racehorses of the past reincarnated as girls with the ability and speed of these magnificent creatures. The best horse girls attend Tokyo's Tracen Academy in the hope of becoming the best in the league as both racers and idols. One of many horse girls we encounter is Special Week, a high school horse girl hailing from the countryside who just transferred to Tracen. Vowing to be the best, Rin notices fellow student Silence Suzuka, emulating her riding style and determined to be on her team.
Inspired by famous racehorses in competition, viewers get to learn more about the sport, technicalities, and backgrounds. Moreover, we get to experience the group's motivation, working and training extremely hard to accomplish their goals and dreams. The cast of characters is very diverse, striving to highlight each girl's characteristics and diversity. Uma Musume: Pretty Derby is bright and lively, making it a very entertaining series.
---
3. Blassreiter

Episodes: 24
Aired: April 2008 – September 2008
The setting is modern-day Germany. The country is plagued by an outbreak of "Amalgams," cybernetic entities that emerge from rotting flesh with the ability to fuse with technology to advance their needs. An uncontrollable force, the Xenogenesis Assault Team (XAT) is established to contain this threat. The XAT's other objective is also researching "amalgamated" humans who possess rationality and are far more dangerous than their counterparts. Joseph Jobson is an amalgamated human whose unfortunate encounter with Gerd Frentzen makes him a priority target of the XAT. Transforming into the Blassreiter, the strongest Amalgam in existence, Joseph must combat his enemies to unlock the truth of his past and the Amalgam occurrence. The race between good and evil becomes visible, countering the affliction of these robot zombies before society is unable to contain this danger. Strap yourself in because this show packs a lot of thrills.
---
2. Yowamushi Pedal

Episodes: 38
Aired: October 2013 – July 2014
Yowamushi Pedal is a story about Sakamichi Onoda, a happy, optimistic guy who is eager to join his school's anime club. Unfortunately, due to limited membership, the anime club has been disbanded. Determined to get it going again, Onoda starts the process of revival and recruitment. Still, with little luck, Sakamichi decides one day to make his regular trip to Akihabara—a 90-kilometer ride round trip—when, suddenly, Shunsuke Imaizumi, an avid cyclist, meets him along the way. As the school is recognized as a prime location for cycling training, Shunsuke is in awe with the way Onoda can trek such distances with his "mom bike." From this moment, Shunsuke challenges him, proposing that he will join the anime club if Onoda wins, but does he?
Many may question where the excitement lies when it comes to cycling but, rest assured, as Onoda progresses, we become beyond exhilarated. Throughout each training session with various cyclists, there is always someone on the sidelines to explain specific techniques and how they are useful or detrimental to riding. Combining practice with skill, Yowamushi Pedal focuses on the story of an underdog racing to become the top dog.
---
1. Redline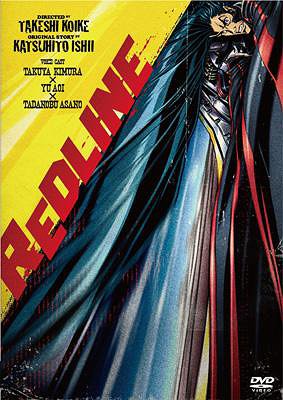 Episodes:
Aired: August 14, 2009
The film Redline is about an exciting no-holds-barred race held every five years and the most anticipated event in the universe. Taking it past the limit, we are introduced to JP, an extreme racer who is eager to test his skill against the only other human competitor, Sonoshee McLaren. Unlike the previous years, this time will be incredibly more dangerous as it's announced that the event will occur on the planet Roboworld where corrupt citizens have their sights set on making the race profitable for their devious objectives. However, this threat doesn't turn away racers but engages them, adding to the excitement. Relying on speed and skill, JP is going to undertake the greatest adventure of his racing career. With its fun and exciting storyline, Redline encompasses the essence of racing anime, as competition is fierce and the overall story and characters make the film truly enjoyable.
---
Final Thoughts
We've reached the finish line and hope you enjoyed our recommendations for the top 10 racing anime! If you haven't already, make sure to check out all of these great titles! Win or lose, remember to play fair and be a good sport! As always, we truly appreciate you guys tuning in. Also, let us know if we've missed any other great, awesome series by commenting below! Thanks, and gotta blast!
---
---
During the late 80's and through the 90's, racing Anime became massive and nearly as popular as Anime's pampered child, Mecha Anime. Nowadays, there aren't as many racing Anime as in previous decades and they have lost a certain popularity. However, a wise man (Davy Jones, the musician) once said "The racing bug is never going to go away. It's like the Mafia" and he was absolutely right.
Speed Racer paved the way almost 50 years ago for more than a few legendary Anime shows that are all about speed, adrenaline and the right to be known as the fastest one alive. Now, we pay tribute to all these legends of the pavement with our Top 10 Racing Anime selection!
To keep it interesting and varied, I've included bicycle racing and motorbike racing Anime; but don't worry about the lack of engines or speed, if these shows made it into the list it's only because they are good enough to keep up with the rest. Besides, there's already more than enough horse power and nitrous oxide on this selection for all of you gas junkies. Now, if you're ready to put the pedal to the metal then… Start your engines!
10. Mach Go Go Go (Speed Racer)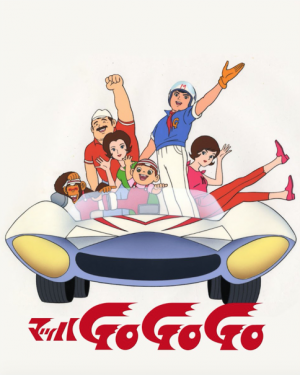 Episodes: 52
Aired: Apr 1967 – Mar 1968
Some say that oldies never die. Watching Speed Racer nowadays can be boring for many but this show is the genesis of Racing Anime and no one can deny it was huge for many years after it finished airing in 1968.
Our parents watched it when they were young and that's no surprise at all.
The show was great and original; the storyline was intriguing and as full of surprises as the races themselves.
Trixie, Spridle, ChimChim and more friends joined Speed Racer in his ambition to become the best racer and defeat the mysterious Racer X. To achieve his goal, Speed went through the most exciting adventures in outdoor tracks, where the rough terrain, traps and enemies alike put Speed's legendary Mach 5 to the test.
---
9. Bari Bari Densetsu (1987)

Episodes: 1
Aired: Aug 1987
Bari Bari Densetsu is the epitome of bike racing Anime. Everything about this show is old but gold. The animations aren't the best but they are more than good enough considering this movie was made in 1987.
It tells the story of high-school student Gun Kyoma, a street bike racer who has to pair up with his fiercest rival to become pro and compete as a couple at the Suzuka International Race.
Bari Bari Densetsu will keep you on your toes from the very first minute with exciting races where the slightest mistake can cost a biker's life. One of few racing seinen shows, the right amount of drama and loads of action, Bari Bari Densetsu is certainly one of a kind.
---
8. Nasu: Andalusia no Natsu (Nasu: Summer in Andalusia)

Episodes: 1
Aired: Jul 2003
Pepe Benengeli is a Spanish cyclist competing on a bicycle race around Spain (similar to the Tour de France). The story begins at the last stage of the race, which takes place in Pepe's hometown of Andalusia. He is a support racer for his team and his job is to help his teammate win the race but, to leave behind the ghosts of his past, he takes this once in a lifetime opportunity and attempts to win the race.
This racing Anime movie is a seinen with so much drama that it will have you shaky and biting your toenails for half an hour as you cheer for Pepe and agonize with him in his strive for glory.
---
7. Tailenders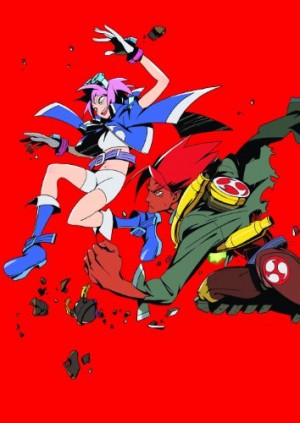 Episodes: 1
Aired: Oct 2009
This one is short but sweet. In an apocalyptic world with constant earthquakes, mankind lives on cities built over giant vehicles, where professional races are as popular as they are deadly. We join Tomoe Shiro on this short adventure as he seeks to surpass the Loser King, the greatest racing legend of all times.
Shiro's determination is so strong that he keeps racing even at the cost of his life. Thus, after a fatal accident, he receives an engine to work as his new heart, what allows him to become one with his car. Together with Mikagura Tomoe, the girl who got him the Iron Man like engine/heart, Shiro takes one last shot at becoming the ultimate racer.
Tailenders is a must watch. It has non-stop action, great animations and some of the most bizarre scenes and characters I've seen in a while. The only bad thing about it is that it's just 27 minutes long.
---
6. Oban Star-Racers

Episodes: 26
Aired: Apr 2006 – Dec 2006
This is a special selection for those who are also into science-fiction. Oban Star-Racers is and adventure, mecha and sci-fi shonen Anime about interplanetary racing. It has aliens, starships and a lot of action, some of the things we love the most about Anime. The animations are a bit funny though.
Oban Star-Racers takes place in the 21st century, where Eva Wei escapes from her boarding school to find her father, a famous race manager who has abandoned her. Upon finding him, he doesn't recognize her as his daughter. With few options left, she joins the Earth Team to participate in the Great Race of Oban, win the first prize and have her wish finally granted.
---
5. Over Drive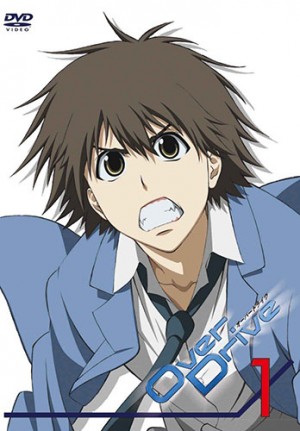 Episodes: 26
Aired: Apr 2007 – Sep 2007
This is definitely one of my favorites. Men will do anything for a girl and Mikoto Shinozaki is clearly not the exception. He is a good for nothing high school student who is bullied at school and sucks at sports. However, this changes when his crush, Yuki Fukazawa, asks him to join the cycling team.
This is a recurrent formula that has already worked in the past. The main character obviously ends up loving the sport and becoming one of the best. As cliché as may be, Over Drive is just a fantastic shonen about bicycle racing. The story is enjoyable, the races are as exciting as they are dramatic and the animations are absolutely terrific!
---
4. Capeta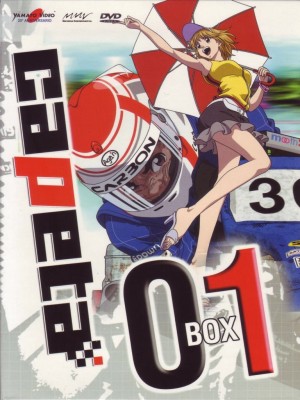 Episodes: 52
Aired: Oct 2005 – Sep 2006
Taira Kappeita is a 9-year-old boy and a prodigy in cart racing. He lost his mother when he was a very little, which made him grow as a tough and careless young boy. A ray of light shines for Kappeita when his father helps him build a racing cart and he discovers he has a talent for racing.
Capeta is an exciting action shonen Anime with a bit of drama, a few touching moments and a storyline full of dreams and adventures.
---
3. Wangan Midnight

Episodes: 26
Aired: Jun 2007 – Sep 2008
This action filled seinen is by far one of the best racing Anime shows ever. Forget about drifting and forget about the strategies of professional racing. Wangan Midnight is all about horsepower and the need for speed.
In this show we meet high school student and street racer Asakura Akio, who finds a customized Nissan S30 Z in a junk yard. He becomes obsessed with it as he finds out this Z is the legendary "Devil's Z", a racing machine that drove its previous owners to unfortunate accidents.
---
2. Redline

Episodes: 1
Aired: Aug 2009
Another masterpiece by MADHOUSE; one cannot simply dislike this gem. Redline is a science fiction racing classic and its major success is more than well-deserved. In a distant future, where cars have been replaced by hovercrafts, some headstrong men still race with a persistent spirit.
This is the story of JP, the cool fearless guy with the Elvis-like hairstyle who cares for nothing but getting past the finish line first. His bold driving style and his beautiful customized yellow Trans Am 2000 earned him a place on the most famous and deadly race in the universe, Redline.
With his reputation and his neck on the line, JP faces the greatest challenges and fearsome rivals in an exciting death race where the winner takes it all.
---
1. Initial D First Stage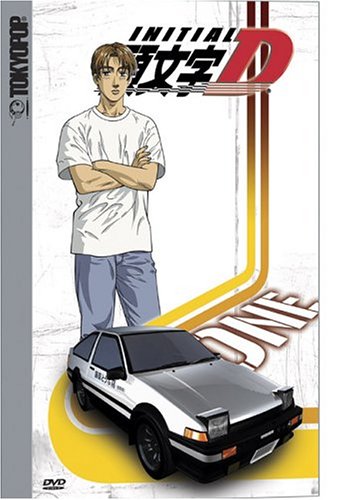 Episodes: 26
Aired: Apr 1998 – Dec 1998
Initial D's massive success speaks for itself. When we talk about racing Anime, this is the series that first comes to our minds. A brilliant storyline and THE most exciting street races made Initial D what it is today, the face of racing Anime.
This series follows the story of Takumi Fujiwara, a high school student and tofu delivery boy who happens to be a natural born drift racer. He is not aware of it at first but his experience behind the wheel delivering tofu have made him a prodigy drifting up and down Mt. Akina's highway.
If you are any bit interested in racing Anime and you haven't watched Initial D yet, just give it a shot! It is a great way to get started in the world of speed freaks.
---
This is it for our selection of Racing Anime, a classic genre that we hope never dies, since nothing keeps us at the edge of our sits as much as a good and dramatic high-speed race. I hope you have quenched your thirst for gasoline.
It was very difficult to choose only ten shows about racing and many classics have been left out. For that reason I would like to know if you have watched or enjoyed any other and if you think a different Anime should have made it on this list.
Thanks for stopping by!
---