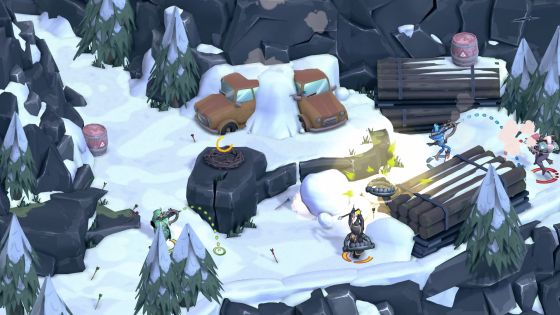 What You Need to Know:
Take part in a new action packed title, Arrow Heads, a new battle royale archery game where you get to shoot arrows and hurl other crazy projectiles at your family, friends and random strangers. Nothing but non-stop chaos will ensue as you duke it out to see who's the best. Arrow Heads has you covered with its Arena and Arcade modes.
In the Arena Mode, 2-4 frenemies can duke it out both locally and online, or both at the same time. Battle through 7 unique stages using utterly devastating power-ups like explosive rockets, electric tesla coils and leg-chomping bear traps to take out your enemies!
If things get a little too intense in the arena between your family or friends, the Arcade Mode is a fully co-operative survival mode that lets 1-4 archers team up to battle against 25 waves of enemies and compete for highscores. 5 unique enemy types are out to knock you right on the beak! Regardless of which mode you choose, feathers will fly! To get an idea of just the type of pandemonium that will ensue, we've left a trailer for you to check out down below. Arrow Heads is an award-winning isometric archery game headed to Windows PC on September 21, followed by Xbox One and PlayStation 4 in early 2018.
Source: Official Press Release
Screenshots
Official Trailer
Arrow Heads - Announcement Trailer

---
Just from the trailer alone it does seem like a frantic fight for the top spot. Fun stuff!
A great way to bring friends and family together I think. We need more games like this.
---