From our previous topic of the Top 10 Anime MMOs, we listed 10 anime games that are MMORPGs and what makes them different and so good to play with people online. But if you think MMOs are too large and time-consuming for you to handle, especially dungeon raids that lasts hours, and want a brief, yet satisfying online experience complete with the anime aesthetic you want, then this list is perfect for you!
We're going to exclude MMOs from the list and focus more on other genres. If you really want to live in a massive multiplayer world, go check out our Top 10 MMO Anime Games article, now. What are the conditions? The games listed must have anime art style, not an MMO game, and the online experience must involve you interacting with another player on the internet. And to make things interesting, we'll try to cover every modern gaming platform from handhelds, mobile, console to PC. Now that's out of the way, let's jump right into our Top 10 Anime Games with Online that you can play right now with everyone!
10. Pokemon Sun and Moon (Pocket Monsters Sun and Moon)

System/Platform: Nintendo 3DS, New Nintendo 3DS
Publisher: Nintendo
Developer: Game Freak
Release Date: November 18, 2016
A game series with a long history and an equally long anime adaptation, Pokemon is loved by many gamers and anime fans alike and it's a must-have game series for Nintendo's family of handhelds. In the 7th generation, Pokemon Sun and Moon still retains the anime charm of Pokemon while adding in new elements to keep things fresh and interesting.
Sun and Moon are single player games but a local and online multiplayer exist in the form of battles where you fight other Pokemon trainers around the world. And aside from battles, you can also trade Pokemon with players online. Both can be accessed through the Festival Plaza.
---
9. Shadowverse

System/Platform: PC, MAC, Android, iOS
Publisher: Cygames, Inc.
Developer: Cygames, Inc.
Release Date: October 26, 2016
Tired of playing Hearthstone grinding for months just to get a decent deck so you can survive for more than 5 seconds during a match? And do you want a easy-to-learn card game with generous rewards with very beautiful anime art style? Then look no further to Shadowverse, a card game that plays almost like Hearthstone but with the look and feel of a Japanese RPG!
For the most part, yes, Shadowverse plays almost exactly like Hearthstone with similar game mechanics, but Shadowverse has a few new tricks like the Evolve mechanic and the leaders have their own distinct special abilities. And what sets Shadowverse completely apart from its Western rival is the beautiful animated art style that's reminiscent to Castlevania and Final Fantasy. Plus it's easy to pick up and play all thanks to a more streamlined and less random gameplay. The game is available on PC and mobile and you can link accounts, so you can keep on playing while on the go. You will certainly turn a lot of heads when people see the gorgeous anime art style.
---
8. Dragon's Crown

System/Platform: PS3, PSVita
Publisher: Atlus
Developer: Vanillaware
Release Date: August 6, 2013
The first thing you'll notice when looking at Dragon's Crown is its beautiful and meticulously drawn art style and detailed animation. Dragon's Crown is a beat 'em up game with visually stunning and distinct characters to play and interact within a fairy tale storybook art style that has come to life.
If you played the PS2 classic Odin's Sphere, you'll notice the art style is very similar and in fact, the gameplay is almost similar. That's because Odin's Sphere and Dragon's Crown were developed by Vanillaware and they're known for making beautiful and very detailed painting-like worlds that are breathtaking and at the same time very hard to explain. What makes Dragon's Crown different though is, after completing a few requirements, you can play with 3 other players to explore dungeons, killing monsters, get exotic loot and defeat gigantic bosses using 6 very unique classes. No, no, stop gawking at the Sorceress's boobs!
---
7. 100% Orange Juice

System/Platform: PC
Publisher: Fruitbat Factory
Developer: ORANGE_JUICE
Release Date: May 16, 2014
Do you like dice games with very unfair AI to battle in single player, but at the same time have fun in multiplayer that you will play with friends literally forever? Here is 100% Orange Juice.
The meat of the game is the multiplayer functions and it's highly addictive. It's essentially a board and card game where 4 players roll a dice, their characters move around the tiles, and try to get as many stars as possible while trying to survive battling chickens and other players… through another dice roll. The game is very brutal and random that one moment you're in the lead and one bad dice roll will throw back at last place. However, the randomness and if you're playing with friends make 100% Orange Juice highly addictive and you'll never get bored of it, especially when you team up with other players to advance.
The game is developed by indie dev Orange Juice and while the visuals are nothing spectacular and the character designs look like fan art from Deviantart, the game reeks with Japanese memes and references that, if you know your anime, you'll definitely chuckle when seeing familiar characters showing up… in single player… with the most brutal AI in the known universe. Good luck trying to beat the single player. Or you could just go back and play the multiplayer with friends.
---
6. The King of Fighters XIII

System/Platform: ARC, PS3, PC, Xbox 360
Publisher: Atlus, SNK Playmore, Rising Star Games
Developer: SNK Playmore
Release Date: November 22, 2011
KoF XIII is like a window to the past when fighting games thrived and used pixel art over 3D models. Make no mistake, though, KoF XIII is a true 2D fighter with 2D graphics and the tight combat DNA King of Fighters were known for are still here all packed into one game, and that is as modern as any 3D fighting game. SNK had this habit of making realistic cover art that seems out of place when you compare them to the anime counterparts in the actual game. Jarring, yes, but it has its charm.
While not the recent iteration of the series and while not as popular as other spectacle anime fighting games like the BlazBlue and Guilty Gear series, or even Skullgirls, KoF XIII still has a huge community with constant matches online. A game with multiplayer without an active and dedicated community is a dead game, and thankfully KoF XIII lives on thanks to its lineage and traditional 2D gameplay.
---
5. Naruto Shippuden: Ultimate Ninja Storm 4 (Naruto Shippuden: Narutimate Storm 4)

System/Platform: PC, PS4, Xbox One
Publisher: Bandai Namco Entertainment
Developer: CyberConnect2
Release Date: February 9, 2016
Naruto is arguably the Dragon Ball for the new generation and it certainly earned its place in anime history thanks to its unique story, a ton of great characters and exciting (albeit drawn out) battles. And like Dragon Ball, Naruto has its own video game series and its recent one is Naruto Shippuden: Ultimate Ninja Storm 4. The online mode has the usual features and modes, Ninja Storm 4 is currently the best game for Naruto fans to play as their favorite characters and fight against other people online to really see if you've got what it takes to be a ninja.
...though seriously, ninjas are supposedly the stealth and silent types who lurks in the shadows waiting for that moment to kill their target and leave without a trace.
---
4. Nioh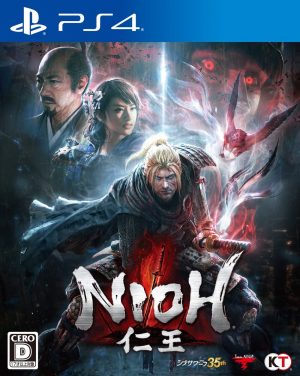 System/Platform: PS4
Publisher: Sony Interactive Entertainment
Developer: Team Ninja
Release Date: February 7, 2017
Yes, it's kinda annoying every time people talk about Nioh by Team Ninja, they always draw comparisons from the popular and equally hard game series by FROM Software, Dark Souls. But Nioh is in the same vein as Dark Souls: Action RPG, tough as nails, demanding yet rewarding combat, interesting lore and all put together in one terrifying yet beautiful world. And we're not kidding, this game is very hard all thanks, in part, to Team Ninja's experience in making hard games like the Ninja Gaiden series.
Now, Nioh does give you a chance to beat a hard level by summoning other players to enter your world Dark Souls style. As of this writing, PvP has yet to be introduced, so the majority of your time is helping struggling players complete an area. But once PvP is introduced, it will give Nioh some longevity with tons of players challenging each other and see who is the best samurai. And if the uchigatana or even the washing pole from Dark Souls won't satisfy your urge to cosplay as a samurai warrior, then rest assured Nioh is gonna deliver!
---
3. Monster Hunter Generations (Monster Hunter X)

System/Platform: Nintendo 3DS
Publisher: Capcom
Developer: Capcom
Release Date: November 28, 2015
Monster Hunter games aren't your usual action RPG where you just slash away at monsters. In some respects, Monster Hunter is a thinking man's game, a game for the hunter in you. The bulk of the game is basically you hunt giant monsters for rewards and monster parts to upgrade your gear. However, hunting requires preparation, planning, and knowledge of the areas and the monster you're hunting. Monster Hunter Generations is another iteration of a long-running game and while the core mechanics doesn't mean much even with the introduction of Huntings Styles and special flashy moves called Hunter Arts, Generations is like the best hits album featuring all 14 weapons throughout the series and with a great selection of monsters fans known and love.
The art style is hard to fully appreciate thanks to the 3DS's lack of horsepower and small screen resolution, but once you've adjusted to the large pixels and watch the CGI movies several times, the art style is akin to Final Fantasy XIV A Realm Reborn featuring Japanese-looking characters.
You can jump to online, but it's best to play the single player to get the hang of things and craft powerful equipment. Once you're past the single player, the online mode is the best part of the series. You team up with other hunters to hunt down high-level monsters and if you play with friends, you can plan ahead and form a team with each hunter specializing at certain tasks like long range archers to trappers. Cooperative play with other people is the best part of Monster Hunter and you'll spend your time online until the next version comes out.
---
2. GUILTY GEAR Xrd -REVELATOR-

System/Platform: Arcade, PS3, PS4, PC
Publisher: Arc System Works, Aksys Games, PQube
Developer: Arc System Works
Release Date: May 26, 2016
The jump from 2D to 3D is inevitable like Street Fighter did and King of Fighters. While these games play like a 2D fighting game, the charm of 2D sprite animation was lost. Part of what makes 2D fighting games fun to play and look at is because it feels like you're watching an action anime while you get to control the huge cast of fighters. 3D animation kinda ruined that feel, but thankfully Guilty Gear Xrd - Revelator- jumped to 3D while retaining that 2D anime charm we know and love.
As it currently stands, Revelator is one of the best, if not the best anime fighting game to date featuring well-animated and well-designed characters that are 3D modeled but programmed to move like they're 2D sprites. The result is a modern 3D fighting game with 2D effects that sometimes you'll forget these fighters are 3D models. And as a fighting game, Revelator has a huge online community that you'll always find someone on your level to fight against. If anything, Guilty Gear Xrd -Revelator- is confident, flashy, a true anime fighting game and is perhaps a glimpse of what the future of anime will be like. And from the looks it, that future is bright and full of potential.
---
1. Dragon Ball Xenoverse 2

System/Platform: Nintendo Switch, PS4, Xbox One, PC
Publisher: Bandai Namco Games
Developer: Dimps Corporation
Release Date: October 25, 2016
There are countless of Dragon Ball games over the past few decades, but the Xenoverse series gives the fans the opportunity to be part of the universe as you create your own custom fighter and you team up with Dragon Ball's greatest heroes to fight against an evil force that will potentially rewrite all of history (not sure it's worth erasing the episode where young Goku was groping the young Bulma). We picked Xenoverse 2 over Xenoverse mainly because XV2 is essentially a near carbon copy of XV containing the same missions, story, etc. and some of the mechanics improved in XV2 and made it superior to XV.
To a lot of anime fans today, Dragon Ball was their first gateway to the wonderful world of anime. Dragon Ball was appealing mainly to boys due to its superhero story and the battles were epic, large and flashy. Dragon Ball Xenoverse is like a dream come true to anime fans who can finally be part in the massive universe with rich lore and a ton of characters who can essentially destroy planet Earth at any give moment. Let's just hope Xenoverse 3 adds 2 more types of hairstyle!
---
Final Thoughts
And that's our list! There are a lot of online games with anime art style, but the list we presented you are one of the best throughout many platforms. It's easy to list a ton of mobile games like rhythm games and endless runners, but their online component are just leaderboards or social features with limited interaction. And of course, not all of these games are available in English. Plus listing nothing but mobile games is just boring!
So what do you think of our Top 10 Anime Games with Online? Were there any games that we missed? If you have something on your mind, please share it with us by leaving a comment below!
---